Rick Lowe's Gray Area: Where social sculpture meets neighborhood preservation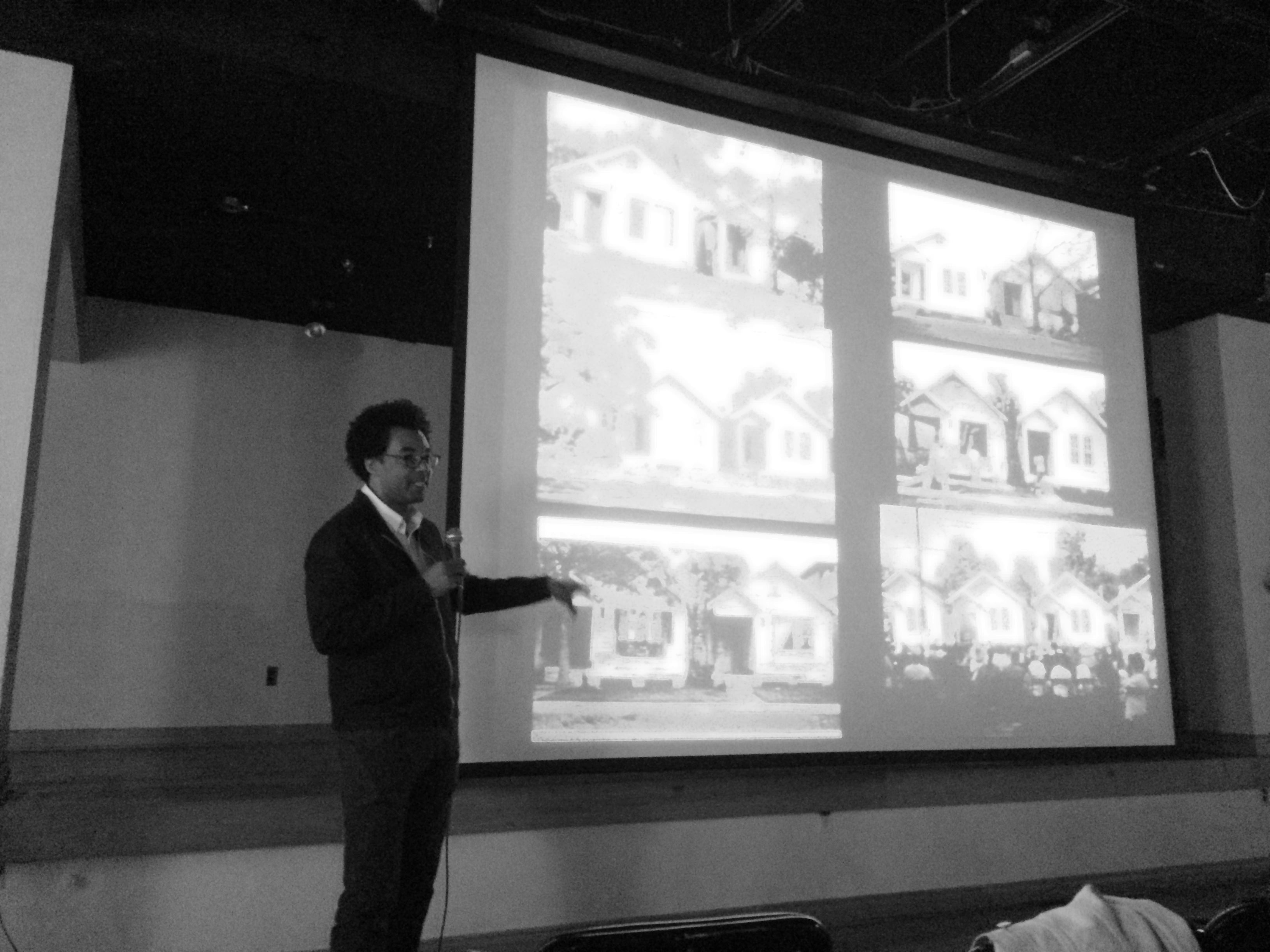 Twenty years ago when Rick Lowe first saw Houston's Third Ward, an historically African American neighborhood, he saw vacant, tax-delinquent properties that the city was poised to raze. Instead 22 of these decrepit shotgun houses became Project Row Houses, a living artwork that is part neighborhood stabilization and preservation effort and part social sculpture. It is art, education, and social work rolled into one.
Rick Lowe was in Philadelphia Tuesday evening as part of Gray Area's Preservation Provocateur's speaker series, aimed at stretching the definitions of what preservation can mean. Here are three ideas I'll take away from Lowe:
Preservation isn't always precious
It's easy to think of successful preservation as a place meticulously restored and reused. But Lowe's work with Project Row Houses starts from a place of art – which means it's somewhat less precious about historic materials. What matters instead of purity is the form, what's left of the fabric, and continued community purpose.
The 22 historic shotgun houses that Project Row Houses owns and rehabbed were set for demolition, but quickly preservation became a tool to recast these forgotten buildings. Volunteers started by "cleaning and clearing" these buildings in search for value. What Lowe ended up realizing was that the value is the shape and configuration of shotgun houses, as well as the culture that comes with that particular architectural form.
After properties were cleaned and boarded up, they were quickly activated by artworks and one by one were renovated to the point of becoming productive community spaces again. Eight houses are used for revolving art exhibits, some are used for education and community spaces, and others serve as transitional housing for single mothers between the ages of 18 and 26 years old.
Art can change the conversation
A "social sculpture" isn't going to rescue a low-income neighborhood stuck with high vacancy and tax-delinquency. What just might is changing how people see these neighborhoods. Many are places that may be stabilized with sweat equity and support.
For Project Row Houses the question became, Lowe said, "How could we use art as part of the ongoing practice of building this community out?" In part that meant using art as a tool to bring the neighborhood into public eye in a positive light.
It is easy to write off forgotten blocks in feral neighborhoods, but most of these places have compelling stories and connections. Rather than resorting to protest or politics, art can be used to get people to look at these places anew.
What might we value would we see by looking through a new lens? What community fabric can be mended? Philly has experimented with activating historic buildings through art events, such as the Hidden City Festival, and through exhibits at places like Eastern State Penitentiary. But what if there were a more permanent and socially engaged endeavor at the block level?
In the case of Project Row Houses, Lowe said, once the site became a public gathering space "it began to resonate with people in terms of the history of this community. Not just for the community but for the broader city. People began to be able see this space as having some kind of value within the historical context."
Art won't protect a building the way historic designation might, but it can bring people together and help recognize community assets.
"We finally got to a point where we got people to understand that it's not about tearing down it's about investing and maintaining the house," Lowe said. "Once you tear them down you've lost the context of the neighborhood."
Using preservation tools to claim space
In marginalized neighborhoods with fewer financial resources, preservation tools can be deployed as a means for people to reclaim or claim spaces. They can help foster a sense of pride in place, highlight community landmarks, and engender a different emotional investment in the fate of the neighborhood.
Project Row Houses conducted a lawn sign campaign with this slogan: "Third Ward is Our Home and It's Not For Sale." That proved an enormously successful expression of solidarity. But their work using history to claim space also has extended to the new developments they pursue. Project Row Houses partnered with Rice University to create designs for infill projects that complement the neighborhood's shotgun houses and, as Lowe put it, place the "historic nature of the neighborhood at the forefront."
In an ultimate sense, Lowe contends that the preservation work Project Row Houses does is as much about buildings as it is about people.
"Preservation is something that a lot of it has to happen from an organized effort at the top level but it has to be embraced and felt and desired by people on the streets."
WHYY is your source for fact-based, in-depth journalism and information. As a nonprofit organization, we rely on financial support from readers like you. Please give today.