Rezonings pending to bolster Roxborough's commercial corridors
Roxborough lost its years-long battle against a drive-through Wendy's on the neighborhood's main commercial drag at Ridge and Roxborough avenues this summer. But it's hoping to win the war.
Last week, Councilman Curtis Jones, Jr., introduced two bills meant to improve the pedestrian experience along Ridge Avenue over the long term. The first bill expands the Ridge Avenue Neighborhood Commercial Overlay to include the area bounded roughly by Hermitage, Walnut, Lawnton, and Mitchell streets. Within that area, the bill bans a number of uses, including parking lots, drive-throughs, storage facilities, and billboards. It would require a special exception from the zoning board for group daycare centers, take-out restaurants, and medical offices.
"The goal really is to create a better environment for mixed-use development on Ridge Avenue," said Matt Wysong, a city planner for the Northwest.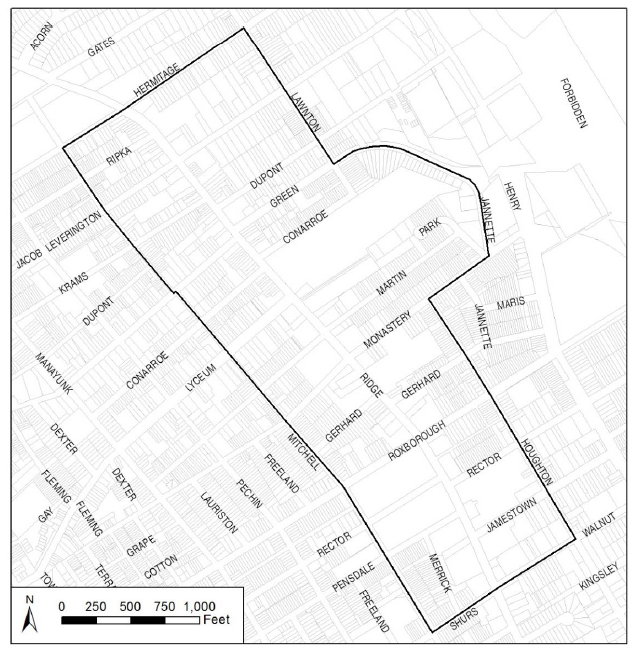 The second bill would rezone a series of properties in the same area, expanding mixed-use zoning along Ridge Avenue in order to add some commercial, pedestrian-oriented density along the corridor.
It also allows some extra density on the property at the corner of Ridge and Monastery avenues that currently houses a Goodyear automotive center and an Acme grocery store. The property would be upzoned to CMX-3, a medium-density commercial category used in places like the central Delaware River waterfront. Wysong said that change is intended to allow the Acme site to take on a larger-scale development if the grocery story ever moves on.
The changes in the bills come out of the Lower Northwest District Plan, which was adopted last December. PlanPhilly reported last fall that pedestrian-oriented commercial development on Ridge Avenue was of primary interest to Roxborough residents, along with protecting the character of residential areas and maintaining open space.
The Wendy's on Ridge Avenue replaced the Bunting House, a neighborhood gem that was demolished under controversy of its own. The zoning board initially rejected the Wendy's proposal, but its decision was overturned on appeal.
Don Simon, president of the Central Roxborough Civic Association, was not available for an interview.