Review: 'Les Misérables,' in full force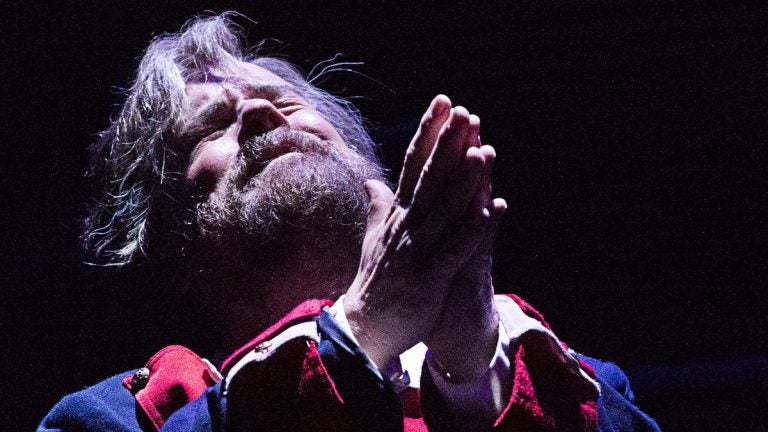 The stupendous version of "Les Misérables" that opened Friday night certifies the Pennsylvania Shakespeare Festival as one of the region's major producers of musicals, even though the festival produces a single musical a year.
It's an outrage that the festival is not eligible for the region's Barrymore Awards for excellent theater – a situation stemming from complications on the parts of both the Barrymore administration and the festival itself. Even so, that makes it safe for me to declare that for the current theater season running through August, "Les Miz" would be a sure-shot for best musical production, even in a year of primo musicals here by stage companies large and small.
The festival's show is powerful, and striking on Steve TenEyck's impressive set pieces and in Lisa Zinni's richly designed costumes. It's so crisp in its sound design by Matthew Given and Ian P. Carr, you feel you could be up on stage a foot from the singers. And it's interpreted with passion, by a collection of performers with perfect voices for their roles and a 15-piece orchestra led by Nathan Diehl.
What business does a Shakespeare festival have producing musicals? It has business, literally – the West's greatest playwright doesn't bring in enough money to support his large-cast, big-plot productions, so most festivals of Shakespeare's plays are buoyed by a musical and often, another more modern play. Plus, audiences for musicals can become loyal to the festival that produces them, and amenable to purchasing seats for the Shakespeare shows. Plus, well, Shakespeare festivals mean summer and summer means music in the air.
Okay, that last one may not be completely sound, but if the Pennsylvania Shakespeare Festival is an indication, the people it attracts probably aren't wondering about its mix of shows. The Pennsylvania Shakespeare Festival has year-by-year upped the ante on its musical productions – "Fiddler on the Roof" last summer, "Oklahoma!" before that, "Sweeney Todd" and others before that, all of these staged with vision by the festival's associate artistic director, Dennis Razze. His ambitious "Les Miz" manages to tweak the sung-through show with teeny pauses here and a lighter or harder touch there – these little details, along with classy acting through song, refresh the score by Alain Boublil, Claude-Michel Schönberg and Herbert Kretzmer. (The festival's music director, who surely had a part in the vision, is J. Bennett Durham.)
Patrick Mulcahy, the head of the festival, has been attempting to do "Les Miz" for eight seasons, but rights are hard to come by and scheduling is hard to get right — tour productions constantly come through the East Coast and a revival still runs on Broadway. Earlier this year, when the festival announced it would open with "Les Miz," tickets began selling steadily. By Friday night's opening, the 22 performances were 97 percent sold. The festival cannot extend because its tight schedule of shows leaves no time.
What ticket-holders will see is a meticulous production with only a few bumps. Some of these come from Eric T. Haugen's lighting design, beautiful in its lower-intensities and harsh when it needs to help make a point. But when Javert, the show's nemesis, sings of the stars and hits the word star a mess of them light up on stage on cue, a clunky flip of the switch suited for a lesser production. In two all-important scenes where students take to the barricade to fight the Establishment, gunfire is represented by two pisant lights flashing in steady time against the freedom fighters, as if they were battling a metronome. Likewise, the steam that stands in for real water under the Seine begins to puff onto the stage only when Javert looks down decisively from a bridge.
These misfires — along with a barricade that turns once too often to make sure we understand that people on one side of it are really, really, really dead — are more noticeable because the rest is so fine-tuned.
The telling of Victor Hugo's sprawling story is demanding. Its central figure is Jean Valjean, the released prisoner who becomes an all-around mensch. "Les Miz" is set after the French Revolution, long before we all loved Paris every season of the year, and when the ideals of liberty, fraternity and equality worked perfectly if you were rich. At the festival, Valjean is played by Mike Eldred, a dramatic tenor who at one point played the role on Broadway. (That production, from Cameron Mackintosh and the Royal Shakespeare Company, ran 6,691 performances, beginning in 1987.) Eldred is passionate and nuanced, and delivers a gorgeous "Bring Him Home," his entreaty to God to send his step-daughter's paramour home from battle. That step-daughter, Cosette, is Delaney Westfall, her beau, Marius, is Brad Greer — they have nice chemistry along with fine voices, and his "Empty Chairs at Empty Tables" is a highlight.
Kate Fahrner is Fantine, the single mother of Cosette who lives in poverty; when Fahrner sang "I Dreamed a Dream," the opening-night house was fully in her thrall – as they were when Rachel Potter, as an unrequited lover, sings the pathetic "On My Own." Javert, the heavy, is an intense Jeremiah James, who plays the role with a rich baritone, tall stature and tremendous force. Tim Gulan and Eliza Gilbert are excellent as the conniving innkeepers and comic relief.
These musical numbers are among the favorite show tunes, I bet, of millions. (Don't look for them in the festival program; instead of the songs, only a list of scenes follows the title "Musical Numbers.") But for me, the song that counts in "Les Miz" comes before the decisive battle between the students and the authorities. It's called "Drink with Me to Days Gone By," sung by the ensemble of student fighters and their ladies. It's sometimes treated as a throw-away that comes moments before Jean Valjean lets out the iconic "Bring Him Home."
Even so, this understated number is one of the show's potent moments – it presages a loss that will be profound. Under Razze's direction, "Drink with Me to Days Gone By" has additional meaning because one of the stanzas is sung as an outright challenge to the situation the students have put themselves in. It's a satisfying twist in a night of them.
_
"Les Misérables" runs through June 28 at the Pennsylvania Shakespeare Festival, on DeSales University Campus, 2755 Station Avenue in Center Valley, a few miles north of Quakertown. 610-282-9455 or www.pashakespeare.org.