Review: Inside 'The Dangerous House of Pretty Mbane'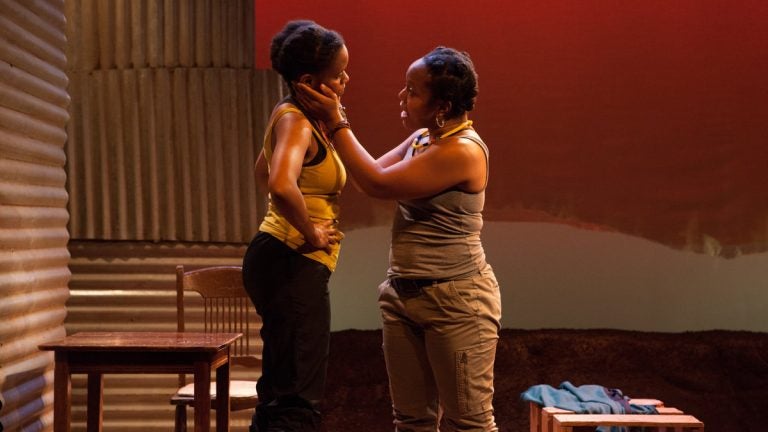 A South African woman called Pretty Mbane begins speaking, but she is dead. She tells us so. How and why she died – that's for the characters in "The Dangerous House of Pretty Mbane" to find out.
Jen Silverman's new play, commissioned and being staged in its world premiere by InterAct Theatre Company, is engrossing theater about a tough issue probably not on the radar of lots of Americans. Until only last year, "correctional rape" – homophobic sexual assault against lesbians and sometimes, gay men, to punish them or to "convert" them to heterosexuality – was not classified as a hate crime in South Africa. A country whose constitution bans discrimination against people for their sexual orientation, and was the first in Africa to legalize same-sex marriage, has a depressing history of overlooking a cultural outrage.
Silverman's richly-layered play is no shrill call to action – and that's what makes it so effective. It's a story carefully plotted and strikingly told, and it has the added benefit of InterAct's seamless production under the direction of Pirronne Yousefzadeh. In the plot, a young lesbian who's a rising South African women's soccer star leaves the country for London because she sees the boundless prospects for persecution in her native country. She returns, though, when she discovers that her former lover, Pretty Mbane, is missing.
What ultimately happens to Pretty Mbane – a woman who establishes a "safe house" for victims of "correctional rape" and who eventually gets more than 100,000 signatures on a petition to classify it as a hate crime – is not for me to explain. We know from the start, in any case, that she's more than missing, she's dead.
The skillful Silverman weaves her plot to go backward and forward, showing us many angles through different characters: the gay man who has been beaten and flees to London where he lives undisturbed (played by Eric Berryman); the vacuous British reporter (Ross Beschler) who fabricates stories and suddenly finds himself covering a real one in South Africa during the 2010 World Cup; the cab driver (Akeem Davis) caught in a conundrum because he needs to protect his lesbian sister, himself, and what he perceives as normalcy.
Pretty Mbane is played by Lynnette R. Freeman, who speaks to a yellow dog circling her body, which sits in scenic designer Carolyn Mraz's suggested ditch to the rear of a stage covered in a stone surface. (The orange rear-wall lighting by Maria Shaplin gives the set a sun-splayed look.)
Mbane comes center-stage to speak in different flashback scenes with Noxolo — her soccer-playing lover who will leave her for another life in London. Portraying Noxolo is the young, busy local actress Aimé Donna Kelly, whose career trajectory becomes evermore swift in roles that run from experimental to traditional. In "Pretty Mbane," she's a tough woman with a mission – but until she returns home, she's unclear about what that mission is.
D'Arcy Dersham is the production's dialect coach, and her success with "Pretty Mbane" underscores the reason theater companies need to hire dialect coaches. (Smaller ones frequently can't afford them.) The township English of South Africa sounds very real, as does Beschler's British journalist. The accents go a long way to make the play feel genuine.
InterAct has made its mark with socially-conscious work. "The Dangerous House of Pretty Mbane" is especially impressive, for its quality and the energy and resources the stage company has poured into it. And for its subject. A well-known South African soccer player named Eudy Simelane lived openly as a lesbian, campaigned for equality and played for the national women's soccer team — she was gang-raped and murdered in 2008. Over the past decade, at least 31 lesbians have been murdered in South Africa – Human Rights Watch has cited growing homophobia in the country and has traced the occurrence of "corrective rape" there and in several other countries. Add "The Dangerous House of Pretty Mbane" as an artistic witness to the evil.
_"The Dangerous House of Pretty Mbane," produced by InterAct Theatre Company, runs through Feb. 8 at the Adrienne, on Sansom Street between 20th and 21st Streets. 215-568-8079 or www.interactthreatre.org.