Review: In 'Woody Sez,' a Guthrie of car-cars and wandering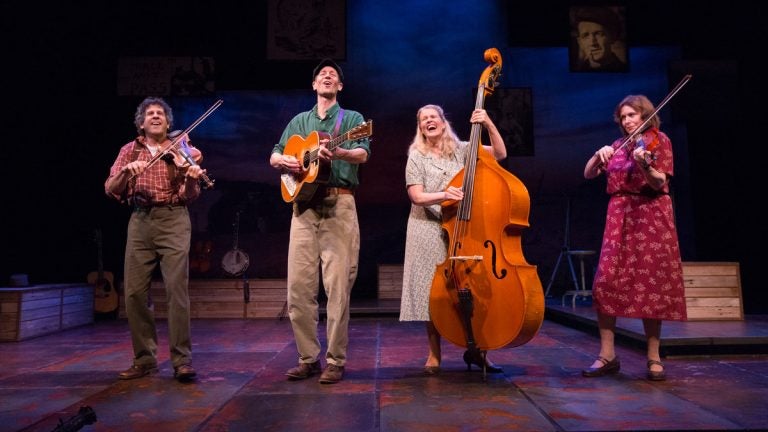 One of the endearing qualities of the late Woody Guthrie, a man whose plain-talk songs are now well-woven into the fabric of our folk culture, is that he called himself a hillbilly and didn't care what people thought about that. It was just what he was, so why judge it?
He felt the same way, according to the utterly charming autobiographical music review "Woody Sez," about being blacklisted for Communist sympathies. Or about singing (with his friend Pete Seeger and others) of peace and against war, but then joining the military to fight in World War II. He'd decided that singing against fascism and stopping fascism were two different matters. Change of heart? No, just a re-assessment of the situation.
I like the singing in "Woody Sez" — the four versatile musicians, who travel around with the show and are being presented here by people's Light & Theatre Company in Malvern, are lovely to hear and fun to watch. They perform almost 30 Guthrie tunes and use them to illustrate the sweep of his life.
I like the tunes themselves – such Guthrie standards as "This Land Is Your Land," "This Train Is Bound for Glory" and a host of union songs and ditties about wandering through the Great Depression, the Great Dust Storm, and about the hardships Have-Nots suffer at the hands of powerful Haves. Guthrie was a lefty tried-and-true, and thankful to live in a country where he could be one.
But what I like most about "Woody Sez" is the feeling it creates inside the theater. Whether it was from his poor Oklahoma background or his own notion of the world or both, the man seemed to be without pretense. According to what "Woody Sez" says, his philosophy of life, guiding his next thought or his next move, was simply to use common sense. While you watch "Woody Sez," you feel part of that dynamic, too, a conspirer with Guthrie to use your head for shaping your destiny. In the context of his free-form wandering — he was born in 1912, spent much of his life with migrants or on the road alone, and died at age 55 from a neurological disorder called Huntington's disease – this feels proudly American.
Guthrie managed to pause enough to have seven children and two wives, to write thousands of songs ranging from outright protest to riding in your car-car, to sing with groups that empowered people through their art, and (the show doesn't get into this) to write novels and paint prolifically.
A solid feel for the man is conjured by the performers – Darcie Deaville, Helen J. Russell, Andy Teirstein and their leader, David M. Lutken, who takes the role of Guthrie. The show was devised by Lutken along with the others and Nick Corley, who directs it. They offer not just the story of Guthrie's life, but a feel for its essence._"Woody Sez" runs through May 25 at People's Light & Theatre, 39 Conestoga Road, Malvern. 610-644-3500 or www.peopleslight.org.