Review: Gender competition in a 'Cake Off'
Listen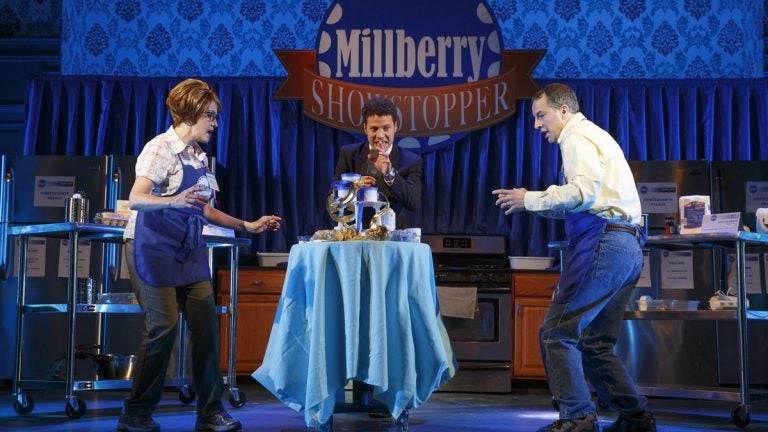 What came to be known as the Pillsbury Bake-Off began in 1949 with a grand prize of $50,000. And here's what happened in 1996: The prize was raised to $1 million and all of a sudden, men clamored to get in. Fourteen of them did, as finalists. That year for the first and only time, a man won.
What's known as the Millsbury Cake-Off began last fall on the stage of Signature Theatre in suburban Washington, and has been heavily reworked for its second and current version – a musical called "Cake Off" that perceives the real 1996 Bake-Off as a battleground for the sexes. This version is being done by Bucks County Playhouse in New Hope and has evolved as part of its development program for new works.
While I wouldn't give "Cake Off" a million-dollar grand prize, it certainly gets more than honorable mention. Its three creators – Sheri Wilner, Julia Jordan and Adam Gwon – give us a show that's often sweet, spongy enough to bounce yet far too moist at the end when it's jarringly serious after the comic romp that's been going on. It's like a batter falling in the oven. "Cake Off" prepares us to exit laughing. I exited pensive.
The show is set in 1966 on the baking floor of the Millsbury Cake Off, which looks suspiciously like the real one, down to the Millsbury logo. The show starts off with two contestants at a baking station. One (a convincing Michele Ragusa) is a dental receptionist, long divorced from her lawyer husband and with three grown kids and a bunch of dashed dreams. The other is a currently divorcing health worker (the personable Euan Morton) who comes to the competition with his infectiously sullen teenage son (Aidan J. Lawrence, with the right touch of teenage angst and anger).
It's all being televised, of course, with a host who couldn't be more smarmy when the camera's on, only to outdo himself when it's off. He's played wonderfully by Justin Guarini, who builds his character perfectly — big smile, body language and all. Guarini's also charmingly funny as two women in the script: a nervous contestant and a former Cake Off winner.
That script gathers in steam as the show progresses and so does the direction by Gaye Taylor Upchurch, which keeps one of the contestants static in the initial song; she comes out singing about doing all sorts of things on the baking surface in front of her and in the oven to the rear, but doesn't even point to any of it, begging the question of whether this will be a concert performance rather than a full show. (Juxtapose that with another show involving baking – "Waitress," currently on Broadway, where handfuls of flour fall like morning mists.) After that, Upchurch finds her rhythm and the show's pulse quickens steadily.
The songs are pleasant and the lyrics move the plot along — they often elicited laughs from the audience when I saw the show Tuesday night. "Cake Off" turns baking into a goofy discourse on gender, competition and regrets and easily fits the definition of a cute show – the good definition, the "aw, shucks" one – for nearly all of its two acts. It may be half-baked at the end, but the rest is an appetizing evening.
_"Cake Off" runs through September 10 at the Bucks County Playhouse, 70 Main St., New Hope. 215-862-2121 or www.bcptheater.org.