Review: 'Forbidden Broadway's Greatest Hits,' all for fun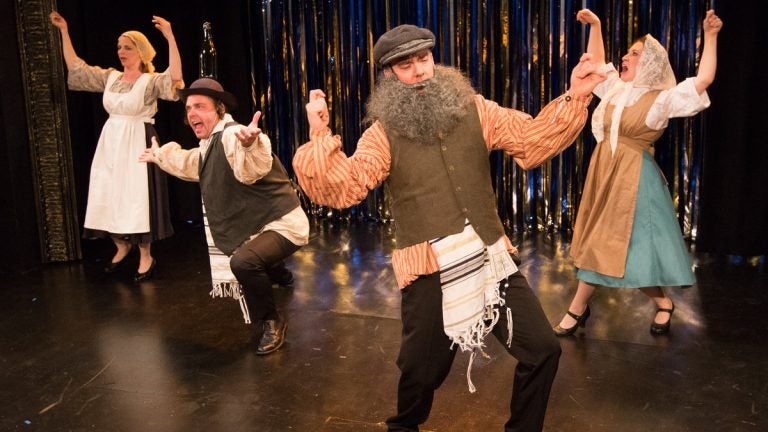 "Forbidden Broadway's Greatest Hits," taken from the little revue that turned out to be an Off-Broadway mainstay with umpteen updated versions over 33 years, is delightful mockery in the hands of Act II Playhouse. When I saw that the stage company in Ambler had scheduled it, I wondered whether it could fly – after all, it makes big fun of Broadway which for many people outside of New York means inside baseball.
But the "greatest hits" version is accessible, and the show at Ambler has now been extended twice. It takes stabs at musicals most people are familiar with or have heard of, and it's ripe with imitations of stars most people know. Beyond that, you need nothing else to appreciate the over-the-top spoofing by the five cast members at Act II – they are inherently funny in their extremes and superb in their comic timing.
"Hello, gaw-geous!" Elena Camp, playing Barbra Streisand, says as she moseys up to pianist-choreographer-performer Sonny Leo. "Hello," he says, smiling. She shoots him a look. "I was talking to myself," she replies.
Act II's producing artistic director Tony Braithwaite pops out on stage as Dolly while the cast sings that that she should go away again. In Tracie Higgins' interpretation, Liza Minnelli winks at the audience in the middle of her frantic routine and says, "If I could be serious…" She stands still for three seconds, tells us how good that was, and resumes dashing around the stage. Jeffrey Coon, a performer who can precisely hit the high notes in the haunting song "Bring Him Home" from "Les Miserables" (I've heard him do it, I'm sure), comes out as Jean Valjean, the show's struggling hero. Instead of intoning the song's first words – "God on high, hear my prayer" — he sings about the song itself: "God, it's high. This song's too high!"
That's how "Forbidden Broadway's Greatest Hits" plays out, and I'm not going to be the one to spoil the show with more examples. It has plenty of comic surprises, some from the pointed lyrics of "Forbidden Broadway" creator and writer Gerard Alessandrini, others from the super-talented cast, and still more from Alisa Sickora Kleckner's wigs and extreme costumes. (Which often mimic Broadway's extreme costumes, a la shows like "Mamma Mia!")
Braithwaite directs the 75-minute piece, which has the uncanny quality of admiring its prey even as it proceeds to rip into it. My bet is that Stephen Sondheim, in town tonight for an award from Arden Theatre Company at a gala concert, would have to chuckle at "Forbidden Broadway's" sharp skewering. Singing from his show "Into the Woods," the cast declares about that musical: "I wish this show were more melodic! I wish this show were less pretentious! I wish this show were not so wordy!" I wish I could see his face if he were there.
_"Forbidden Broadway's Greatest Hits" is extended through June 28 at Act II Playhouse, 56 E. Butler Ave., Ambler. 215-654-0200 or www.act2.org.