Review: Emotional stirrings in 'A New Brain'
Listen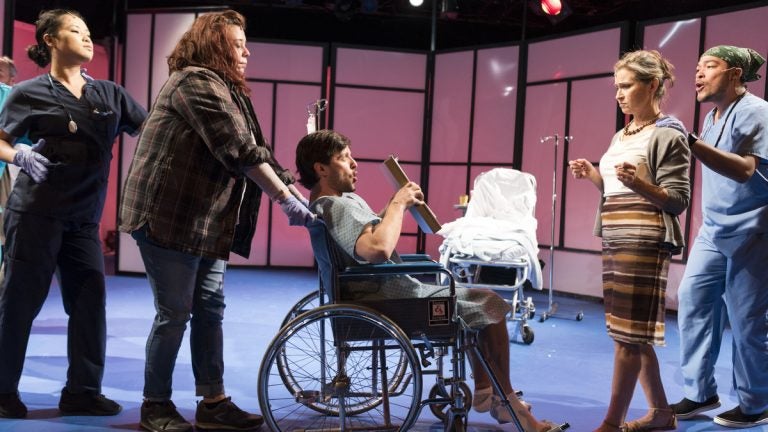 My hat comes off, and my heart goes out, to director Matthew Decker and the classy cast of the emotionally icky musical "A New Brain," which they're presenting at Theatre Horizon in Norristown with passion and serious intent. Whether a show is comedy, drama or unable to be labeled, any theater artist worth a ticket price presents it with serious intent. But "A New Brain," which opened Thursday night, is a special challenge.
With ho-hum music and frequently flat lyrics, the sung-through show quickly begins to sound like one single 90-minute song. You could play some of it in a gift-card aisle where its notions would be appropriate, and the rest of it in a Kumbaya circle where someone's laughing, crying, and talking about eternal springtime and the explosive chemistry of time, music and lo-o-ove. For whatever reason. Or none. And backed at Theatre Horizon by an excellent six-piece off-stage ensemble led by Amanda Morton.
The hero of "A New Brain" is a young, gay and totally blocked composer-lyricist named Gordon. He writes – or would write more, if he could — for a kids' TV program starring Mr. Bungee, a man who plays a frog. (Doug Hara is a charming frog here.) One day at a café, Gordon's producer (Rachel Camp) is pep-talking him into being productive, and Gordon literally falls on his face which, if you dislike the musical, is a metaphor.
In any case, this is serious business – Gordon (strongly sung and acted by Steve Pacek) is rushed to the hospital and diagnosed with a condition called arteriovenous malformation, described on the National Institutes of Health Web site as snarled tangles of blood vessels that can cause hemorrhage to the brain. Gordon's mother (Susan Riley Stevens, who makes her songs work with her ample acting strength) comes to his side. So does his boyfriend (Peter Carrier), who's hard to find because he's pursuing his favorite pasttime: sailing. He comes late after learning of the emergency because, he says, there wasn't any wind.
Also attending him are a smug and cold doctor (Larry Lees), a nasty and cold nurse (Mina Kawahara), a nice nurse who must make up for all the other evil health-care workers (Rob Tucker) and the hospital minister (Christian Eason). Inexplicably, a beggar (Melissa Joy Hart) fades in and out of scenes, constantly asking for another metaphor … er, I mean, change. "If you folks pay/I'll go away," she sings at one point. As for the unfortunate Gordon, he declares: "I need a new brain/Will I be sane?" The show offers a grab-bag of pedestrian lyrics.
Write about what you know, they say, and that's what the composer-lyricist William Finn did. His "A New Brain" was first produced in 1998, after he came out of treatment for the same condition that afflicts Gordon in this show. Finn, whose "Falsettos" opens in revival on Broadway this week, wrote the score for "A New Brain" and teamed with playwright-director James Lapine — Stephen Sondheim's major collaborator — to write the book for the show. (They also worked together on "Falsettos.")
They gave "A New Brain" a goofy tone and mixed it with a serious one. What came out is muddle – a comedy with serious relief rather than the other way around. It's uncomfortable buying into the comic part and hard to buy into the serious part, especially when the show surpasses Cutesy and goes straight into Trite. One song is unapologetically cheap: Gordon's mother comes out in full black garb just at the point when we'll find out whether her son's dead or alive. She proceeds to sing about how the music still plays on even after his death. You have to be following the song list in the program to see that this is part of a coma and not supposed to be real.
Finn can be masterly at making precise, compelling statements about feelings through song – he showed that later in his super-charged musical "The 25th Annual Putnam County Spelling Bee." Here, it seems he was too close to the material to sort it out theatrically. It's unfair to expect a cast and creative team to do that for him whenever "A New Brain" is produced. I suspect Theatre Horizon comes as close as possible, running artfully without flinching to its manipulative ending, a dubious finish line.
"A New Brain" runs through Nov. 6 at Theatre Horizon, 401 DeKalb St., Norristown. 610-283-2230 or theatrehorizon.org.