Review: A 'Herringbone' that's checkered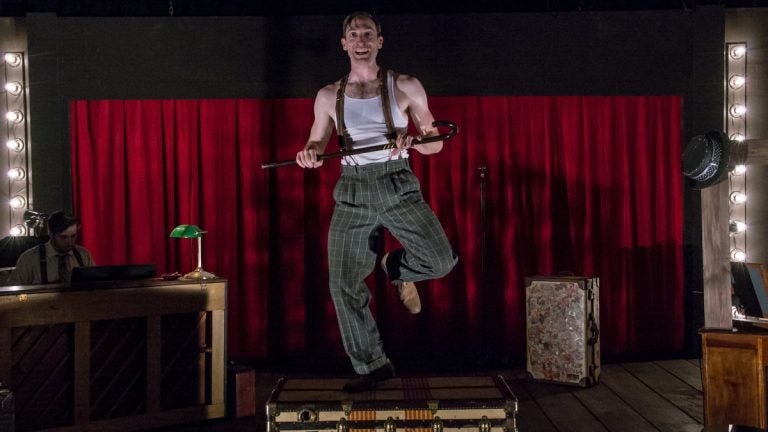 From: The Department of Basic Accuracy and Clarity
Re: Flashpoint Theatre's "Herringbone"
We have completed our investigation of the current production of Flashpoint Theatre's "Herringbone," and we're disappointed to report that after thorough examination, we remain mystified. The points of contention before us remain unexplainable.
Before we continue please understand that in no way does the performance of Ben Dibble, a locally based actor so busy on many stages, figure into our vexation. Indeed, if there's a single reason to see "Herringbone," it is Dibble, strong of tenor voice, charming in his telling of the unusual story in the personae of many characters, and admirable for his endurance in a musical worth 90 minutes that actually lasts more than two hours.
In short, Dibble's performance, backed by an excellent combo of musicians, is commanding and precise – which serves to underscore the cloudiness of the rest of the show.
Here, we begin by reporting that "Herringbone" is the story of a grade-school boy from the South whose body and behavior is overtaken by a dead, slick song-and-dance man in the Depression era when such performers played across the country. (See later variation: lounge-lizard.) The plot, about the boy's journey from shy innocence to bad Hollywood behavior in the body of an 8-year-old is bizarre and unusual, unless you consider Justin Bieber.
The book by Tom Cone, adapted from a play he'd written to become the 1981 musical, makes a big deal – it takes at least one song and several scenes – to show us how the boy came to be known by audiences as "Herringbone": His father takes him to a store for a custom-made suit to be worn at the child's audition. From several bolts of material, he chooses herringbone.
This plot detail is unfortunate for Flashpoint's production, in which the father chooses not a herringbone pattern, but a bolt of "grid" design, which everyone calls "herringbone." (An accurate description from the stage would change everything including the show's title.) Inexplicably, the unquestionably handsome suit Dibble wears with much fanfare has the background pattern for drawing a Dow Jones chart, unrelated to a fish boned to fit inside a jar of Vita. (Costume design is by Kathleen Geldard.)
Our research into other aspects of director Bill Fennelly's production also comes up dry, leaving us with only "whys." Why do the musicians come on stage to a dusty piano, whose top must be hand-brushed by musical director Dan Kazemi? Why does Dibble bound onto the stage in his skivvies? Why in the beginning of Act 2 do Dibble and Kazemi take to the stage with obvious animosity, never explained?
And a question that goes to the heart of "Herringbone," the musical: Why do the songs by Skip Kennon and Ellen Fitzhugh quickly devolve into sameness? Our research shows that if you sing the old standard "Ain't She Sweet," you provide perfect counterpoint to several of the tunes, and the song you'll sing is better.
One final question: How is it possible that a show builds very slowly to a reasonably dramatic crescendo, then leaves us on the ledge, as though the next episode will provide an explanation for the non-ending? In conclusion, we report that this theatrical style has its problems. Send them out laughing? We understand. Crying? Sure. Fulfilled? Of course.
Send them out confused? Our investigation speaks for itself even if "Herringbone," in the end, does not.
"Herringbone," produced by Flashpoint Theatre Company, runs through July 27 at Off Broad Street Theatre, 17th and Sansom Streets. www.flashpointtheatre.org.
WHYY is your source for fact-based, in-depth journalism and information. As a nonprofit organization, we rely on financial support from readers like you. Please give today.