Report proposes 10 solutions to close widening racial wealth gap
Ten Solutions to Bridge the Racial Wealth Divide calls for offering federally-managed "baby bonds" to all children and funding them based on income.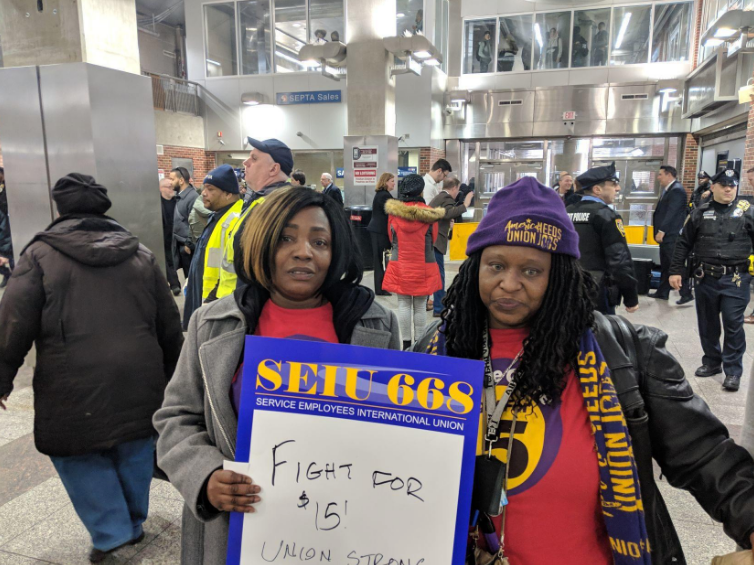 This story originally appeared on The Philadelphia Tribune.
—
Wealth disparities between the races cut deep and wide.
African Americans lag far behind other races in income and net worth. For every $100 white families make, black families earn $59.07, according to U.S. Census estimates.
But a new study lays out a wish list of 10 proposals to bridge that divide.
Released on Tuesday, Ten Solutions to Bridge the Racial Wealth Divide calls for offering federally-managed "baby bonds" to all children and funding them based on income; raising the minimum wage; offering more financial services at U.S. Post Offices, and forming a congressional committee on reparations.
Today's economy does not work for everyone and the racial wealth gap was "historically created through unjust mechanisms," said Darrick Hamilton, co-author of the report and executive director of the Kirwan Institute for the Study of Race and Ethnicity at The Ohio State University.
The American idea that a pathway to success is studying and working hard is a false narrative, added Hamilton, who is an economist.
"The racial wealth gap vividly demonstrates that that's not true," he said.
The median net worth of Black families was $17,600 in 2016, compared to $171,000 for whites, according to the most recent report from the Survey of Consumer Finances. Hispanics had a median net worth of $20,700.
As for average wealth of racial groups, the discrepancy is stark: Black families averaged $138,000, compared to $933,700 for white families and $191,000 for Hispanics, according to the survey, which the Federal Reserve Board conducts every three years.
The median income for Blacks in 2017 was $40,258, compared to $81,331 for Asians, $68,145 for whites, and $50,486 for Hispanics, according to the U.S. Census Bureau.
The racial wealth gap for African Americans and people of color in Philadelphia has been fueled by a low minimum wage and a lack of access to higher-paying union jobs, among other things, said Mark Kelly Tyler, senior pastor at Mother Bethel A.M.E. Church and a member of the activist clergy group POWER.
"The wealth gap is not closing; it's blowing wide open in the wrong direction," Tyler said.
The Institute for Policy Studies, a nonprofit progressive think tank, compiled the report with a group of affiliated organizations.
Many of the proposals stem from policy proposals set out by Democratic presidential candidates, including Sen. Cory Booker, D-New Jersey, Sen. Elizabeth Warren, D-Massachusetts, and Sen. Kamala Harris, D-California.
Many of the proposals face roadblocks at the state and federal level.
The Republican-controlled State House of Representatives and Senate have stymied efforts to increase the minimum wage in recent years, among other issues, and Congress remains divided after Democrats regained control of the U.S. House of Representatives last year and the GOP increased its majority in the Senate.
The following are a handful of the proposals from the group:
Job guarantees, higher minimum wage
The report calls for guaranteeing jobs and hiking the minimum wage.
A federal job guarantee, according to the report, would eliminate involuntary unemployment, and limit racially disproportionate exposure to predatory financial practices.
"It would offer existing workers a viable alternative to jobs with low wages, inadequate benefits and undesirable working conditions," according to the report.
The national Black unemployment rate of 6.7% outpaced the national average of 3.8% in March, according to the U.S. Department of Labor.
Pennsylvania's current minimum wage is set at the federal level, $7.25 an hour, which falls below the cost of living in every city in the country, according to the report. The minimum wage levels come to about slightly more than $15,000 a year.
Although Philadelphia will increase its minimum wage for public workers to $15 an hour in 2022, the city requires state approval to raise wages for private workers.
Tyler, the member of POWER, said Blacks and people of color make up a larger share of lower-paying jobs with salaries that cannot support a family, such as those in the hospitality and hotel sectors. A lack of diversity in the building trades in the city, he noted, is one factor that has kept Blacks from climbing the economic ladder.
Raising the Pennsylvania minimum wage to at least $15 an hour would be a start to help low-wage earning families, but it's still not enough for those living in Philadelphia, Tyler said.
"Let's raise the standard and then push it further," he said.
Baby bonds
Taking aim at the advantages of inherited wealth, the report called for offering baby bonds.
These federally managed and financed bonds would be set up at birth for children and added to annually based on a family's income. When children become adults, they would have access the funds to use for education, to purchase a home, or start a business.
Tyler said the lack of "seed capital" to invest in these sorts of wealth-building assets was a "major cause for why some individuals end up with wealth and others don't."
A baby bond program has the potential to reduce the Black-white wealth gap by more than tenfold, according to the report.
'Postal banking'
The report calls on the U.S. Postal Service to expand its financial services at its locations to compete against payday loan firms, which cost Americans nearly one billion annually.
Due to the numerous locations of post offices, the report suggests the U.S. Postal Service could more conveniently provide access and low-cost financial products to the "unbanked," or those without access to financial institutions.
This year, Philadelphia banned cash-free stores. Advocates of the legislation said cash-free stores prevent lower-income people, minorities and immigrants from shopping there because they traditionally have less access to credit and banking institutions.
Reparations
Congress has never considered the issue of reparations, but the study said now is the time.
The study endorsed legislation put forward by a Democratic U.S. representative that would establish a commission to study reparations and "propose what an apology and policy might look like."
Hamilton said the impact of reparations would help dispel false narratives around inequality, where "we blame the poor for their status" and many describe poverty in an "anti-Blackness frame, whether the individuals are Black or white."
"It allows us to better understand the gross inequities that exist today, that they're rooted in structures of injustice," he said. "That will not only benefit Blacks … but will also benefit poor white people as well."
The U.S. House of Representatives issued a formal apology for slavery and Jim Crow in 2008, but never studied their historical repercussions.
The discussion of reparations has increased in recent years, with a number of Democratic presidential candidates supporting some form of reparations.
Tyler, the member of POWER, said any form of reparations should include crafting policies and programs that open economic and educational opportunities for people of color.
"I think cities and states in the nation can be creative," he said, "and find ways to address a wrong that we know is there."
WHYY is your source for fact-based, in-depth journalism and information. As a nonprofit organization, we rely on financial support from readers like you. Please give today.