Redistricting reform proponents make last ditch arguments ahead of Pa. Supreme Court proceedings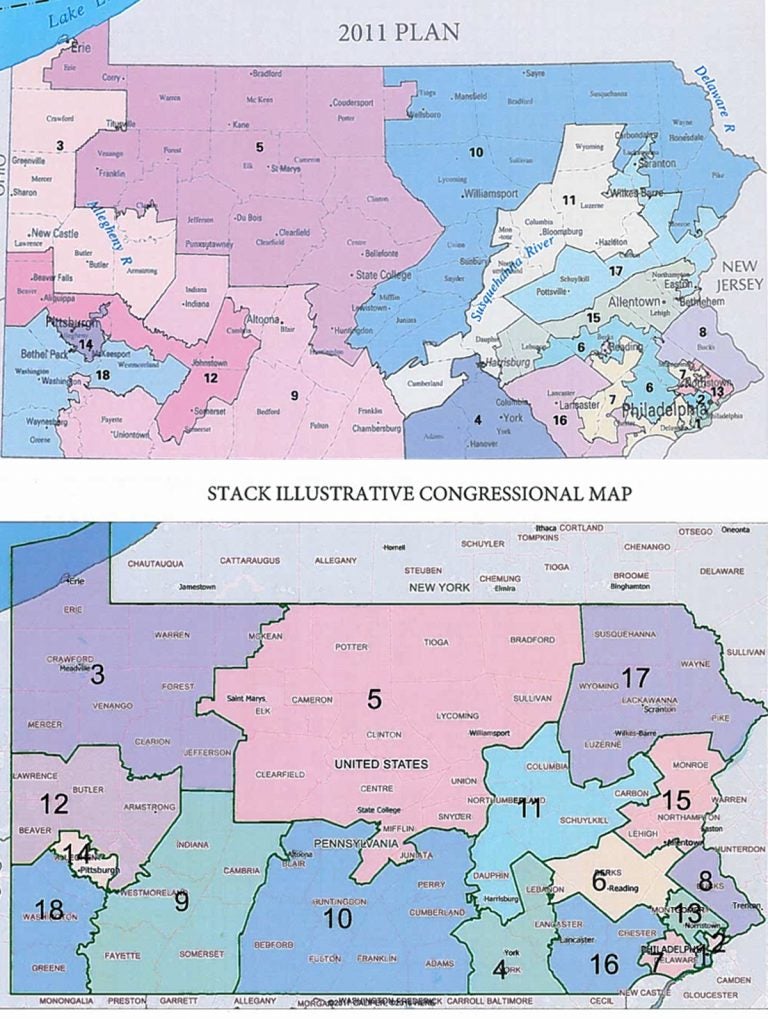 Next week, the state Supreme Court will hear a lawsuit claiming Pennsylvania's congressional map is an unconstitutional partisan gerrymander.
Top state Democrats chimed in Wednesday in an attempt to sway the court in favor of the plaintiffs.
In a press conference held in the capitol, Lt. Gov. Mike Stack offered an alternative map he referred to as the "Stack map."
It wasn't drawn by Stack, though. Instead, it's the first in a series of 1,000 prototypes generated by Jowei Chen, a political scientist at the University of Minnesota who testified earlier in the case, during proceedings in Commonwealth Court nearly a month ago.
"There were a number of possible maps that could meet legitimate districting goals: creating compact districts and respecting political subdivisions. One in particular really highlighted what a better map could look like," Stack said.
Stack believes this version is fairer than the current one because it divides fewer communities.
For example, Montgomery County would be its own district instead of being split in five. And Berks County would be reunited with with its county seat, the city of Reading  — which is presently tethered to a district comprised mainly of rural Lancaster County.
Stack says his preferred map also maintains unity within the state's geographic regions, such as the Lehigh Valley.
He predicts this version would yield a Congressional delegation that would split evenly between Republicans and Democrats — a result that would seem more in tune with the parties' close statewide registration and ballot counts in recent congressional contests.
Stack and Gov. Tom Wolf are named as defendants in the lawsuit due to their roles in administering elections.
But because Republicans controlled all three branches of state government when the map was drawn in 2011, GOP leaders in the legislature have been the parties actively defending it.
The GOP has held a 13-5 advantage through the three election cycles since the current map was put into place.
Steve Miskin, spokesman for House Republicans, says the party's success has to do with more than the map.
"We had … better candidates, better campaigns. In some races, they didn't put up anybody," Miskin said.
Stack's lawyer, Cliff Levine, says their favored map would create "about five or six competitive seats [that] could vary or fluctuate depending on the political moods."
"Which is exactly, really, what our democracy's about," Levine said, "not having a lock-in."
But that also means if the same party happened to win in the five or six "competitive" districts imagined by this proposed map, the resulting congressional delegation would be 14-4 in favor of one party, or even 15-3.
Republican leaders have maintained that the 2011 map is legal. They say the case is wasting taxpayer funds, a tab they estimate at more than $1 million so far.
A lower court judge has recommended that the Pa. Supreme Court uphold the map, saying plaintiffs haven't proven a measurable standard by which political influence can be used or abused when drawing district lines.
The plaintiffs submitted a proposal last week asking the court, if they're successful, to give Gov. Wolf and the legislature two weeks to draw a new map according to nonpartisan criteria, subject to changes by a "special master" and court oversight.
Wolf also filed a brief siding with the plaintiffs on Wednesday.
About an hour after the governor's brief was filed, a decision came down in a similar lawsuit being considered at the federal level. The three-judge panel ruled 2-1 against the plaintiffs, who say they plan to appeal.
WHYY is your source for fact-based, in-depth journalism and information. As a nonprofit organization, we rely on financial support from readers like you. Please give today.