'Red-striped': How Johnny Doc played Philly's building inspectors
It pays to know a guy when you want to build in Philly. Especially if that guy is a sitting council member with the city's Department of Licenses and Inspection on speed-dial.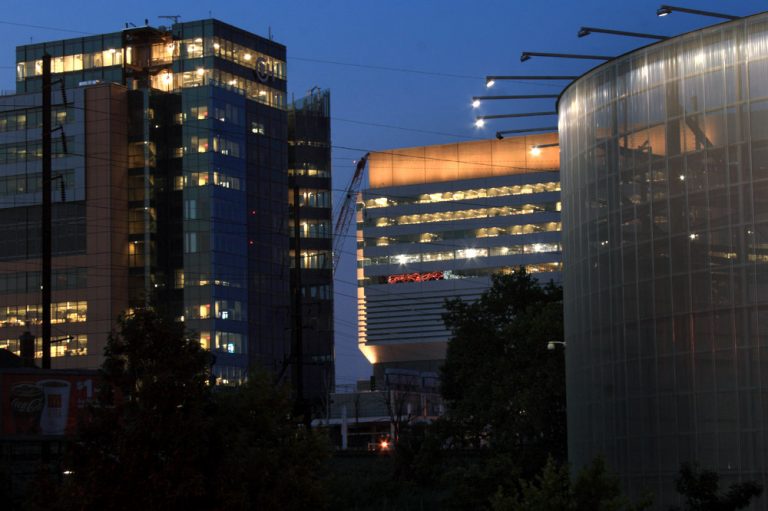 This story originally appeared on PlanPhilly.
—
It pays to know a guy when you want to build in Philadelphia. Especially if that guy is a sitting council member with the city's Department of Licenses and Inspection on speed-dial.
Tapped conversations included in a simmering indictment unsealed Wednesday against the leadership of the politically powerful Local 98 of the International Brotherhood of Electrical Workers exposed an allegedly corrupt link between politicians, political donors and city building inspectors.
"Henon used his position to threaten Dougherty's opponents from other unions because Dougherty told him to," said Acting U.S. Attorney Jennifer Williams, in a press conference outlining the charges.
Federal authorities assert that Local 98 boss John "Johnny Doc" Dougherty influenced Philadelphia Councilman Bobby Henon to use L&I as a weapon against non-union laborers. Both allegedly acted to "hide the true nature of their illegal relationship," the indictment charges.
"At defendant John Dougherty's direction, defendant Henon caused L&I to inspect and in some instances shut down, operations or construction work at locations outside of his district, where non-union laborers were involved in electrical work," the indictment states, citing incidents that occurred between 2010 and 2016.
These allegations are just one small piece of a sprawling 116-count indictment, but they have deep implications for a department that has historically been criticized as a patronage den beholden to the politically-connected.
Reporter Dave Davies digs deeper into Doc's indictment on Thursday's episode of WHYY's The Why. Listen now and subscribe on Apple Podcasts or Stitcher. 
Henon, who represents parts of Northeast Philadelphia, continued to hold a staff position at Local 98, during his time as an elected official. He earned an annual salary of more than $70,000 atop his government salary. Federal authorities now assert that this role and other gifts –– like $11,000 in tickets to sporting events paid for by Local 98 –– were solely designed by Dougherty to influence Henon's activities as an elected official.
"Dougherty gave these things of value to defendant [Henon] to influence Henon in [his] capacity as a member of [City Council] and Chair of the Committee on Public Property and Public Works," the indictment reads.
Federal authorities say that Dougherty compelled Henon  in 2015 to use the city's Department of Licenses & Inspections to pressure the Children's Hospital of Philadelphia over a decision to use a non-union contractor to install a "kid-friendly" GE Adventure Series MRI machine.
"It is also an L&I violation," Dougherty allegedly warned a CHOP official. "You don't want a city thing shutting it down. We have had other hospitals shut down because of that."
The hospital proceeded with the machine's installation, using employees from the company that manufactured the MRI machine. According to the indictment, an alleged complaint from Henon triggered an inspection by L&I and a preliminary "stop work" order. Dougherty refers to this action to in one captured exchange as being "red-striped" –– a reference to the distinctive red-and-white striping featured on L&I stoppage notices.
After a L&I staffer reverses the questionable stop work order, Dougherty complained to Henon, the indictment asserts. The councilman appears to agree to fix the problem.
"Oh really?" Henon said, according to the indictment. "I'll walk over personally."
When Local 98 learns of another MRI machine being installed at CHOP, a captured conversation shows Henon asking for the "exact location" of the job. L&I eventually issued a second stop-work order, denying CHOP a certificate of occupancy for a new wing.
Dougherty later assures other union colleagues that he is "on top" of the situation at CHOP.
Both men are depicted instructing associates to keep the effort under wraps. Henon directing a union business agent to "delete your email," referring to possible messages reflective of the intervention at CHOP.
Deana Gamble, a spokeswoman for Mayor Jim Kenney, said the administration is taking the allegations seriously.
"We cannot get into the specifics of this allegation that occurred in 2015 before the start of this administration, because we are still reviewing the indictment and court proceedings are ongoing," Gamble said in an email. "That said, L&I fields complaints from all of our city residents, not just the well-connected or powerful. L&I staff are expected to do their job without view of how the result will or will not benefit some people."
Patrick Christmas, policy director for Committee of Seventy, a watchdog nonprofit, pointed to the  2015 incidents as an example of an unethical political culture.
"The allegations of a city department being wielded as a political weapon are appalling," Christmas said. "If true, this would be among the worst examples of Philly's old school political machinery in recent memory."
The indictment covers another controversial aspect of Philadelphia development – namely, unions gaming city building codes for their own benefit. Conversations revealed in the indictment include a debate between Henon and Dougherty about using 2015 legislation tweaking the city's building code in favor of the Philadelphia plumbers union as political "leverage."
The men schemed to use the legislation to help Doughtery win his post as the head of the city 's building trades, according to the indictment.
Dougherty believed the head of the plumbers union would vote against him in an internal labor election. He allegedly sought to use Henon to delay the introduction of a plumbing code bill as punishment so not to affect the election. Henon then directed his staff to delay the legislation. Dougherty was eventually elected Business Manager of the Building Trades.
The indictment also alleges deeper coordination: that Dougherty allegedly compelled Henon to support Mayor Jim Kenney's soda tax proposal as a way of carrying out revenge on the rival Teamsters union, oppose a 2016 audit of the Philadelphia Parking Authority, modify a 2015 Comcast franchise deal to benefit a friend and union contractor, and even use a Council committee in an effort to punish a company that had attempted to tow Dougherty's car that same year,
Prosecutors say, taken together, the individual acts add up to criminal conspiracy.
"Union officials and elected officials are held to similar standards, both are required to act in the best interest of others" prosecutor Williams said. "When they violate that duty in order to enrich themselves, it's a federal crime."
---
Disclosure: The Electricians Union Local 98 represents engineers at WHYY
WHYY is your source for fact-based, in-depth journalism and information. As a nonprofit organization, we rely on financial support from readers like you. Please give today.