Realtors association mailer attacks Kenney's budget plan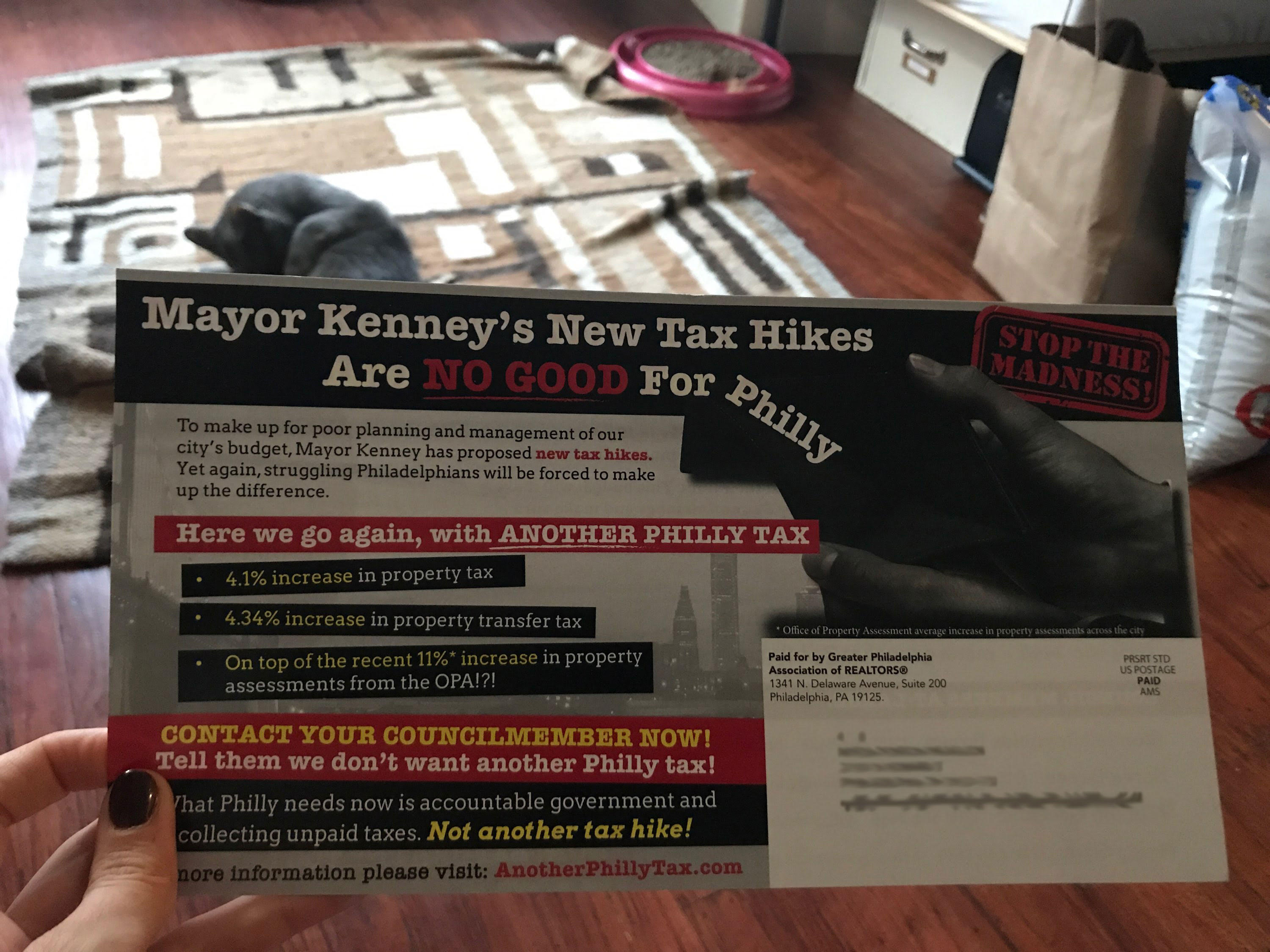 The Greater Philadelphia Association of Realtors is coming out hard against Mayor Jim Kenney's budget proposal, which seeks to raise $770 million over five years to boost funding to the city's schools.
Many of Philadelphia's real estate groups have complained about the proposed increase to property taxes, the real estate transfer tax, and "unpredictable" assessments. But the Realtors have gone so far as to issue glossy mailers, distributed recently in neighborhoods as disparate as Spruce Hill and West Kensington.
The mailers seem to build off the beverage industry's attacks on Kenney's soda tax, reading, "Stop the Madness" and "Here we go again, with ANOTHER PHILLY TAX." The attack ads have their own website too, AnotherPhillyTax.com, which lists the names of all City Council members and their office phone numbers.
The Realtors Association declined to answer questions about the ads.
"From the day he first proposed it, the mayor acknowledged that, for many, this will mean a sacrifice," said administration spokesman Mike Dunn. "That concern is reflected in the Realty Association mailing. But improving our children's education will benefit the entire city, and it's important that we all contribute — residents and businesses alike."
Such glossy attack mailers are usually reserved for hotly contested elections, not municipal budget talks.The timing of the mailers comes near the conclusion of budget negotiations between City Council and Kenney. Some observers say the timing seems odd, as the administration's proposal is already struggling and council members don't seem to need the assistance.
But influential public-affairs consultant Larry Ceisler said the timing at the end of the fight isn't as odd as it may seem.
"Maybe they are doing it to support their position it's more about giving [council members] backbone and showing that they have cover," said Ceisler. "It shows that the Realtors are willing to spend some money, so if these people are running for re-election and they stay true to what they are doing, they will have the support of the Realtors."
Council members have floated their own budget proposal, which would be accomplished without the property-tax increases their constituents loathe. Their alternate offer includes $93 million in uncollected taxes to be secured through a process known as sequestration, which the administration says is unlikely to prove as lucrative as the council claims.
That proposal is seen as an alternative to a controversial tax-lien securitization proposal advanced by Councilman Allan Domb, one of the city's most prominent Realtors and former president of the Greater Philadelphia Association of Realtors. Domb made unpaid tax collection a cornerstone of his electoral campaign and one of his chief policy goals on the council.
"What Philly needs now is accountable government and collecting unpaid taxes," the Realtors Association mailer reads. "Not another tax hike!"
When asked about the mailer, Domb said, "I have nothing to do with this, although I'm sure people think I do."
Members of Kenney's team said that they fully intend to pursue sequestration. But they say it is not as reliable a funding source as Domb and other council members claim, and that they do not feel comfortable including it as part of their budget projections.
This article was updated to include Councilman Allan Domb's comment.
WHYY is your source for fact-based, in-depth journalism and information. As a nonprofit organization, we rely on financial support from readers like you. Please give today.