PUC panel sees 'statewide concern' with pipeline corrosion after ME1 leak
Investigators propose a 'remaining life study' for the aging pipeline.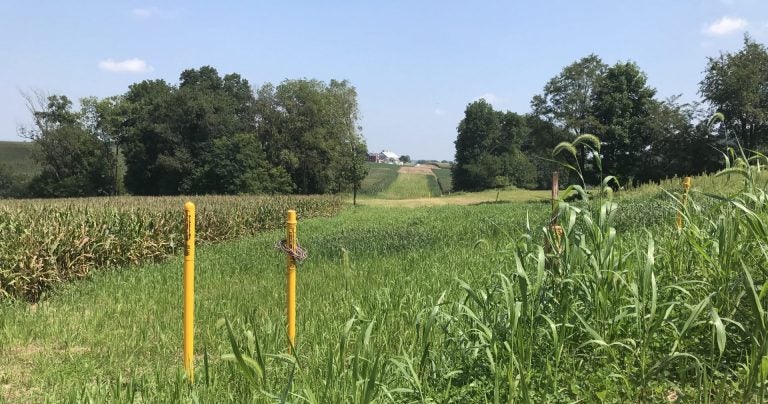 Investigators at the Public Utility Commission blamed corrosion for a leak of natural gas liquids from Sunoco's Mariner East 1 pipeline in April 2017, and said they are concerned about the company's corrosion-control program throughout the aging statewide line.
The PUC's Bureau of Investigation and Enforcement issued a formal complaint late Thursday saying that ethane and propane leaked from the line at Morgantown in Berks County, and the leak was discovered by a resident who reported "bubbling" out of the ground on April 1.
Two days later, Sunoco workers dug up that section of the pipe, and concluded that it was corroded at the bottom. That was later confirmed by a laboratory that examined an eight-foot section of the pipe, the complaint said.
The company said at the time that about 20 barrels of liquids leaked.
The bureau faulted Sunoco's use of cathodic protection – a technique to prevent metal corrosion – saying that its level did not meet official requirements for minimum protection.
And it said the incident raised questions about possible corrosion elsewhere along the line, which was first installed in about 1931 to carry refined petroleum products, and in recent years has been repurposed for highly volatile natural gas liquids.
"While the data reviewed was largely specific to the site of the leak, SPLP's procedures and overall application of corrosion control and cathodic protection practices are relevant to all of ME1 and thus I&E alleges that there is a statewide concern with SPLP's corrosion control program and the soundness of SPLP's engineering practices with respect to cathodic protection," the bureau wrote in the 16-page complaint.
It also criticized Sunoco's record keeping, saying that it failed to say anything about corrosion in a report on an inspection of that section of pipe in July 2017, even though metal loss on the pipe "signifies the presence of corrosion."
And it proposed that Sunoco should conduct a "remaining life study" of the pipeline and consider when it will retire the line.
According to the federal pipeline regulator, PHMSA, Sunoco has blamed corrosion for 129 of the 305 pipeline incidents it has reported to the government since 2006. Twelve of the corrosion cases resulted in federal enforcement actions, according to PHMSA data.
In the Morgantown incident, the bureau alleged 15 violations of federal pipeline safety standards, and proposed a total fine of $225,000. The recommendations will now go before the full Commission.
Asked why it took the bureau some 20 months after the incident to file its complaint, PUC spokesman Nils Hagen-Frederiksen said: "Like any enforcement agency, they make a decision to file when they believe they have the evidence and information to support their allegations."
Critics say older pipelines like Mariner East 1 heighten the risk of a leak or explosion of natural gas liquids. In May, a PUC judge briefly shut down the pipeline in West Whiteland Township, Chester County because of its proximity to construction of the new Mariner East 2 and 2X pipelines on the same right of way.
Sunoco said it was aware of the complaint and has already addressed some of the issues raised in it.
"We look forward to working cooperatively with the PUC to find common ground on the remaining issues," said Vicki Granado, a spokeswoman for Sunoco's parent, Energy Transfer. "Our first priority is the continued integrity of the line, which has been operating safely for years. We are committed to adhering to all the appropriate regulations that govern the operations of our pipeline."
State Sen. Andy Dinniman (D-Chester), a persistent critic of the Mariner East project, said the bureau's complaint provides more evidence that Sunoco is not doing enough to protect the public from moving highly volatile liquids in old pipelines.
"The PUC claims that Sunoco's corrosion testing on its own pipelines failed to detect potential problems and leaks," Dinniman said in a statement. "It seems that the company is either unwilling or unable to adequately determine which segments of pipeline are safe."
Pipeline safety campaigners said the Morgantown incident was the latest to raise questions about the integrity of Mariner East 1.
"As usual, Sunoco failed to detect that a leak was occurring, so we still don't know how long it had been leaking …," said George Alexander, a spokesman for Del-Chesco United for Pipeline Safety, a community group in Delaware and Chester counties.
Noting that the complaint asked Sunoco to consider retiring the pipeline, Alexander said: "We think it should have been retired long ago."
—
Correction: A 12-inch line that is being repurposed to be part of Mariner East 2 received a $30 million upgrade in 2016. The original version of this story misidentified the line that got the upgrade. 
WHYY is your source for fact-based, in-depth journalism and information. As a nonprofit organization, we rely on financial support from readers like you. Please give today.