Proposed Market8 casino releases new rendering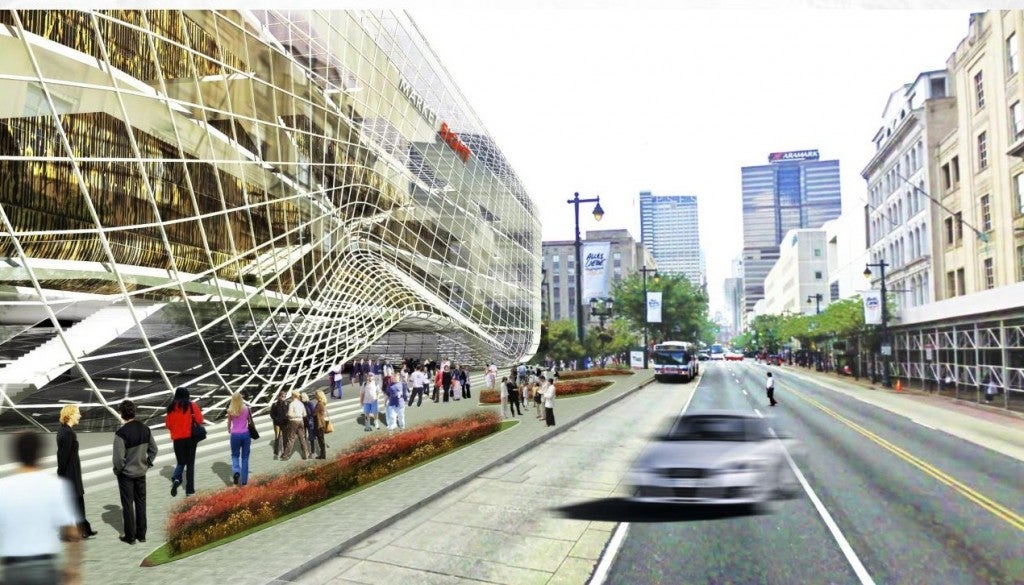 The lastest rendition of the proposed Market8 Casino replaces the former web-like design on the lower exterior floors with lots of glass, revealing an interior "four-story, dynamic video feature."
Ken Goldenberg, lead developer and investor in MARKET8, said building design is one of his favorite aspects of development work, and he took a special interest in trying to shape this proposed building to mesh with the historic area around its 8th and Market streets location while being modern and forward-thinking.
"When you think about it aesthetically (the surrounding environment) tells you to look back 25 years, 50 years, 100 years, 200 years," Goldenberg said. "At the same time, you have to look forward 25, 50, 100 years, with the understanding this facility will be here long after we pass away," he said. "You feel that sort of acute responsibility to address both of those vibrations, and we worked very hard with that."
Goldenberg said in a phone interview that the design uses "a traditional geometry and langauge while at the same time introducing more modern elements – materials and forms." The lower stories form a "somewhat traditional podium," he said, and the stone portions add to that traditionalism. "But it is peeled back in certain places to reveal a more modern sensibility," he added. "The places where it is peeled back are exciting and energetic and modernist. Especially at night, when you can see in, it's a very active environment."
The architectural history most strongly referrenced is the "commercial architecture in East Market Street's heyday," said Market8 spokeswoman Maureen Garrity. A project architect told her that much thought was given "to how the design could be a contemporary interpretation of what one would have expected to see in the architecture of a Gimbels or a Wanamakers." The cornice lines of the podium are much like those in traditional urban commercial architecture, she said.
Part of the inner space visible at night would be the four-story, animated video feature, through which escalators would transport visitors through the four entertainment floors of the proposal.
Some exterior design elements are still in flux, Goldenberg said. "We are still working on rectangular elements that may end up being lights on a special material, or we might go so far as to introduce a different video element," Goldenberg said.
That could mean some sort of advertising.
"We were up in New York, we went to Times Square, and there is some extremely creative video fascia," Goldenberg said. "We talked about advertising different things in Philadelphia, at the Art Museum or Penn's Landing or The Mann. Or we could show historic views of Philadelphia that highlight different aspects of the city."
In 2011, City Council created a Commercial Advertising District on Market Street between 7th and 13th Streets that allows developers to erect large format digital signs in exchange for a $10 million investment in the district. Former First District City Councilman Frank DiCicco introduced the legislation to both encourage investment and enliven East Market Street, where development has lagged behind other Center City locations.
The Market8 team has not discussed digital display in the commercial sense, Goldenberg said. "We're not looking at the exterior as an economic vehicle," he said.
But the other stated goal of the advertising district was in the mix. "The whole idea is to enliven this part of East Market Street, to bring people downtown, to draw people in, even if they are not interested in gambling," said Garrity.
"The design of this casino always was and always will be activating the street level, engaging pedestrians. There's something for people to do even if they are not interested in gaming – the whole first floor will be restaurants and shops."
The earlier version of Market8's design was given the highest marks of the six casino applicants by the Philadelphia Design Advocacy Group. The new version was released on the eve of Tuesday's Pennsylvania Gaming Control Board hearing, at which city representatives will testify as to which casino or casinos best meet the city's needs. The other five applicants: The Provence, Tower Entertainment, LLC, 400 North Broad Street; Wynn Philadelphia, Wynn PA, Inc., 2001 Beach Street and 2001 through 2005 Richmond Street; Casino Revolution, PHL Local Gaming, LLC, 3333 South Front Street; Hollywood Casino Philadelphia, PA Gaming Ventures, 700 Packer Avenue and Live! Hotel and Casino, Stadium Casino LLC, 900 Packer Avenue.
Read about the city's evaluation criteria here.
The new Market8 rendering also features a 168-room hotel tower that was not shown in earlier publicly released images. While this image shows a different perspective, the tower was always part of the plans, Garrity said.
The first four floors will be visually and physically connected by escalators shaped around the video feature "creating an exciting vertical journey for guests, starting at the ground floor and leading up through four levels of entertainment," a press release states.
The second and third floors are dedicated to casino space with bars, fine and causal dining, live entertainment, VIP gaming and lounges. The fourth floor incldues a concert hall/multi-purpose venue which will accommodate live performances, banquets, meetings, and boxing, a poker room, and a 2-story lounge with dining and dancing. The fifth floor will be the hotel reception area and lounges.
"All floors are focused around a dramatic central atrium and the higher floors are surrounded by outdoor terraces with vistas overlooking Eighth, Ninth and Market Streets and the cityscape beyond," the release states.
The hotel will include a spa and fitness club and an entertainment terrace with views of the river.
"We are designing the ground floor to fully engage walkers and commuters, recognizing not just how central our location is, but how critical this is to the vitality of this corridor," Goldenberg said in a press statement. "We will be opening up that level with transparency, doorways, tables and outdoor seating that will allow 8th and Market to become an attractive social place to meet for lunch, dinner, or coffee, and a place that will create energy and excitement all hours of the day and evening. Plus, we are neatly integrating MARKET8 into the existing urban fabric so that people can experience this building as complementary part of East Market Street and the City."
The team of Market8 design professionals includes: JCJ, layout/spatial program; Schema Dougal, interior design; Realisations, the layout of the casino floor/restaurants and interior feel; Beyond Hospitality, entertainment/restaurant/hotel space; Floss Barber and Ten Arquitectos.
WHYY is your source for fact-based, in-depth journalism and information. As a nonprofit organization, we rely on financial support from readers like you. Please give today.