Profile: New Jersey Association of Counties Executive Director John Donnadio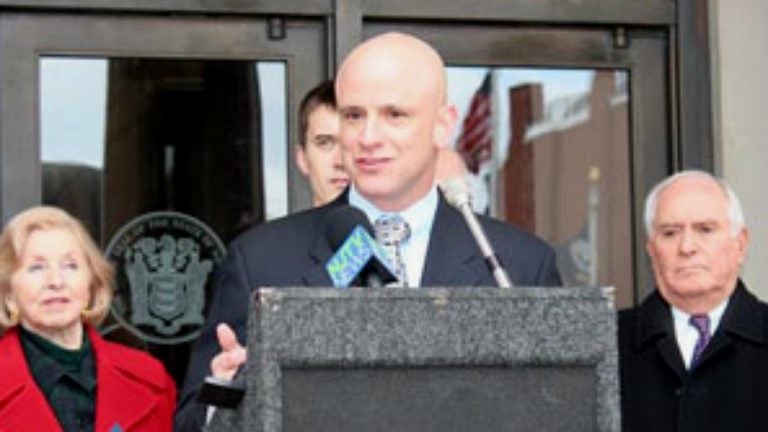 Who he is: John Donnadio, executive director of the New Jersey Association of Counties.
Why he matters: Donnadio, 49, is leader of a group that represents the interests of all 21 county governments in the State House in Trenton. He and other members of the organization regularly testify during legislative committee hearings, explaining how a proposed bill would affect county governments and property taxes. And, as lawmakers have been encouraging more shared services and regionalization to help keep tax bills in check, county governments have taken on a more prominent role in New Jersey in recent years.
How he got started: Born in Newark, Donnadio grew up in Scotch Plains, and attended Union County College. He received a bachelor's degree from John Jay College of Criminal Justice in New York and a law degree from New York Law School. He also has a master's in business administration from Saint Peter's University in Jersey City.
He worked as a lawyer for two years in Trenton for the Office of Legislative Services, the state Legislature's nonpartisan research arm, before Donnadio joining the New Jersey Association of Counties as legislative director in 2000. He became the organization's executive director in 2011. "I've always loved government and politics," Donnadio said.
What he does: A big part of the job, Donnadio said, is serving as a voice for county governments in the State House, working closely with the Governor's Office and lawmakers on regulations and proposed legislation. For example, earlier this year Donnadio was on hand as lawmakers unveiled a bipartisan package of bills designed to help keep county property taxes in check. Those bills are set to be considered tomorrow by the state Senate Budget and Appropriations Committee.
Donnadio also spends a lot of time traveling to the various counties represented by his organization to maintain a sense of what their biggest concerns are.
The "goal of saving taxpayer dollars" is always an underlying mission, he said.
"It's important for us to be in the State House, but it's also important to be in our counties throughout the state," he said. "So I spend a lot of time on the road."
The organization holds an annual conference in Atlantic City, as well as other events, including a summit scheduled for later this month in Trenton on bail reform and prisoner re-entry issues.
The association also runs a foundation that raises money to help graduates of county vocational-technical schools continue their studies, he said.
"It's one of my favorite things to work on," Donnadio said.
Navigating politics and regional interests: With 21 counties ranging from the state's most rural regions to its urban centers, NJAC has to represent each member's interests evenly. That means not taking a partisan political position on issues. To check against political interference, the association is led by a board made up of members of both political parties and regularly rotates leadership.
"We make it clear we are a nonpartisan organization," Donnadio said.
Biggest issues in 2016: In addition to the bail-reform issue – a handful of county governments will soon begin participating in a pilot program – the organization is also focused on transportation funding and the condition of the state's public employee pension system, Donnadio said.
The state Transportation Trust Fund is on course to run out of money by the middle of next year unless lawmakers can come up with a way to replenish it, with many in Trenton expecting to see a proposal to increase the state's gas tax.
The fund spends more than $1.5 billion in state dollars and also draws federal matching funds, with a good share going to counties to help maintain roads and bridges.
Donnadio said county and municipal governments maintain roads that carry a majority of the state's traffic, but receive only a small portion of the trust fund's revenue. Upping that amount in the next trust-fund plan is a big goal for NJAC, he said.
The organization is also concerned about the future of the pension system, which is at least $40 billion in debt. But some of the individual funds that make up the broader $73 billion pension system are in better shape than others, thanks largely to contributions from county and municipal governments that, unlike the state, aren't allowed to skip out on their obligations.
While Democrats who control the state Legislature have called for increases in state funding of the pension system, Gov. Chris Christie has called for more sweeping changes, including freezing the current pension system and creating a new retirement fund with some features of a 401(k).
"What our concern is, is that the state is going to look to comingle the pension system," Donnadio said.
Spare time? Donnadio is married and has five children, ranging in age from 10 to 22. His four youngest children are all boys, and he said he spends a lot of time volunteering as a wrestling coach with the local recreation program in Hillsborough, where the family lives.
"It's a great sport," he said. "I love it."
Donnadio said his other interests include riding his Harley Davidson motorcycle and playing bocce in his backyard.
________________________________________________________
NJ Spotlight, an independent online news service on issues critical to New Jersey, makes its in-depth reporting available to NewsWorks.