Principal turnover highest in Pa. cities, study says, and school leaders may be getting whiter, too
A new report reveals five eye-raising trends among school principals related to turnover, age, race, geography and more.
When a principal leaves a school, research suggests that students tend to suffer. And a new study of K-12 schools in Pennsylvania shows that principals are more mobile in big, urban districts.
In a typical year, about one in five Pennsylvania principals (19%) leave their schools, according to a deep dive into principal mobility by the Philadelphia Education Research Consortium (PERC). But in places like Philly (24%), Pittsburgh (24%), Erie (22%), and Reading (27%) that number is more like one in four. When you zoom in on charter schools in Philadelphia, the figure rises to more than one in three (35%).
Pennsylvania's total principal mobility rate in the study period — 2007-08 through 2015-16 — was slightly above the national average of 17.5 percent.
The authors of the PERC study say their work is just a starting point, a way to raise questions that could be answered by further research.
Keystone Crossroads here breaks down five eyebrow-raising trends contained in the new data.
Trend 1: Big cities have lots of principal turnover
PERC looked at principal mobility in five urban school districts: Allentown, Erie, Philadelphia, Pittsburgh, and Reading. Only Allentown had a principal mobility rate on par with the state average. The other four all had distinctly more principal churn.
That could be because bigger districts have more schools, said PERC director Ruth Curran Neild, which makes it easier to shuffle principals around. But it's also possible that the rigors of working in an urban district that serves a concentration of disadvantaged students induces principals to leave their posts.
"We need to think hard about what those incentives are to keep principals in those schools," said Neild. "What are those particular stressors that tend to drive principals from those schools?"
Trend 2: There's more principal turnover in Philly charter schools than traditional schools
In addition to its survey of state data, PERC took a close look at principal mobility in Philadelphia.
With the exception of one year when the district closed a significant number of its schools, there was more principal turnover in charter schools than traditional public schools. In the most recent year for which data was available, the gap was 20 percentage points.
High turnover numbers are not, by themselves, a red flag said Penn professor Matthew Steinberg, who co-authored the study. Researchers need to know more about principals who left and the leaders who replaced them before jumping to any conclusions. But there is general evidence from a 12-year study of principal turnover in North Carolina that suggests academic performance usually suffers when a new principal comes to a school.
The high numbers in Philadelphia and its charter sector should spur conversation, he said.
"It suggests a fairly unstable school leadership system, with negative consequences for students, potentially," said Steinberg.
Trend 3: Charter school principals in Philly tend to be younger and whiter
The average Philly charter school principal during the period studied was 43, while the counterpart in the traditional public school sector was 50.
It is a disproportionately female profession, with women making up 68 percent of traditional public school principals and 60 percent of charter school principals.
While teachers tend to be disproportionately white in Philadelphia, principal demographics were more reflective of Philadelphia's student body. Half of Philadelphia's charter school principals were white and 43 percent were black. In traditional public schools, black principals accounted for 52 percent of the total while white principals made up 40 percent.
Charter school principals also tended to be less experienced and make less money — on average about $20,000 per year less than district principals.
Trend 4: Public school principals beginning to skew whiter as well
Researchers don't know why, but new principals in Philadelphia's traditional public schools are getting whiter and whiter.
In the first year studied, 71 percent of new principals in district schools identified as black or Hispanic. That number has declined steadily ever since. By 2015-16,  45 percent of novice principals said they were black or Hispanic.
Meanwhile, the percentages in charter schools have hovered around 50 percent for the entire eight-year period.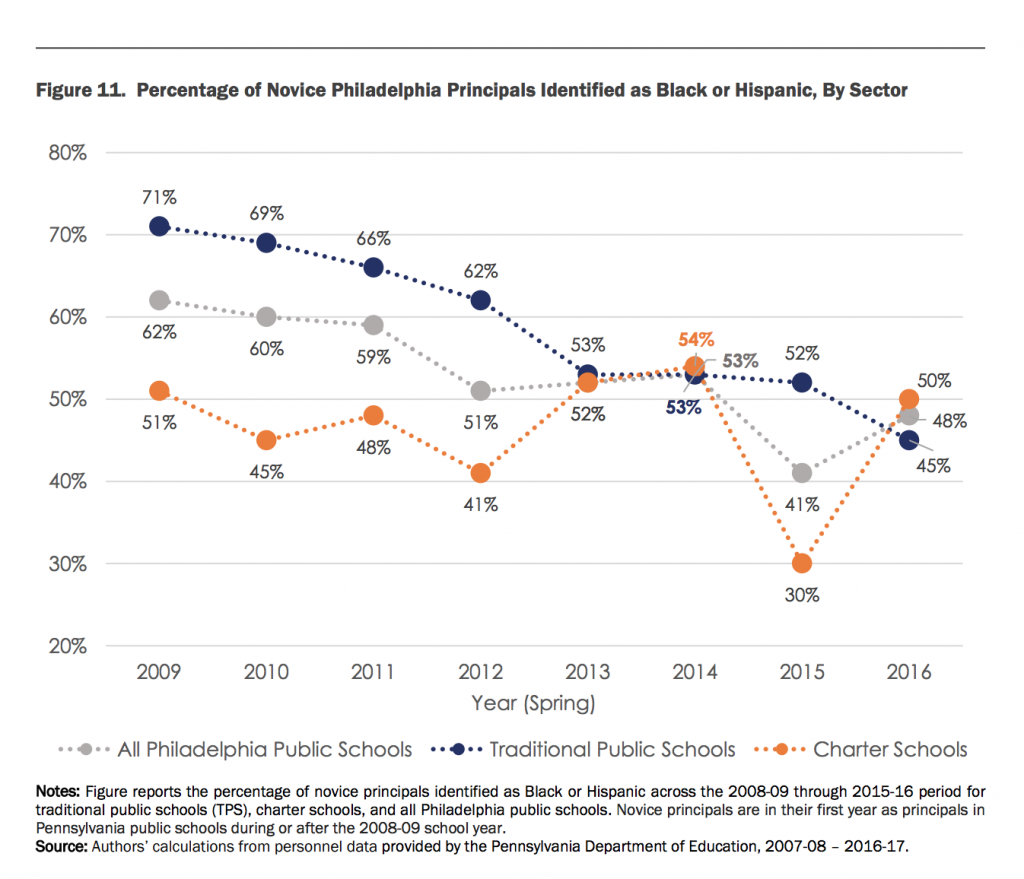 There's also been a dip in the average age of new district principals, although the trend there is more recent and less consistent. In 2015-16, the average age of novice principals in Philadelphia's traditional public schools was 37, down from 47 in 2007-08. Over that same period of time, the average charter school newbie went from 43 to 39.
Trend 5: Principals aren't leaving Philadelphia for the suburbs
Matthew Steinberg calls it "received wisdom:" the idea that principals cut their teeth in under-resourced Philadelphia schools before taking cushier jobs in the suburbs.
The problem is, Steinberg said, the narrative isn't true.
PERC looked at where principals went after they left Philadelphia schools. Only three percent took a job in a Pennsylvania district outside Philadelphia.
Another 45 percent, the plurality, left public education in Pennsylvania altogether. We don't have any more information on those principals. They could have retired, switched careers, or taken jobs in other states.
About a quarter of departing principals took another administrator post in their sector, meaning charter school principals who took another job at a charter school in Philly or traditional public school principals who took another job at a traditional public school in Philly. Twenty-two percent exited the principalship but took another education job in the Philadelphia public schools.
Only three percent of principals moved from the charter sector to the traditional sector or vice versa. If you want to dig deeper into the numbers, you can check out PERC's full report here.
WHYY is your source for fact-based, in-depth journalism and information. As a nonprofit organization, we rely on financial support from readers like you. Please give today.