Institute for Advanced Studies announces agreement over the Princeton Battlefield
The battle over the Princeton Battlefield may be over. Preservationists have reached a deal with the owners – the Institute for Advanced Study – to sell the land in New Jersey instead of developing faculty housing.
For nearly 10 years, the Institute for Advanced Study had been making plans to develop 21 acres near Princeton Battlefield State Park.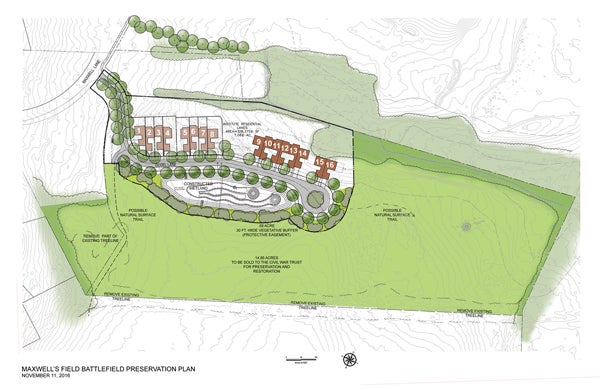 The revised plan for the Institute's Faculty Housing reflects the new agreement with the Civil War Trust.
Historians say that land is Maxwell's Field, the site of General George Washington's strategic attack on British soldiers in 1777, during the Revolutionary War.
The Society spent years challenging the development, eventually gaining the support of the Civil War Trust, a national organization that preserves American battlefields.
The Civil War Trust has reached an agreement with the Institute for Advanced Study to buy 14.85 acres for $4 million, then turn the land over to the state New Jersey. The Institute will keep about 5.5 acres to build housing.
"This is a classic win-win solution," said Jim Campi, spokesman for the Civil War Trust. "The Institute is able to build the faculty housing it needs, but we're able to protect most of Maxwell's Field, fully 60% of it."
The Institute for Advanced Study – which once had Albert Einstein on its faculty – was shovel-ready. It had acquired all the necessary approvals to begin construction. Finance director John Masten says the Civil War Trust had the negotiation abilities and the financial resources to make the Institute change its plans at the 11th hour.
"Having been approved we were obviously eager to move ahead," said Masten. "But part of our approach to this project we hadn't been able to return to was to have a good working relationship with all of the interested parties and focusing on the needs of the battlefield."
Instead of eight townhouses and seven plots for individual houses spread over the whole acreage, Masten says the Institute will build a cluster of 16 townhouses in a dense development on a quarter of the space.
The Princeton Battlefield Society had been going after all 21 acres of Maxwell's Field. This is a compromise, but one's it's happy to make.
"We hope to work with our neighbors and the town of Princeton and the state of NJ to turn the land into a larger open space for the people of Princeton, and show the historic value of what happened on this land," said Roger Williams, Battlefield Society board member.
The Battlefield Society has pending legal action against the Institute, which Williams says it will no longer pursue.