Being heard on Capitol Hill: Postcards with an edge
Listen
5:16
On a recent gray Friday afternoon, several baby boomer-aged women gathered at a home in Philadelphia's Mount Airy neighborhood. Every available chair had been pulled up to the dining room table, as the group swelled to a dozen. Pens were brandished, and the afternoon's work began.
At the weekly meeting of the self-proclaimed "Persistent Postcarders," members handwrite postcards to elected officials, expressing their concerns about issues. They adopted the name from a comment by U.S. Senate Majority Leader Mitch McConnell as he attempted to silence U.S. Sen. Elizabeth Warren.
"Nevertheless, she persisted," said McConnell.
2 to 3 on Friday afternoons
Dayle Friedman started the group in January of 2017, after feeling compelled to react to President Donald Trump's first travel ban.
"I decided, I'm going to spend at least an hour a week advocating," she said. "I put on my Facebook page and sent emails, 'I'll be at my house from 2 to 3 on Friday afternoons. Come!' And from that, the group grew to include people who live right here in my neighborhood that I'd never met."
The Mount Airy group is not alone. A recent article in the Washington Post noted that postcard-writing groups have been on the rise since the 2016 election. However, for some, the practice goes back further and is not necessarily directed at any particular political party.
"Since the Friends Committee on National Legislation was formed by Quakers during the Second World War, we have been encouraging people to write to members of Congress and help them understand the concerns of their constituents, regardless of the political affiliation of that member," said Jim Cason, associate executive secretary for strategic advocacy with the Quaker lobbying organization. "We work with people across the country who come from very different political perspectives."
Reacting to the digital hype
In our age of lightning-fast digital communication, what has prompted the return to this old medium? Many feel the sheer volume of email, tweets, and online petitions has caused them to lose their effectiveness.
At the University of Pennsylvania's Annenberg School for Communication, Jessa Lingel studies activists' use of technology.
"There's dissatisfaction with a lot of the hype around digital activism — or 'clicktivism' — these terms we have for how the digital was supposed to bring in a new wave of activism or political caring," she said. "We've heard from politicians that, yeah, sure, they'll see 50,000 people signing a petition, but that doesn't necessarily mean as much as phone calls or a handwritten letter."
That anecdotal view is confirmed by the research of the Congressional Management Foundation, a nonprofit organization that works to improve interactions between members of Congress and their constituents. President Brad Fitch has seen the volume of communication going to Capitol Hill increase dramatically.
"Especially after 2017, there was a spike in communications," he said. "In one case, I saw a senator's office go up by 900 percent in the first quarter compared to the previous year."
Congressional offices employ a hierarchy to deal with that deluge. Software can sort out the thousands of identical pieces from online petitions and form letters, while individual correspondence is handled by staff.
And knowing their concerns will get through to a person keeps the postcard group motivated.
"Whoever are the recipients of these cards have in their hands palpable evidence of citizen concern," said Friedman. "There is something to that physical object, that very old-fashioned and quaint act of writing to someone."
"Bots don't write postcards. Bots send emails," said Mintz in summing up the difference.
Postcards also reach their destination when other means of communication get bogged down. After the anthrax postal attacks in 2001, letters in envelopes go through a lengthy screening process. And the phone lines in key lawmakers' offices can be flooded, resulting in endless busy signals.
A 'resisterhood'
Beyond feeling their effectiveness growing along with their numbers, the postcard writers said the effort offers personal benefits, too. "It provides emotional support, said Mintz. "It makes us feel like we are taking action, not just letting whatever happens, happen."
"It's a very special sisterhood – 'resisterhood,' someone called it," said Friedman. "And that's a not-incidental benefit."
Mintz also cited the learning experience of the ins and outs of the federal government.
"I had no idea how important the committees are," she said. "I had no idea how action gets taken and where the pressure points are that can change that action."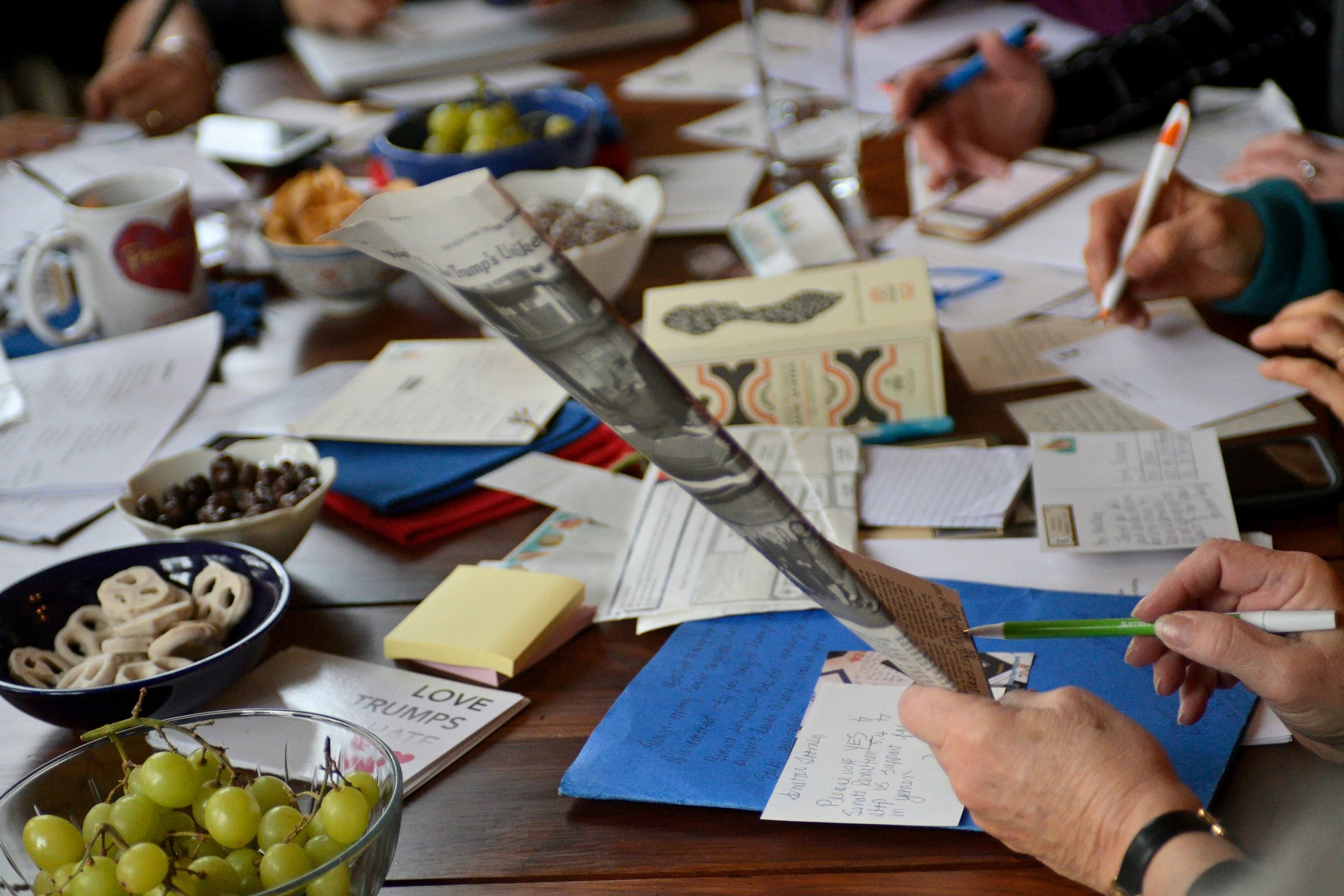 Though surveys show that many Americans believe writing to elected officials is a futile, one-way street, lobbyist Cason said members of Congress need feedback to do their work effectively.
"It's their job to know the details of the legislation," he said. "Your job is to explain how it's connected to your values and your community."
The Postcarders feel they are being heard. That's evidenced by responses from U.S. Sen. Bob Casey, Pennsylvania Attorney General Josh Shapiro, and others, said group member Marsha Lowe.
Those replies keep them going, week after week, every Friday. The Mount Airy postcard group has grown to more than 50 members, and now it's mentoring people in other Philadelphia neighborhoods who are starting their own groups.
WHYY is your source for fact-based, in-depth journalism and information. As a nonprofit organization, we rely on financial support from readers like you. Please give today.