PlanPhilly's guide to getting around during the DNC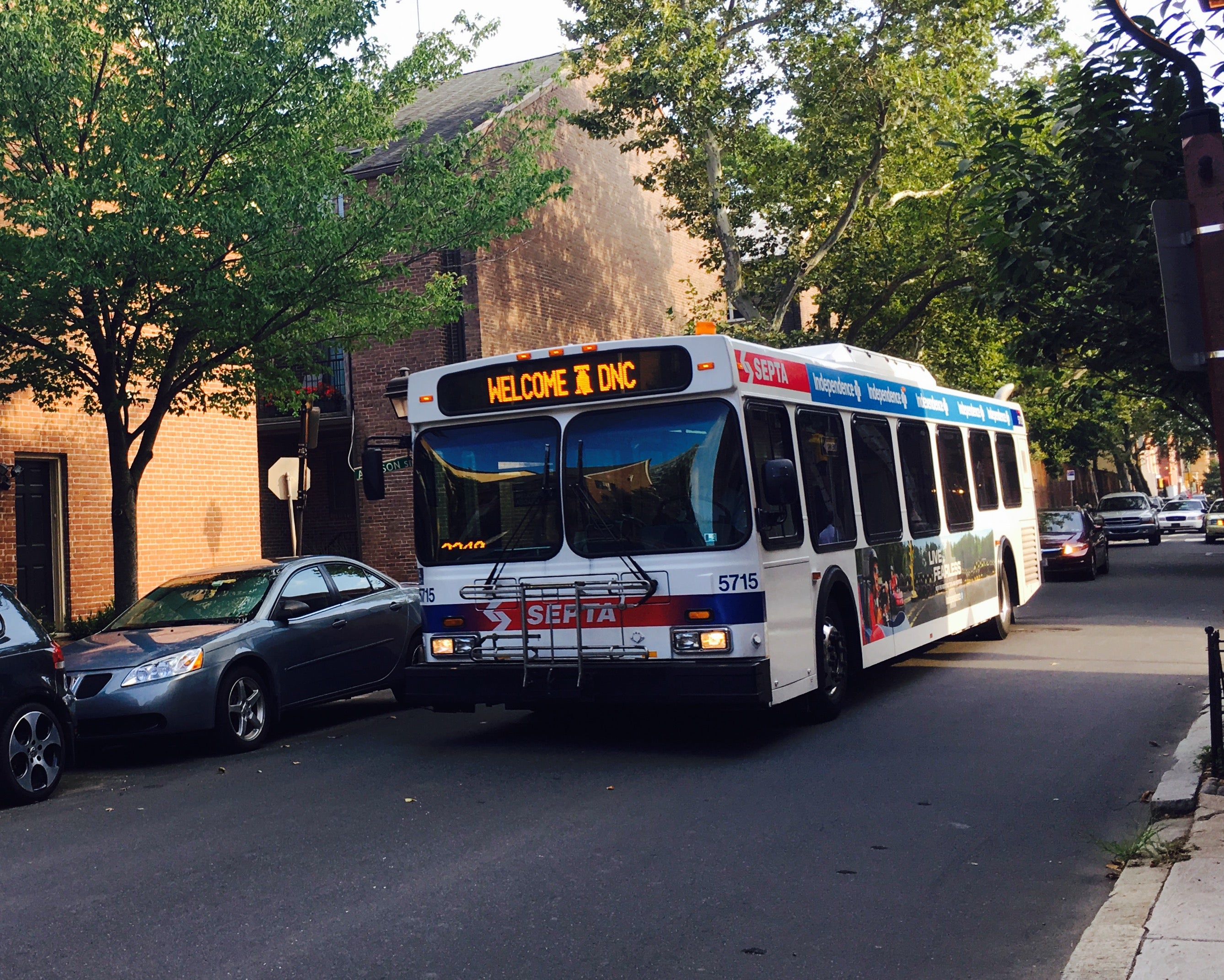 As you might have heard, Philadelphia hosts the Democratic National Convention this coming week. Officially it's Monday through Thursday, but Hillary Clinton has tacked on a rally on Independence Mall Friday afternoon, so it'll be a full week of partisan partying in Pennsylvania.
We're urbanist nerds here at PlanPhilly, so while we can't help you navigate all the late-night bashes, we can help you navigate the city when it's inundated by protests and motorcades.
First, some good news if you're traveling from Philadelphia International: Lyft just announced that it reached an agreement with the airport to allow the ride-hailing service to pickup there, which might make your time leaving PHL a little more tolerable if baggage handlers and wheelchair attendants strike as they have threatened. [UPDATE: The Mayor's office announced late Friday that the Strike had been called off. An agreement between 32BJ SEIU and American Airlines to allow the workers to unionize was reached.]
Second, some more good news for passengers: Despite some saber-rattling earlier this month, Philly's taxi and limo drivers have decided not to strike over the PPA's recent decision to effectively legalize uberX. If the roads are blocked, it'll be someone else's fault.
Speaking of blocked roads, there will be some down near the Wells Fargo Center, where the Convention's major speeches will be held. On I-95, Exit 17—Broad Street—will be closed, and some heavy commercial vehicles prohibited, but otherwise things should be clear. PennDOT launched a website specifically for the DNC to provide real-time traffic updates.
You can also expect temporary road closures throughout the week on Broad and Market Streets, where protest marches—some with permits, others not—are planned. One rush hour protest has already been granted a permit for Monday, and another march from City Hall to the stadiums is in the works for Sunday. On Tuesday, the Westboro Baptist Church will picket outside the Mazzoni Center on 12th Street, and a counter-protest is planned to surround them, sure to cause a traffic snarl around Chestnut and Market. Another protest will march from City Hall to the stadiums that night, too. There'll probably be more, so expect South Broad to be a mess the entire week.
Speaking of South Broad, the PPA will actually enforce the law and tow cars parked in its median beginning this Sunday.
With the roads in Center City likely to be a mess, you may want to turn to public transit. If you're a delegate, SEPTA is providing 125 wheelchair accessible buses just for you, to help you get between the hotels, the Pennsylvania Convention Center and the Wells Fargo Center. The DNC says they'll use 400 buses in total over the weekend.
SEPTA's Broad Street Line and Market Frankford El will run extra night time services during the DNC, as will Regional Rail trains, despite the rail car deficit afflicting the system.
SEPTA's also offering free rides on one of its new electric buses during the DNC. A pilot of twenty-five electric buses will soon being operations on South Philadelphia's Routes 29 and 79, but this weekend the bus will run among City Hall, Independence Mall and the Convention Center.
Not all bus rides will be smooth this week, though. SEPTA expects the protests will have significant impacts on its bus schedules and require detours. Riders are advised to check SEPTA's website regularly for updates during the DNC.
Over in New Jersey, you'll have an easier go of things. PATCO will run a stepped-up service similar to its operations during the Pennsylvania Horticultural Society's annual Flower Show: trains will continue to run every twelve minutes during non-rush hours, but will be longer—four-to-six railcars instead of the usual off-peak two. PATCO will also increase frequency for the Lady Gaga and Lenny Kravitz concert Thursday Afternoon at the BB&T Pavilion.
Alternatively, you could take the Riverlink Ferry, which will be operating as per usual during the DNC.
Given all the traffic woes, you might want to brave the intense temperatures expected and bike around town. If you don't have your own, you can try Indego Bikeshare, which is offering a special promotion during the DNC for walk-up trips. Starting Sunday and lasting until Friday, riders can get $3 rides but using the promo code "1776" at an Indego kiosk.
Finally, if you snag a bike, you might consider joining RideDNC on Wednesday night for a massive group ride down Broad Street.