Plan to change Pearl Street from dark alley to community, cultural connector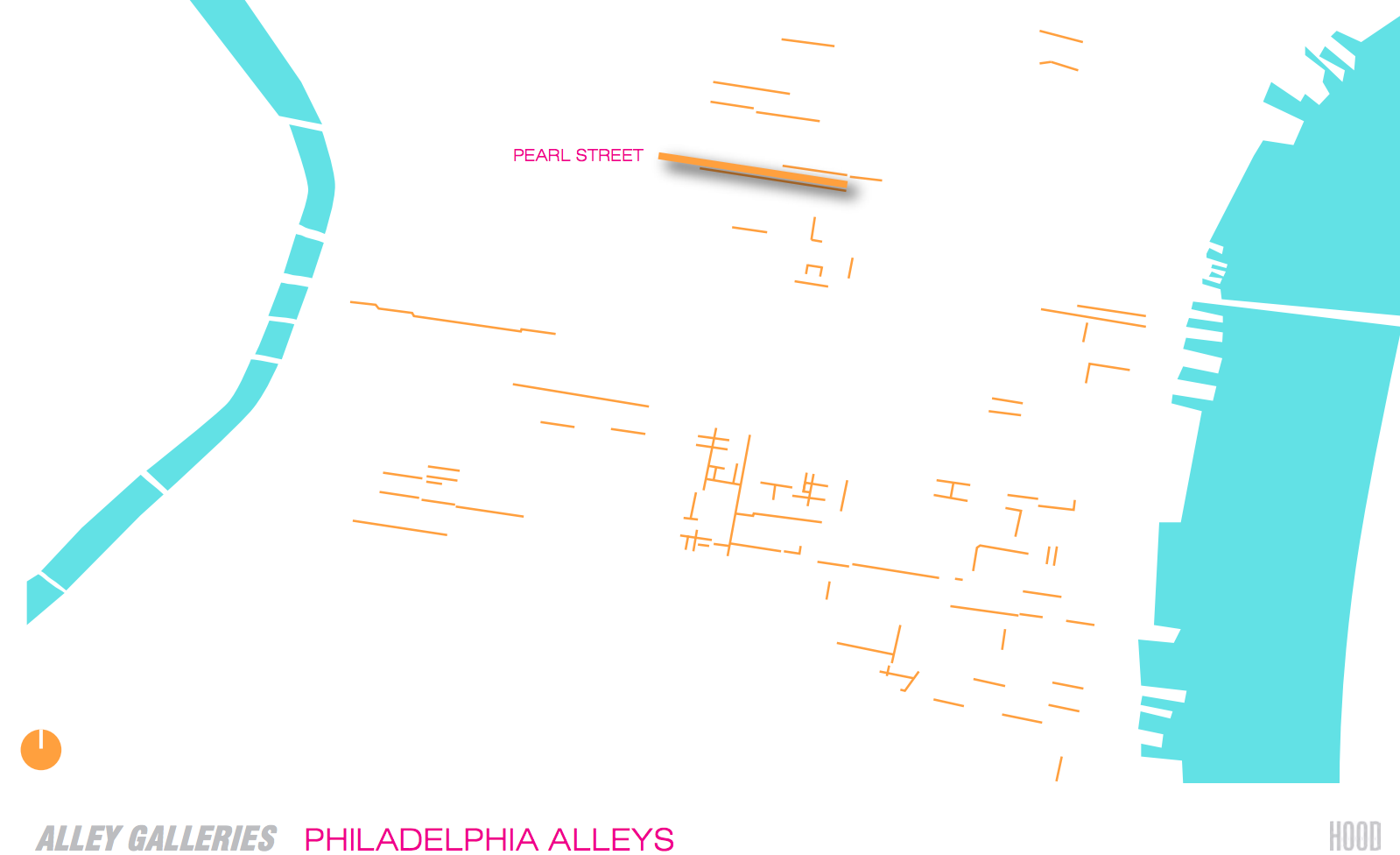 Pearl Street project

Pearl Street project

Pearl Street project

Pearl Street project

Pearl Street project

Pearl Street project

Pearl Street project

Pearl Street project
The Asian Arts Initiative hopes to transform tiny Pearl Street from a foreboding alley to a lively linkage between the Callowhill and Chinatown neighborhoods.
Based on community input and his own research of the alley, landscape architect Walter Hood has drafted a tentative plan that would combine street and doorway lighting, greenery, street furniture, and art to entice the people who live and work along Pearl Street to use the street, rather than avoid it.
Key elements include an art gallery constructed by painting and lighting the underside of the Reading Viaduct where it crosses Pearl; living walls of plants and plants between cobblestones that thrive on water produced by alley buildings' air conditioning units; new windows and doors through which people inside can see onto Pearl and people on Pearl can see indoor activity; and several different kinds of lighting that would make the alley a safer place for pedestrians while also adding beauty.
A "threshold" would be created for each of the three blocks by taking the road back to its cobblestone origins. Most of the alley would remain open to vehicles, but not the portion beneath the viaduct. These thresholds would also be recognizable from the airspace above, where special poles would hold vertical banners.
Still, said Hood, who is based in Oakland, Calif., the street would remain a thoroughfare. It would not become a park – it's not big enough for that – nor would it try to be both a park and a street – it would do neither very well.
Hood presented the ideas and took feedback from members of the community at two sessions held at the Asian Arts Initiative's Vine Street headquarters on Friday and Saturday afternoons.
Asian Arts Initiative Executive Director Gayle Isa began thinking about a Pearl Street transformation about five years ago, when her organization moved to its current location. Her office looks out onto the alley. "I was staring at a blank wall – now a graffiti-covered wall – and I had this impulse to see something different and better," she said.
At Friday's session, Isa described the project as "a chance for us and our local community to re-envision how the alley way can become an asset and a connector of many diverse people and institutions."
A year ago, AAI received a $150,000 grant from the Educational Foundation of America to cover creating a plan and other projects related to enlivening the space, which stretches from Broad Street to 10th – from the Callowhill neighborhood to Chinatown.
Hood said currently, "It's very dangerous out there."
The physical condition of the alleyway is poor, with uneven pavement and frequently, pooling water, he said. It is very dark, with few windows and only three doors along the three blocks of the project – doors that people now do not use. People who do use the alley are often there precisely because they are hidden from sight, he said.
Buildings on the alley include The Packard Building, The Shoe Factory, Roman Catholic High, AIA, the Sunday Breakfast Rescue Mission, and a gas station. There are also parking lots. In the future, Pearl will have a large, new neighbor in Chinatown: The Philadelphia Chinatown Development Corporation's planned community center.
In his talks with stakeholders, Hood said he's often heard that improving the ally would require the relocation of the mission, but that is not part of his plan.
Instead, the mission's back wall would be opened up with a garage-type door that could be closed when needed, or opened to allow interaction between the men at the mission and anyone along the alley. His plan also includes space for a vegetable garden, so the mission could grow some of its own food.
Other building owners would also be encouraged to add windows and doors at the alley, or to use existing ones. These doorways would be better-lit, and possibly outlined with lights.
Under the emerging plan, the alley would become a community events space. That has already begun: A block party was held in late September, with long tables and chairs made by participants set up in the middle of Pearl. But events are temporary, and won't alone change the space, Hood said.
The changes that would transform Pearl can be done in layers – such as physical street improvements, decorative lighting, public spaces, landscaping, art installations. Or they can be done as individual projects in separate geographical areas.
Some elements – such as the call for additional windows and doors facing Pearl – would be paid for by the individual property owners. Hood points out that anything that improves the alley benefits them, so they have incentive.
Other parts of the plan would require fundraising. Hood said he didn't have an estimate on how much everything would cost, as a whole.
But he and Isa are hopeful that some of the street improvements would be paid for by the city, as part of regular street maintenance. Hood noted that standard materials can be used in creative ways to produce interesting effects. The city's standard streetlights might be positioned in reverse, with the lights facing Pearl Street's walls, for example. Because the space is narrow, everything would still be lit, Hood said, but the walls would be drenched in light. "The beautiful thing that we see, is by putting these standards in the alley, we can actual say something different about the standards," he said.
Unlike the two westernmost blocks, the block closest to 10th street is not flanked by buildings, but lots. Here, Hood suggests creating a sense of place by stringing lights across the alley. He said during festivals, lanterns could be made to hang over them.
Preliminary discussions with the city have begun, both about the improvements organizers hope the city will pay for and about closing part of the street, Hood said. If a portion of the street is closed, AIA would assume responsibility for its upkeep, Hood said. Likewise, AIA would be responsible for the cost and upkeep of any materials used that are not the city standard.
A final draft is expected later this year, but Isa said the plan will be fluid enough to adjust and change as needed. Feedback and ideas can be sent to Info@Asianartsinitiative.org.
WHYY is your source for fact-based, in-depth journalism and information. As a nonprofit organization, we rely on financial support from readers like you. Please give today.