Philly's King Day of Service focuses on defusing deadly violence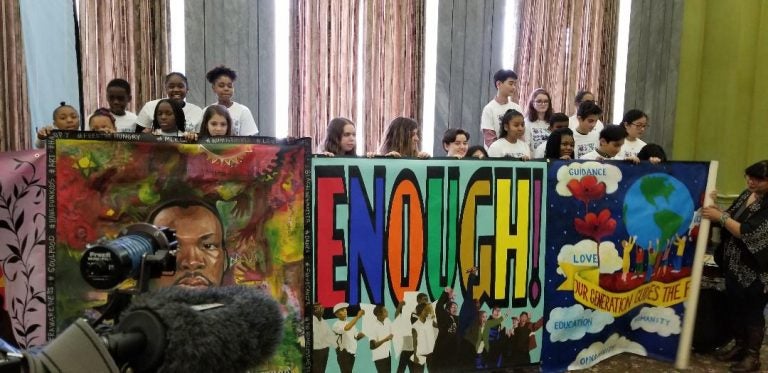 Preparations are well underway for the Jan. 21 Martin Luther King Day of service — and Philadelphia is expected to set another record for its participation, according to organizers.
"Philadelphia will again be the center of this growing movement of embracing Dr. King's legacy through activism and action," said Todd Bernstein, long the driving force behind the city's events to honor the slain civil rights leader. "We expect to have more than 150,000 volunteers serving in more than 1,800 projects."
For the 10th year, Girard College will have 4,000 to 5,000 people involved in everything from civic engagement to holding a jobs fair.
The theme of the various activities is to defuse the violence that leads to deadly gunfire, said Heather Waddington, Girard president.
"We try and focus as much as we can here on our young people at Girard and urge them to dream and speak of a world without gun violence," she said.
Back in the '60s, Karen Asper Jordan of the Cecil B Moore Freedom Fighters said integrating Girard College — founded in 1833 as a school for poor, white, orphaned boys — was a huge challenge.
"It was a hard fight, the fight was won in court, while we kept the light of the world and all of the cameras outside," Jordan said. "We marched for seven months and 17 days."
But their success shows that working together can make a difference, she said.
"We're here because of the little people that struggled and marched and were beaten outside these walls so children, black children, can come to this school," Jordan said.
Now the goal is the focus is on ending the grip of violence in the community, and Rev. Gregory Holston of the group POWER said racial justice is the next step.
"We do it when we stand up for fair wages for workers in this city, we do it when we stand up for fair education funding for our schools," he said.
Volunteers can find opportunities throughout the region at MLKdayofservice.org.