Philly reaches $12.5M deal with Taser maker for police body cameras
How a savvy purchase of a cloud storage company helped the company behind Taser snag big contract for Philly police body cameras.
Listen
4:51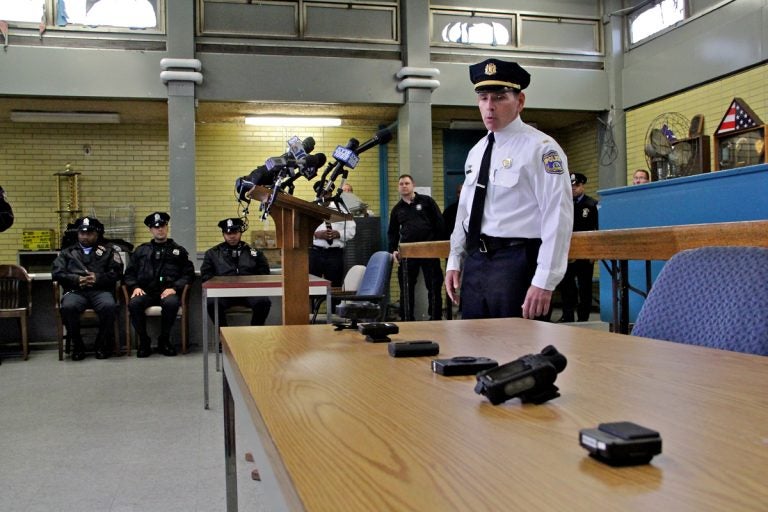 With Philadelphia officials buying thousands of body cameras for city cops, taxpayers would assume they would shop around for the best price.
Top city officials promised to do that last year, but instead they have signed a four-year, $12.5 million contract with Axon, the company formerly known as Taser International, to equip all 4,000 patrol officers with cameras — without giving competitors a chance to publicly bid, according to documents reviewed by WHYY.
Dozens of officers already have body cameras, under a pilot program in North Philadelphia that launched in late 2014. Under the new deal, another 500 officers will get cameras every six months until every patrol officer citywide has one. It's one of the biggest police department adoptions of the gadgets in the country, which made it a highly-coveted contract.
Yet even city officials admit that the arrangement brokered with Axon may make government watchdogs leery.
"In an ideal world, yes, we would have put out an RFP," said Philadelphia's chief integrity officer Ellen Mattleman Kaplan, referring to a request for proposal, or asking companies to make offers to do work for the city. It's a public process and it's how most city business is awarded. But Axon won the contract with no competition.
"In this particular case, I think the consensus was that it would have been disingenuous to put out an RFP because of the particular circumstances of the situation," Mattleman Kaplan said.
"The situation" is one, in the eyes of top city officials, that Axon cunningly devised.
Axon official: 'This is how you do business'
Back in 2013, Philadelphia spent nearly $1 million to replace the system it uses to store photos, body camera video footage and other digital evidence. Shortly afterward, officers in the 22nd district started trying out more than a dozen different models of body cameras.
That came as police departments nationwide faced increased pressure to outfit officers with body cameras in the wake of numerous police killings of black men. The federal government was offering tens of millions of dollars to local agencies as incentive.
Before Philadelphia's pilot program ended, the company formerly known as Taser acquired the evidence storage company the city had been using and made it proprietary, meaning only footage from its brand of cameras could be stored on its own cloud storage system, Evidence.com.
Replacing that costly storage system was not an option, so the acquisition gave Axon a serious competitive advantage.
Brian Abernathy, the city's first deputy managing director, described the move as "very calculating."
Axon Spokesman Steve Tuttle brushed off that description.
"This is how you do business," Tuttle said in an interview on Monday. "You have to look for new opportunities and seize the day."
To Peter Austin Onruang, who runs Wolfcom, a maker of body cameras Philadelphia police tested out during the pilot program, it was a hostile gesture. He feels wronged for being unable to bid on the final contract, but says it is routine behavior for Axon.
"They try to get customers stuck into their system," Onruang said. "The citizens of Philadelphia pay their tax dollars to hire people to run the city and to wisely spend their money, not to give business without a bid to a friend."
But city officials strongly dispute that favoritism was a factor in inking the eight-figure Axon deal.
"We didn't try to cut corners, or pull the wool over anybody's eyes," Abernathy said. "We tried to figure out the most efficient, cost-effective way for taxpayers of Philadelphia."
Axon has courted controversy over the years for winning police business by coaching cities on how to work around government contracting rules and for cozying up to elected officials with free vacations and other perks. Axon officials, for example, offered to fly members of Philadelphia's technology department to Seattle to tour an operations site. (That offer was declined, city spokesman Mike Dunn confirmed.)
Critics say both tactics undermine procedures in place intended to protect how taxpayers' money gets spent.
Still, such strategies have paid off for the company, which reported $17.2 million in profits last year. It sold nearly 85 percent more body cameras last year than in 2015, totaling $65.6 million in sales.
The deal in Philadelphia, Axon says, was not the result of excessive lobbying, but simply offering the best product.
Abernathy agreed that giving Axon business had nothing to do with any gestures by the company's brass.
"I've never met an Axon official, first of all," Abernathy said. "And this was my decision."
Had Axon paid for any travel or gifts for city officials, the deal would have likely been scuttled, Mattleman Kaplan added.
"Nobody came to me and said, 'Taser wants to take me to dinner or take me to the Super Bowl.' That didn't happen," Mattleman Kaplan said.
In November, the first 500 cameras as part of the plan of outfitting all patrol officers by 2021 will be deployed in the 24th and 25th police districts, which includes parts of Fairhill and Kensington, considered the epicenter of the city's opioid crisis.
"The opioid epidemic in Kensington and Fairhill is certainly leading to other challenges the police department is facing," Abernathy said. "That definitely went into consideration of where next to bring the body cameras."
Piggyback off Arizona deal
In the Axon deal, city officials turned to a rarely-used and controversial contracting practice in which they piggyback off of another government agency's competitive bidding process. Rather than soliciting bids itself, Philadelphia signed on to the terms of a contract negotiated 2,000 miles away by a law enforcement agency in Arizona.
Under a 2010 city ordinance aiming to "modernize" how Philadelphia hands out business, the so-called cooperative purchasing agreement is legal as long as it "guards against favoritism and corruption" and will lead to a good deal for the city.
Yet the thousands of new cameras hitting Philadelphia's streets are coming with a hefty price and terms hammered out in Arizona: $400 per camera, which includes  warranties and replacement. In Los Angeles, officials used the same method to adopt body-worn cameras from Axon — and got them at $99 per camera.
The device price is a tiny fraction of the overall expense of body cameras. Axon makes most of its profits from storage and retrieval of footage, which it collects via a monthly subscription to Evidence.com. Monthly storage rates range from $15 to $79 per camera/per month. So for 4,000 cameras, the monthly digital storage cost to the city will be at least. $60,000.
The company defended the cost of the service.
"You can redact some of that with the help of artificial intelligence. You can share this information with district attorneys with the push of a button," Axon spokesman Tuttle said. "We have 125 code writers. It's the Evidence.com that's driving all the success."
In addition to the cameras and the cost of storage, the body camera program requires additional networking, uploading, docking equipment, licensing fees and other expenses. When all of that is factored in, each body camera and its supportive applications total about $3,125 per device.
Philly officials also defended the unusual measures taken to ink the deal, saying about 7 percent of city contracts use this strategy of piggybacking off of another agency's bidding process, for things like computers, Microsoft software and other goods and services.
City officials did not provide a copy of the Axon contract, but they did supply supporting documents outlining some of the contract's terms.
Philadelphia City Councilman Allan Domb said governments are changing how they select contracts as they learn that the RFP process might not always guarantee the best bargain.
"You have to negotiate to get the best price. Otherwise, you get taken advantage of," Domb said. "But a lot of bidders don't come into an RFP because it's too complex and we lose them."
But Mike Purdy, a Seattle-based government-contracting consultant, said another factor drives government agencies to bypass common bidding rules.
"They do this in order to save time," Purdy said. "Is that the best price and how did they get there? That's why we have competition and bidding. This is often done out of expediency."
Cameras to build public confidence
Mayor Jim Kenney, a longtime supporter of expanding the city's body camera program, said recording officer interactions with citizens will help rebuild public confidence in law enforcement.
"These cameras are just a tool and are not going to solve every problem," Kenney said. "But they could prove to be an important tool and my administration is committed to this expansion."
A study released last week showed that the high-tech gadgets have nearly no effect on officer behavior. Yet police and reformers alike say there are clear benefits to having a record of arrests and other violent encounters, like police shootings. Other studies back up the notion that the cameras reduce instances of excessive force and drop the number of civilian complaints.
"They can eliminate the he-said, she-said in police interactions to make sure law enforcement is not painting a false narrative," said Asa Khalif, a Pennsylvania organizer with Black Lives Matter. "It's important to be able to see it with your own eyes."
But viewing the footage may not be that easy. If the recorded material is part of an active criminal investigation, it will not be available to the public, unless law enforcement officials decide to release the footage themselves.
And under current city policy, video that is not linked to an investigation is saved for only 30 days.
Kenney spokesman Dunn said city officials are mulling whether to extend the storage time to 60 or 90 days, though it may depend on the price-tag of extending the storage time.
Khalif said the 30-day-erase rule could diminish any chance of the footage providing accountability.
"Erasing footage is something I'm very concerned with," Khalif said. "People in many communities are already suspicious of police and finding out that footage of their interaction is missing could make it worse."
WHYY is your source for fact-based, in-depth journalism and information. As a nonprofit organization, we rely on financial support from readers like you. Please give today.