Philly police round up 'handful of bad actors' in wake of Super Bowl vandalism
Police warn the hundreds of thousands expected at Thursday's celebration to observe the law: 'You're not going to get a pass, just because it's a parade.'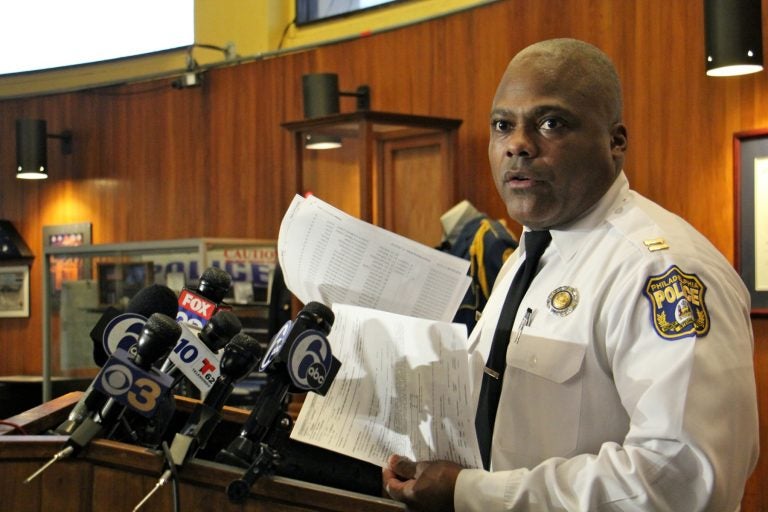 After violent fans overturned cars, toppled light poles, trees and signs, looted a store, smashed store windows, threw bottles, and otherwise wreaked mayhem in Philadelphia during Sunday night's Super Bowl celebrations, police warned that they would track the rioters down and hold them accountable.
This week, they began doing just that, announcing the first of what they vow will be a multitude of arrests over criminal behavior in the hours after the Eagles' historic win.
I LITERALLY WITNESSED PEOPLE TIPPING OVER A RANDOM CAR ON THE STREETS PHILLY IS WILD pic.twitter.com/FZHUKEOkXV

— sharon (@__itssharon) February 5, 2018
Videos on social media helped police identify and arrest John Rigsby, 20, of Malvern,  Tuesday on charges of riot with intent to commit a felony, conspiracy, criminal mischief, and recklessly endangering another person for allegedly helping six other people overturn a 2017 silver Nissan Rogue SUV outside The Bellevue hotel on Walnut Street near Broad. Rigsby is the son of Villanova University basketball broadcaster Whitey Rigsby.
John Rigsby, 20, of Malvern, has been charged with vandalism relating to Super Bowl post-game celebrations in Center City. (Provided)

Robert Ehlers (Provided)

Alexander Mawescu (Provided)

Malcom Cox (Provided)

Mark Thomason (Provided)

Rubin Garrido (Provided)

Veasna Sary (Provided)

Brendon Anthony Lopez (Provided)
Police already had arrested seven suspects and issued an untold number of summary citations for city code violations during the overnight celebrations, said Capt. Sekou Kinebrew, a police spokesman.
Those facing felony and misdemeanor charges are: Brendan Lopez, 24, of Bristol, and Robert Ehlers, 39, of Morrisville, for institutional vandalism and criminal mischief, for allegedly spray-painting graffiti in five locations around 36th and Chestnut streets; Rubin Garrido, 28, of Point Breeze, for simple assault and recklessly endangering another person for allegedly bashing someone in the back of the head with a belt buckle on Bach Place near Broad; Mark Thompson, 41, aggravated and simple assault, recklessly endangering another person, for allegedly punching and injuring a news photographer at 15th and Walnut; Malcom Cox, 28, of West Philly, for aggravated and simple assault, recklessly endangering another person, and possession of an instrument of crime for allegedly throwing a bottle containing an unknown substance at a police vehicle and officer at Broad and Morris; Alexander Mawescu, 26, for disorderly conduct and fighting after he allegedly banged on police shields and "bullrushed the police line" at Broad and Arch; and Veasna Sary, 24, of South Philly, for criminal mischief and propulsion of a missile, for allegedly throwing a bottle at an unmarked police vehicle at Broad and Federal.
City officials have maintained that most revelers were peaceful and blamed the property damage on "a handful of bad actors."
Wednesday, mayoral spokesman Mike Dunn said he couldn't quantify the extent of property damage nor what it will cost the city and referred that question to the police department. A spokesman said police were busy tracking down the law-breakers and didn't have information about property damage.
Kinebrew urged lawbreakers still on the lam to turn themselves in, and he asked the public to send them videos showing criminal activity to help them identify the culprits.
"We have you on video, so it's just a matter of time. You can make it easier on yourself, and just turn yourself in," Kinebrew said. "Don't think that after the parade and after everything has died down, this is going to go away. It is not. We are going to identify and arrest the people who are responsible for it, because it is not fair to everyone else who just wants to have a good time and enjoy a celebratory moment like we just had to let this go unanswered."
Meanwhile, the Fraternal Order of Police Lodge 5 also wants Super Bowl rioters held accountable.
The union is offering a $3,000 reward for tips leading to the arrest of the two vandals who used a metal pole to shatter the storefront window of the A.C. Moore crafts store at Broad and Chestnut street, causing $4,000 in damage.
Kinebrew warned that police won't brook violence or vandalism Thursday, when tens of thousands of people are expected to flood the city for the Eagles victory parade.
"We want people to have fun," he said, but "you can't break laws. You can't damage property. You can't hurt people."
Things that are normally illegal — including open-container drinking — will still be illegal during the parade.
"You're not going to get a pass, just because it's a parade," he said.
WHYY is your source for fact-based, in-depth journalism and information. As a nonprofit organization, we rely on financial support from readers like you. Please give today.