Philly moms fight back against gun violence
I'm not a mom. But I am a daughter, sister, and aunt committed to changing my status from passive observer to activist against mass shootings.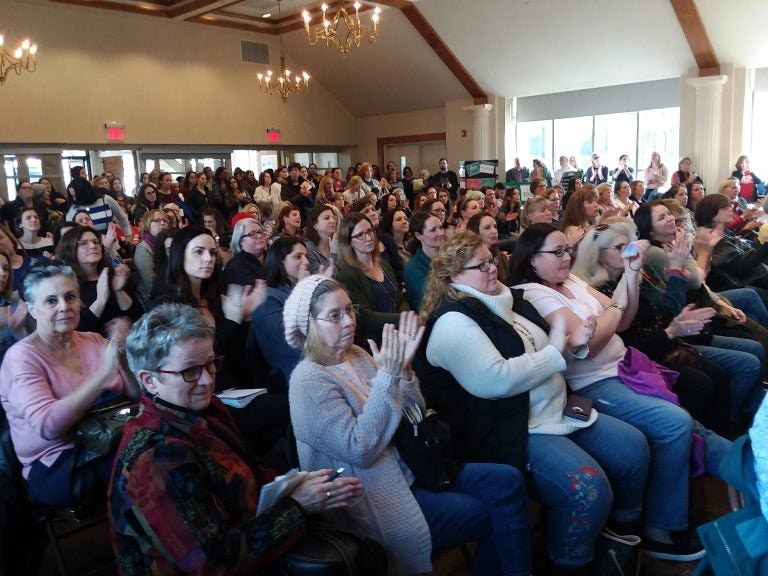 Within days of the Parkland, Florida, school shooting, I joined the Philadelphia chapter of Moms Demand Action for Gun Sense in America, a nonpartisan movement demanding reasonable solutions to gun violence. I'm not a mom. But I am a daughter, sister, and aunt committed to changing my status from passive observer to activist against mass shootings.
Why now? Why not over five years ago when Moms Demand Action first formed in response to the Sandy Hook massacre? Because the courageous, outspoken students at Marjory Stoneman Douglas High School reshaped the national gun control conversation and woke me from my stupor. They burst the myth that the NRA can't be challenged. In a matter of days, Dick's Sporting Goods stopped selling semi-automatics, and credit card companies, major retailers, and corporations distanced themselves from the NRA. Starbucks, Trader Joe's, and other national chains have banned guns at retail locations in states with open-carry laws.
I don't want to watch from the sidelines. I want to be involved.
When I arrived at my first meeting of the Philadelphia chapter on Saturday at St. Thomas Church in Flourtown, it took ingenuity to find a parking place. Hundreds of women of all ages filled the huge auditorium to capacity. They were sitting on the floor, standing in the rear, and rocking babies in their arms. Many were area teachers from Arcadia University and Upper Dublin High School. Others came from a distance. A retired, silver-haired woman who had driven from Center City told me, "I'm here for my six grandchildren."
The majority were first-timers like me. Since the Parkland shooting, Moms Demand Action has grown by 115,000 members nationally. More importantly, after years of not being able to get gun safety legislation passed in Harrisburg, the organization is finally making headway. Marybeth Stanton Christiansen, Leader of Moms Demand Action, broke it down for us.
"In between Philadelphia and Pittsburgh, our state may as well be Alabama. Pennsylvania has the highest NRA membership of any state in the nation," said Christiansen.
Pennsylvania state Sen. Arthur L. "Art" Haywood, D-Philadelphia, recalled a school shooting incident in Cheltenham several years ago that motivated him to urge the township to divest any and all ties to gun manufacturers.
"Look at your 401(k)s, your banks, your school boards, and demand they divest from the gun industry," he said. "Make the same demand in Harrisburg of state pensions for teachers and state employees."
Rebecca Luzi, state communication lead of the Philly chapter of Moms Demand Action, and State Rep. Madeleine Dean spoke about five bills that will be voted upon later this month. At the top of the list is a bill that will require domestic violence abusers to turn in their firearms within 48 hours, as opposed to the current law which allows them to keep guns for 60 days. Sounds like a no-brainer. But, given the conservative leaning of our state — which helped elect you-know-who — this is an uphill battle.
Other priorities of Moms Demand Action include closing deadly loopholes in the background check system, promoting gun safety so children will not be at risk, supporting reasonable limits on where loaded guns may be carried, and keeping illegal guns off the street.
During the period when they opened the floor to questions, it quickly became apparent that the mothers of Philadelphia want more. They asked, how long are we going to tolerate the insane definition of the Second Amendment? Why are we so afraid of the NRA? Why can't we ban semi-automatics? You could feel the electricity. These moms won't be placated with half measures.
The Supreme Court has ruled that the Second Amendment is not absolute, said Lisa Boswell, a Moms Demand Action leader; gun ownership is subject to restrictions. But research shows that the best way to reduce the deadly toll of mass shootings by semi-automatic weapons is banning high-capacity magazines. Gun manufacturers have found ways around restrictions on semi-automatic rifles themselves.
The organizers seized upon the moment with a call to action, encouraging the audience to join the March for Our Lives in Washington, D.C., on March 24 — or to join the local march in Philly. Call or write your state representatives, they urged, because they keep track of their constituent calls. And come to Harrisburg on March 20 for public hearings on SB 501, the bipartisan domestic violence bill that would keep guns out of the hands of domestic abusers.
The audience leaned forward, nodding with each suggestion. But it was the last rallying cry that brought them to their feet, cheering wildly. "Vote these NRA Congressmen out of their seats in November!" said Liz Lee, another Moms leader.
As I made my way through the crowd, the silver-haired woman said with a glint in her eye, "We're going to get him." I didn't ask who. The mothers of Philadelphia will not be silent anymore.
—
CORRECTIONS: In a previous version of this article, a quotation from Marybeth Stanton Christiansen was incorrectly attributed to Pa. State Sen. Art Haywood. Christine Licata was erroneously identified as the leader of the Philadlephia chapter of Moms Demand Action, and several quotations were incorrectly attributed to her.
WHYY is your source for fact-based, in-depth journalism and information. As a nonprofit organization, we rely on financial support from readers like you. Please give today.