Philly mental health experts call for end to separating kids, parents at Mexican border
Separating young children from parents can lead to "disruptive attachment" and increase their risk of developing PTSD, anxiety, depression, and behavioral problems.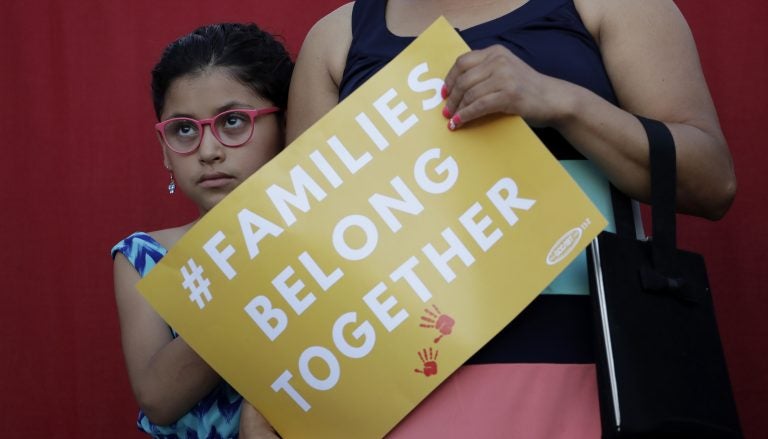 Last month, the Trump administration announced it would criminally prosecute all adults entering the country without papers. The new policy requires adults to be detained by Immigration and Customs Enforcement, while  children are turned over to the Department of Homeland Security.
Professional associations working with families and children have been outspoken in their opposition to the policy and its effect on children.
The latest of these efforts is happening in Philadelphia.
When psychologist Dana Sinopoli first heard about the policy shift to split up families at the border, it affected her strongly. She felt moved to do something from a clinical perspective, she said, not a political one.
"People have lots of thoughts and opinions about immigration," Sinopoli said. "The one thing I think we can agree on is the way we regard and treat and care for children."
Sinopoli said separating young children from their parents can lead to "disruptive attachment," which can increase their risk of developing post-traumatic stress disorder, anxiety, depression and behavioral disorders. Using a policy like this to deter people from crossing the border is inhumane, she said, because it's making a point at the expense of children.
"This idea that if these parents cared enough about these children they wouldn't put them through this — that completely disregards the effect that this has on the children themselves," she said.
More than 2,000 mental health practitioners around the country and nearly three dozen professional organizations have signed a letter of protest Sinopoli wrote to the Trump administration. The American Association of Pediatrics penned a similar letter.
Numbers vary on how many children have been separated from their families since U.S. Attorney General Jeff Sessions announced the new procedure. Federal officials counted more than 650 children and slightly fewer adults who were prosecuted in the first two weeks. Adults are being held in federal detention centers for at least a few weeks; their children cannot accompany them there. (Prior to the change,  many families were briefly housed together in immigration detention and released until their court date).
Treated as unaccompanied minors, the children are now placed in the custody of the Office of Refugee Resettlement, a division of the Department of Homeland Security. Representatives of the Trump administration have said they want to place them with relatives in the country until they can be reunited with their parents.
But it's not clear all children are finding family members. The administration recently released a request for a proposal for shelter providers, including group homes and transitional foster care placements for children. According to The New York Times, about 11,000 children are now in government shelters, which are at 95 percent capacity.
What happened in Romania
The degree to which disruptive attachment could affect children depends largely on whether they end up in a stable household after they are separated from their family or in an institution.
Dr. Margaret Sheridan, an assistant professor in psychology and neuroscience at University of North Carolina, said she is concerned about the effect placing children in shelters will have on them. With a team of researchers over the course of nearly 20 years, she has studied the effect of separation and institutionalization on the brain development of children in Romania. The researchers compared orphans in foster families to those in orphanages.
Compared with the children who were placed in foster homes, she said, the kids in government institutions were more likely to develop behavioral issues: rule breaking, acting out, standing up to authority, and, ultimately, traits tied to criminal behavior. If the same occurs in the United States, said Sheridan, the Trump administration will have worsened the problem it's trying to avoid.
"In an effort to make America more lawful, and to keep a law-abiding citizenry, the current administration is making decisions that are directly counter to that," she said.
Sheridan's research is directly tied to children being placed in government institutions. But, she said, there isn't much other hard data to draw on when it comes to seeing how children respond over time to being separated from their families.
"We don't take kids out of perfectly healthy homes — we only take kids out of homes in which we can substantiate abuse and neglect in this country," said Sheridan. "That's not a situation we can study, because we don't do it. We would never subject our citizens to that. It's just not done."
WHYY is your source for fact-based, in-depth journalism and information. As a nonprofit organization, we rely on financial support from readers like you. Please give today.