Philly mayor candidates clash over gun violence, stop-and-frisk at their first forum
Challengers hammered Mayor Jim Kenney on gun violence and hiring practices at Philadelphia black journalists forum.
Philadelphia's three Democratic candidates for mayor met for the first time on the same stage Monday night, sparring over gun violence, stop-and-frisk police tactics, and diversity in city hiring at a forum sponsored by the Philadelphia Association of Black Journalists.
The two challengers, former City Controller Alan Butkovitz and state Sen. Anthony Williams hit incumbent Mayor Jim Kenney hard on the city's rising murder rate.
Kenney said "one homicide is too many," and that the administration is moving forward on an anti-violence plan announced in January. He said the city plans to spend $36 million on several programs, including one to get people "with lived experience" into neighborhoods to directly engage communities threatened by violence.
Williams said 94 people had been murdered since the mayor's anti-violence program was announced.
"This ain't complicated," Williams said, "but it requires more than empathy, patting somebody on the head and saying, 'I'm sorry about it.' It requires leadership and action."
Williams said community groups should be getting the funds targeted for crime reduction.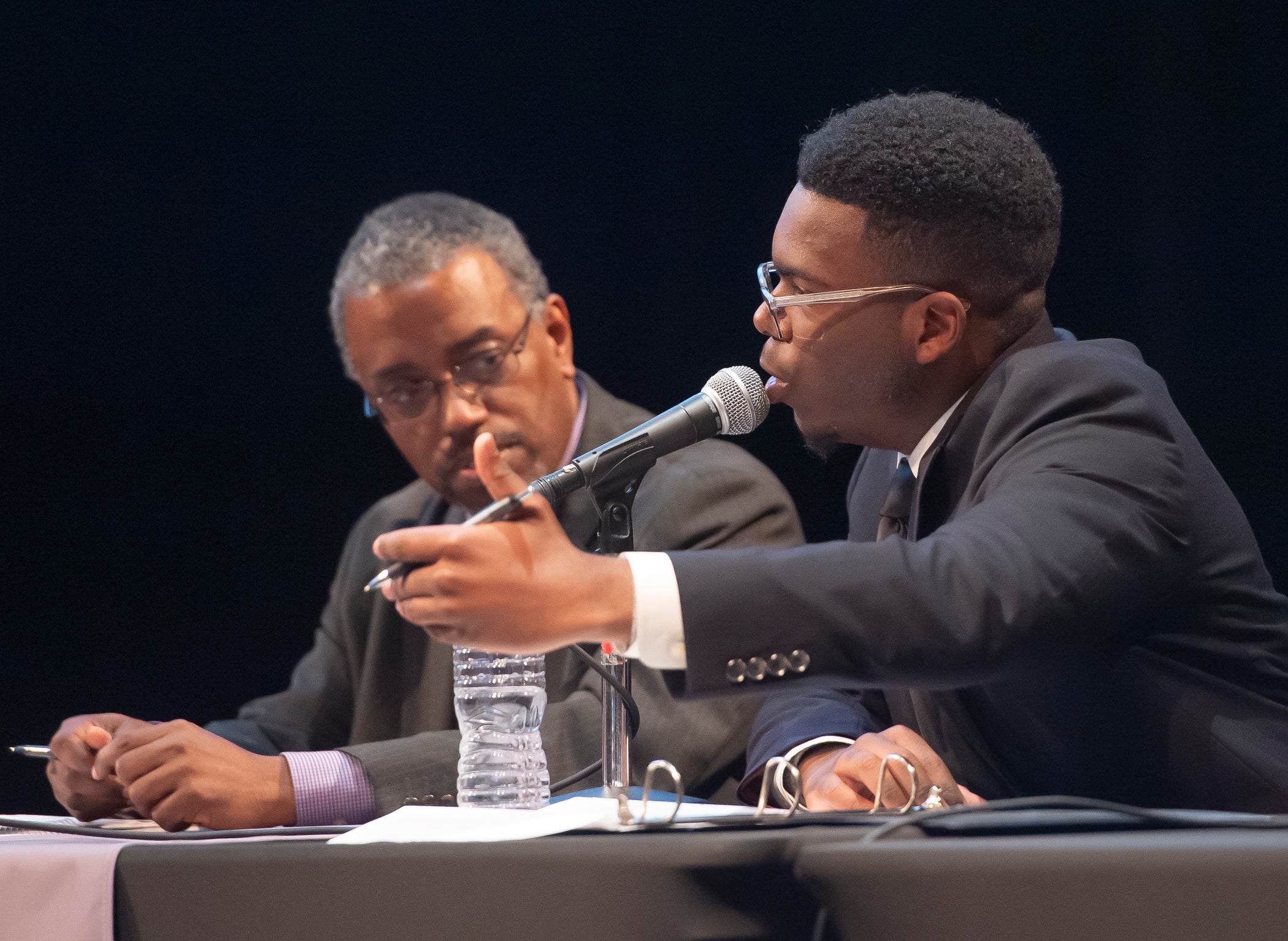 Both challengers said Kenney had failed to keep his 2015 campaign promise to put an end to unconstitutional stops and searches by the police department.
Kenney said the city has worked hard on the problem and has reduced pedestrian stops and searches by 90%.
Butkovitz said that's not enough. "End stop-and-frisk means end it," he said, adding that if he's elected, "we'll stop it on the first day."
And there was debate spurred by a city controller's survey that found whites overrepresented among Kenney's administration and leadership team.
The report found that while the city is 35% white, non-civil service employees among city agencies under the mayor's control are 48% white. The numbers were more skewed when it comes to his Cabinet and high-level leadership.
Butkovitz said the mayor has to make hiring diversity a priority, and Kenney hasn't.
"The mayor doesn't have a background in terms of having a lot of African Americans on his Rolodex," Butkovitz said.
Kenney acknowledged the administration could do better, but he said he hasn't ignored diversity.
"My police commissioner is African American. My commerce director is African American. My two city solicitors have been African American," he said, continuing to list several senior-level appointees.
That prompted a sharp comment from Williams, who is African American.
"To sit and count off the black people as if they're sort of trophies, like, 'That's my black friends,' in front of us as a group is insulting," he said.
The campaign has been relatively quiet so far because neither Williams nor Butkovitz have had the funds for an advertising campaign, and Kenney has mostly focused on his mayoral duties.
There's one televised debate set for on May 13 — just before the May 21 primary election.
WHYY is your source for fact-based, in-depth journalism and information. As a nonprofit organization, we rely on financial support from readers like you. Please give today.