Philly launches campaign urging citizens to carry life-saving naloxone
'Carrying naloxone can be just as important as learning CPR,' says Philadelphia's assistant deputy commissioner of the fire department.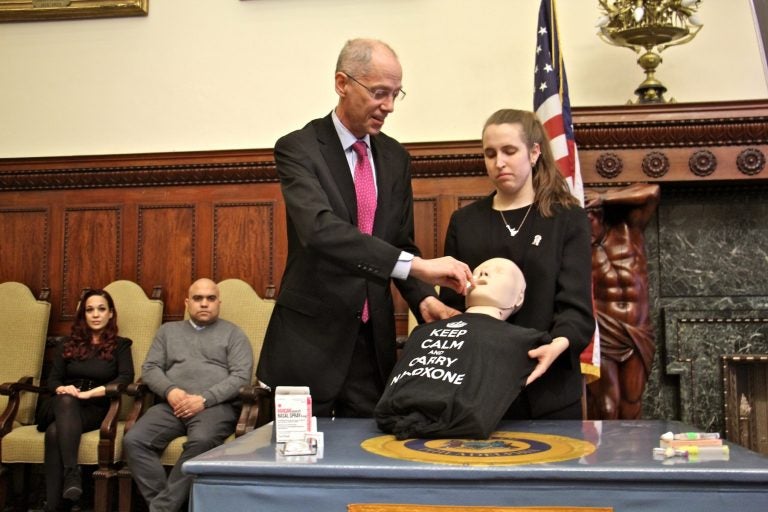 A witness is present during many fatal opioid overdoses, studies have found. If those witnesses were equipped with the opioid reversal drug naloxone, the death rate might be dramatically reduced.
That's the aim of a new public education campaign launched Tuesday by city officials who are encouraging Philadelphians to carry naloxone. The city intends to invest $100,000 for billboards and social media with one clear message: Naloxone saves lives.
Most easily administered through nasal spray, the drug works to counter the breath-slowing — and, in the case of an overdose, breath-stopping — effects of prescription opioids, as well as heroin and fentanyl.
The city is especially encouraging those who use opioids, those in recovery, and their friends and family members to carry naloxone.
Evan Figueroa-Vargas, who works with the homeless at Mental Health Partnerships in Philadelphia, makes it a point of carrying it with him. One day in December, on his commute home through Kensington, he stopped to check on a man he saw lying motionless on the sidewalk. He called 911, then administered naloxone in the nasal spray while they waited for an ambulance to arrive. By the time emergency personnel arrived, the man was breathing and alert.
"He was good to go," said Figueroa-Vargas.
The experience resonated with Figueroa-Vargas who lost his brother to an opioid overdose in 2002.
"At the time, I didn't have the training, nor did I have naloxone — I was helpless," he said. Now, he feels empowered.
"It was an incredible feeling that — sure, I was not able to help my brother out at the time, but I was able to help someone else's brother out, someone else's son," he said.
Law enforcement and first responders have had access to naloxone — also known by the brand name Narcan — for some time.
Last year, emergency medical services revived more than 6,000 people in Philadelphia using naloxone. But if the opioid user has stopped breathing, it may be too late by the time EMS arrives.
"We need help from people who are already there to treat overdoses so they don't become fatalities," said Dr. Thomas Farley, the city health commissioner.
An estimated 1,200 people died in 2017 in Philadelphia of overdoses.
No prescription necessary
Crystal Yates, assistant deputy commissioner of the Philadelphia Fire Department, compared learning to use naloxone and carrying it with other basic first aid.
"We always ask people to start CPR when someone has had a cardiac event," she said. "Carrying naloxone can be just as important as learning CPR."
A general order signed by Pennsylvania's physician general in 2014 allows anyone to get naloxone without a prescription. That order also provides immunity to anyone responding to and reporting an overdose — even if that individual is also using illegal opioids. And many city drugstores offer naloxone without charge to those covered by Medicaid.
Destiny Campanella, who works with Mental Health Partnerships alongside Figueroa-Vargas, said she often takes advantage of that standing order and visits the sites where heroin users congregate.
"I give [naloxone] out to them like water," she said.
Critics of harm-reduction strategies — including overdose reversal drugs or the more high-profile safe injection sites the city is pursuing — argue these approaches will encourage more drug use. If people know there is a safety net, the logic goes, they will take greater risks and feel more comfortable using drugs.
That's faulty reasoning, said Elvis Rosado of the harm-reduction nonprofit Prevention Point.
"This was the argument we had in the '90s with condoms promoting more sex when we were trying to prevent the spread of AIDS," he said. "You know it's a misconception."
During the Tuesday announcement of the city's outreach effort, Farley offered another analogy contradicting the notion that increased access to naloxone would increase risky drug use.
"If you're driving in a car that has a lot of nice safety features, and you're wearing your seatbelt, does that make you drive more recklessly?" he said. "I don't think so."
Figueroa-Vargas invoked his brother to emphasize that point.
"The first step to entering recovery is staying alive — you can't recover if you're dead," he said. "So like my brother, he will never go to recovery because he's dead. This individual that I saved his life back in December, he has the opportunity.
"He has that choice to enter recovery."
WHYY is your source for fact-based, in-depth journalism and information. As a nonprofit organization, we rely on financial support from readers like you. Please give today.