Philly honors history of LGBT community: Dr. Anonymous, AIDS Library commemorated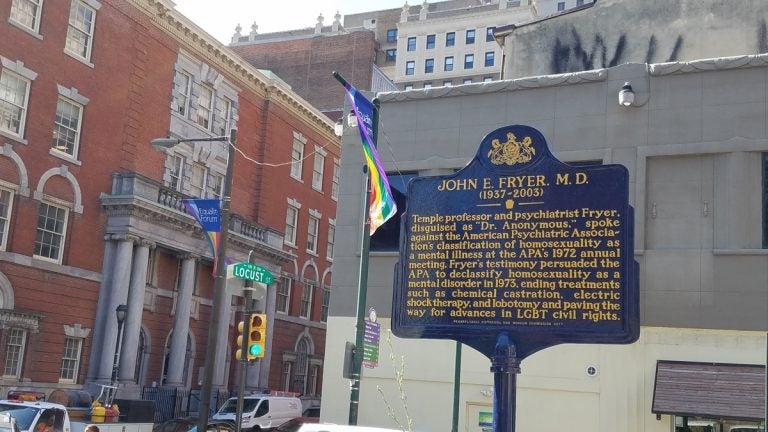 On Tuesday, the man who helped remove homosexuality from the list of mental disorders 45 years ago has been honored with an official Pennsylvania historical marker in Philadelphia.
Dr. John Fryer, aka Dr. Anonymous, is remembered at the corner of 13th and Locust Streets in Center City, across from the Historical Society of Pennsylvania, the repository of Dr. Fryer's papers.
Fryer was a gay psychiatrist who, in 1971, addressed the American Psychiatric Association to recommend that homosexuality be removed from the Diagnostic and Statistical Manual of Mental Disorders (DSM).
For fear of losing his profession, he wore a mask, spoke through a voice manipulator, and did not use his real name, calling himself Dr. Anonymous.
The current CEO of the American Psychiatric Association, Dr. Saul Levin, said Fryer had urged the APA committee to consider fact-based evidence.
"He said that you need to show the data as to why we should be there in the DSM," said Levin. "When the committee looked at it they realized there was no data. It was more a diagnosis made on social issues, maybe, then what is now clearly shown it should not be in there as a disorder."
Fryer died in 2003. Although he did not know him personally, Levin is standing on his shoulders: Levin is the first openly gay CEO of the APA, a position he has held for four years.
Last year, Fryer was the subject of a play, "217 Boxes of Dr. Henry Anonymous," by Ain Gordon. The title refers to the personal papers of Dr. Fryer, housed posthumously at the Historical Society of Pennsylvania, across the street from the historic marker.
There are actually two new markers on that corner — the other, issued by the city, commemorates America's first AIDS library, founded in 1987 as a place to learn about the disease, its prevention, and treatment.
"The AIDS library of Philadelphia helped change the course of history," said Jesse Milan, president and CEO of AIDS United. "Without the library the tragedy of HIV/AIDS in this city would have been much worse."
The library, celebrating its 30th anniversary next month, began as a community effort to cope with the epidemic when it was at its height.
"In stark contrast to the government's negligible response, LGBT communities nationwide provided information and rallied to develop social services, support research, and demand action," the marker reads.