Philly Fringe reviews: 'The Bald Soprano,' 'Kink Haüs,' 'Leaps of Faith and Other Mistakes' and 'The Currency of Belief'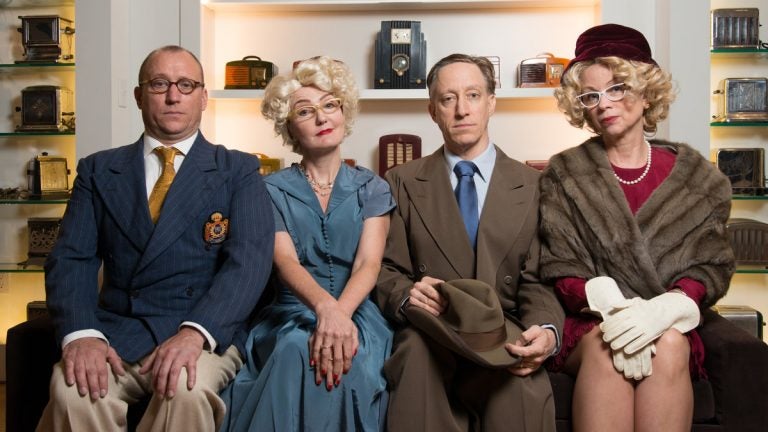 Eugène Ionesco's The Bald SopranoIt's a typical night at the Smiths: The conversation between them (or sometimes with no one) considers which store has the better cooking oil, whether doctors should die with their patients because captains go down with their ships, and how newspapers give the age of the deceased but never the age of the newly born. The clock strikes 17. In comes the maid, announcing that another couple, the Martins, have arrived for a dinner that was never prepared for them. The Smiths run off to change their clothes while the Martins wait for them and seem not to know each other.
It's all from Eugène Ionesco, the master absurdist and a natural for any fringe festival, and presented by Philadelphia's Idiopathic Ridiculopathy Consortium, the go-to stage company for anything absurd. In fact, the reason this "Bald Soprano" makes any sense (in a strange way) is its six excellent actors, who deliver it as if they understand it perfectly.
The company's producing artistic director, Tina Brock, stages the show and plays Mrs. Smith to Bob Schmidt as her husband. Sonja Robson and John Zak are their guests, the even more clueless Martins. Tomas Dura is the odd Mary the Maid — although odd here is relative — and Arlen Hancock is the young fire chief who arrives in search of anything he might extinguish. The evening is amusing and also a little unnerving because in the course of its 70 minutes, the play's continuing weirdness seems increasingly normal.
It may take a few minutes to absorb the British accents, muffled a little by the acoustics at the Bethany Mission Gallery, where "The Bald Soprano" unfolds. The gallery itself is worth the price of admission — it houses the nifty private collection of artifacts and outsider art of Center City attorney-businessman Victor Keen and his wife, dancer-choreographer Jeanne Ruddy. Her dance space called The Performance Garage is next door, and other Fringe shows are performed there. Come early to "The Bald Soprano" to take in the art collection, which began when Keen started amassing toasters.–"Eugène Ionesco's The Bald Soprano" runs through September 24 at the Bethany Mission Gallery, 1527 Brandywine St.
Kink Haüs"Are you ready to get kinky?" asks the gentleman at the door. Why not? It's the Philly Fringe, after all. Inside the Latvian Society, we sit at a night club around three sides of the long playing space, lit by blue and red lights, with a headless mannequin standing at a mound of colored plastic bar cups, a sign reading "lick me" and other adornments. Then the dancing begins — an hour of racy, beautiful movement and routines from six performers with industrial-strength bodies.
These include Gunnar Montana, the dancer-choreographer-producer who collaborated with the cast to create this show, which fulfills the promise of its title. Montana has become a fixture at the fringes of the Fringe over the past several years, but if you think that means an iffy production, forget it — everything about "Kink Haüs" is classy, from CJ Coleman's sound tech to Amanda Jensen's lighting and Benjamin Brown's graphics.
"Kink Haüs" is not for the uptight, although if you're in that category it might well force the stuffing out of your shirt. Some of it's a kinetic ode to being gay, some not, and several times during the show — with a terrific rocking sound track — "Kink Haüs" seems to be reaching for a new level of androgyny. In the end, none of that is key; the dancing itself is what's so exciting.
Except for g-strings, much in the show is danced nude, even more beautiful because of the dancers involved. Montana and Avi Borouchoff, the come-hither guy in the show's poster, engage in a pas de deux so gymnastically far-reaching it's as if their joints are made of rubber bands. Jessica Daley's dance in, around, and on the sides of a bathtub is spectacularly executed. Stephi Lyneice brings off an entire dance without standing up, instead slithering sensually on a mat. Dylan Kepp's lip-synch to "I Need a Hero" is accompanied by a lesson in how to speak gay and a show-dance routine. And Frank Leone's show-closer, a dance with mannequins enveloping him, is a visceral declaration of rejection. It's a Fringe-defining show.–"Kink Haüs" runs through Sept. 24 at the Latvian Society, at 7th and Spring Garden Streets.
Leaps of Faith and Other MistakesAlmanac Dance Circus Theatre's newest production is actually the blossoming of an older one, presented a couple years ago (not in the Fringe Festival) and reworked. Its title is literal in two ways: the four performers take plenty of physical leaps requiring faith in their colleagues to catch or support them, in a story about a conceptual leap of faith their characters take to become spiritually unified on the sea.
Last year, Almanac Dance Circus Theatre produced a dark horse of the Philly Fringe — a beautifully executed show called "Exile 2588" about the dynamics of commitment. This year's "Leaps of Faith" is no less exacting physically. It's a simple story set on a long playing space with little more than a couch and some tea cups and saucers as furniture and props, with Clancy Philbrick's clever sea-themed visual art installations along the side and in a separate space upstairs.
The four performers — Nicole Burgio, Nick Gillette, Ben Grinberg and Adam Kerbel — play characters who become seafarers bent on staying a-sea. They coax themselves to adapt to life on their boat as their food source becomes more scarce and their nerves increasingly fray. "I feel like here, our spirits are truly true!" exclaims one of them as they set out. Later, when they're at sea and together in self-imposed confinement for hundreds of days, they chant pep-ups like "we are life!, we are air!"
All along, they are intensely physical, sometimes moving in ways that mirror the rhythm of the ocean. The acrobatics are the best part of the show — these performers flip, roll, leap, and toss each other with precision; they make it look like the way they normally move. The story seems lame at first, but as you begin to understand the seafarers' aim to be one with the universe, it takes on a shape. Some of the simpler movements — the "dance" part of Almanac Dance Circus Theatre — felt like fill, and the show might be stronger at slightly less than 65 minutes.
"Leaps of Faith" is enhanced by Mel Hsu's original score, a sometimes haunting one that she performs on different plugged-in instruments to the rear of the stage. Annie Wilson directs the show, another brave effort by a troupe that breaks ground in exploring new ways to blend different elements of performance._"Leaps of Faith and Other Mistakes" runs through Sept. 23 at the Painted Bride Arts Center, 230 Vine St.
The Currency of Belief: Trapeze and Spiritual ComedyIt's not uncommon nowadays to see Jewish women wearing their own prayer shawls in synagogues, but in Orthodox Judaism that's still a rite reserved for men, and on their deaths, the shawls become their shrouds. A trapeze artist named Noa Schniter grew up Orthodox, and her program notes explain that "The Currency of Belief" is Schniter's way of appropriating the prayer shawl as a rite for her, too. It hangs from a trapeze as you walk into the playing space and for a few minutes on stage, she winds it ghoulishly around her face and becomes anonymous.
Her relationship to the shawl is never mentioned in the 45-minute production. Aside from a story she tells about asking her mother if she too could chant a prayer reserved for males at Orthodox services, the show's not essentially about feminism. It's disjointed, so I'm not sure of its point — perhaps she's saying that spirituality in itself has no gender. There's a traditional Jewish tale told nicely by shadow puppetry, a goofy emcee (played by her) who becomes quickly tiresome, a rendition of the life cycle of a snail that she performs with fingers showing through her voluminously curly hair.
And at the end, there's trapeze art, which Schniter performs boldly and with agility. She created the show with Deanna Fleysher at an artists' residency in Bellingham, Washington, and it feels like a work in progress, still seeking a more well-expressed theme._"The Currency of Belief: Trapeze and Spiritual Comedy" runs through Sept. 9 in the theater at Christ Church Neighborhood House, 20 N. American St., just north of Second and Market Streets and to the west of the church.
The Philly Fringe Festival runs from Sept. 7 through Sept. 24. For more information: fringearts.com.