Philly Fringe reviews: 'Home,' 'Iphigenia at Aulis,' and 'Alchemist'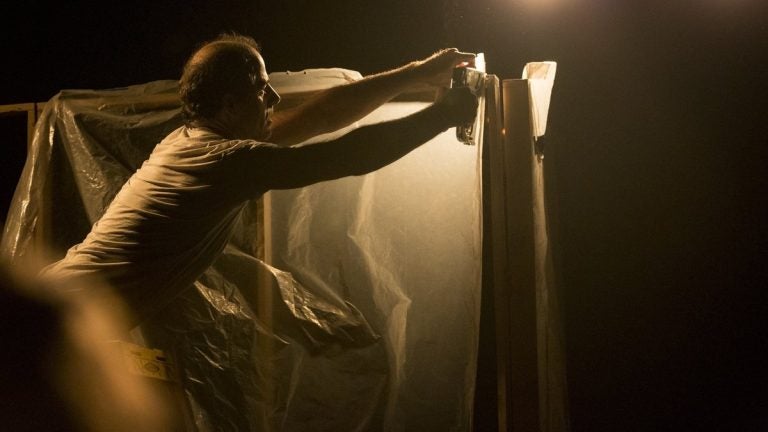 HomeIt all begins with a simple large frame. How it ends, I won't say. With that frame, theater artist Geoff Sobelle begins to build a house — and to create a show that explores the way it becomes a home.
"Home" is performed almost wholly without words, in the tradition of an old silent-film comedy or like the best in sight-gags from moviemaker Jacques Tati. It's stunningly complex, for both its on-stage house-building and for its content. The show's a mix of stage magic, live and recorded music, constant movement, even help from the audience. (Be prepared, without having to leave your seat.) So much goes on after the house becomes livable, you won't know where to look. Wherever you do, you'll see little pieces of theatrical eye-candy.
At first, plenty of people live in this two-story house. They may be the initial sets of owners, inventively portrayed as living there at the same time. They run through the same routine we all do, mostly taking for granted the space we're in: brushing teeth, taking a shower, getting into bed. At some point a family throws a dinner party that morphs into the milestone events families celebrate, like holidays and graduations. The house has become a home.
All along, we watch the way a building takes on its own characteristics, and helps shape those of the people who live and visit there: how a sense of place works in our consciousness. And we witness the way buildings, like people, can decline.
Okay, that's the take-away, in a nutshell. But it doesn't describe the fun feel of "Home" — a grand-scale theatrical project whose unfolding you may watch, at moments, in astonishment. Everything works to keep the show on a high bar, from its bold design to its choreography. Lee Sunday Evans, the director, must have felt like a controller in a flight tower.
The show's entire cast is listed as its creators, but Sobelle — a Philadelphia native who now works all over, it seems — is clearly the living muse of "Home." Like several others appearing in shows sponsored by FringeArts this year, Sobelle has grown with the festival since its beginnings. You have to break ground to build a home, and in "Home" he and his team have done just that._"Home" runs through Sept. 16 at the Prince Theater, on Chestnut Street between Broad and 15th Streets.
Iphigenia at AulisSwift, tense, and tight, this rendition of Euripides' "Iphigenia at Aulis" from the Philadelphia Artists' Collective is a rare chance to see a classic first presented in Athens at the festival of Dionysius 2,422 years ago.
The play sets up a tragic no-exit predicament among its mythological characters: Agamemnon is leading thousands of soldiers by ships to Troy, where they hope to rescue the abducted Helen — the wife of Agamemnon's brother. But there's not a wisp of wind, and no way to sail from the shores of Aulis. This is because Agamemnon, the king, has ticked off the goddess Artemis. She'll restore the wind after her demand is met: Agamemnon has to sacrifice his eldest daughter, Iphigenia.
So he sends for her under false pretenses, indicating she'll be traveling to Aulis to marry the super-warrior Achilles. Once there with her mom, Clytemnestra, the deceit is unveiled and the rest is mythological history.
The production from director Dan Hodge is a no-nonsense affair that covers all the bases of Euripides' original, boiling it to an hour's running time and using Florence M. Stawell's verse translation as a source. The production, though, is not in verse, nor is it particularly ancient-Greek-looking in Robin Shane's more updated costumes and in the gun that Achilles brandishes at one point. It plays out in a small space aboard the USS Olympia, docked on the Delaware River at Penn's Landing and Spruce Streets, a nice touch given the play's setting amid a fleet of warships.
The cast's severe acting, despite accents that seem to come from all over the place, neatly illuminates the play's conundrum: This is a lose-lose situation. If the ships don't sail, the soldiers will make toast of Agamemnon and his family. If they do, he'll have murdered his daughter. Nathan Foley and Tai Verley excel as Agamemnon and his wife, as do Becca Khalil as Iphigenia and Gregory Isaac as Achilles and, in a smaller role, Luke Moyer as the husband of the stolen Helen. As the messenger who describes the action at the end, Adam Howard turns in a perfectly measured performance that had me with him for every syllable.
Hodge cut the Greek chorus from the script, replacing it with two women who sit in the playing space and do needlework in early American dress. They sing traditional American songs like the Shaker hymn "Simple Gifts" at the show's start and between scenes — how jarring, I first thought, for a Greek classic. But it turns out that the songs speak indirectly to Euripides' text, at least in this pared-down but satisfying version._"Iphigenia at Aulis," produced by Philadelphia Artists' Collective, runs through Sept. 22 aboard the USS Olympia at Spruce Street and Penn's Landing.
AlchemistAlthough the two people whose real lives are the subject of "Alchemist" may disagree, I'd call it a love story because their friendship involves a deep love that may have nothing to do with romance. They are two versatile theater artists who've built reputations on Philadelphia stages: Mary Tuomanen and Chris Davis, pals for 16 years but until "Alchemist," never on stage together.
The stage here is a playing space on the second floor of a Northern Liberties café, where we sit around them as they tell of the years that draw them closer, even though they lived in different countries for a time. It's a sweet memoir, from snippets from letters and e-mails, and from recounting amusing moments. The show is also a realistic look at two people finding and eventually grounding themselves.
"Alchemist" is scripted in short anecdotal takes that keep the two from rambling. They perform with movements that help to give the show a pleasant pace. Plus, you feel by the end that you know Tuomanen and Davis — they're your friends, too.–"Alchemist," produced by Chris Davis and Mary Tuomanen, runs through Sept. 24 at One Shot Coffee, 217 West George St. in the Northern Liberties neighborhood.
The Philly Fringe Festival runs through Sept. 24. For more information:fringearts.com.