Philly Fringe review: Opera Philadelphia's 'We Shall Not Be Moved'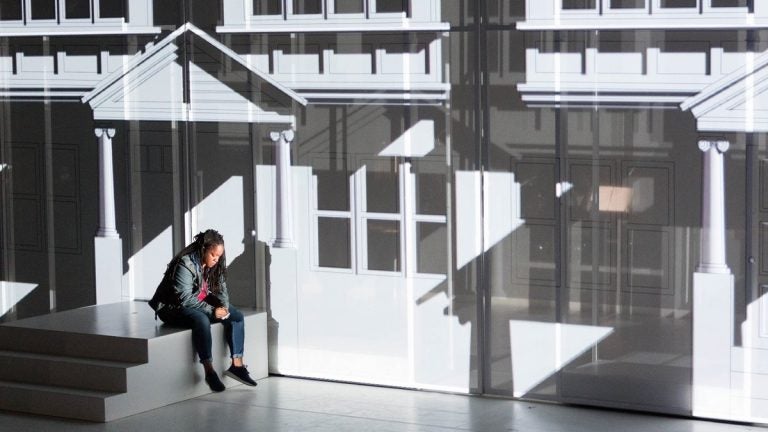 The powerful and haunting "We Shall Not Be Moved" that opened Saturday is not only a world-premiere opera, it's a provocation. Some people — mostly white people in the audience, I suspect — will look at its depiction of hopelessness and victimization of five North Philadelphia teenagers and say, really? Some people — mostly black audience members, I suspect — will see the same story unfold and say yes, really. But everyone will react. "We Shall Not Be Moved" forces us to explore what it means when young people feel that there's always an American past and a present, but never an American future.
This work from Opera Philadelphia, presented in partnership with FringeArts and co-commissioned with plenty of supporters — including the Apollo Theater in New York — does what art can do when it provides insights that make issues seem fresh and urgent. It's an accomplishment that deserves its entry into two festivals at once: The Philly Fringe Festival, and the new "O17," a two-week festival of five Opera Philadelphia productions, including three world premieres.
"We Shall Not Be Moved" has the tragic plot elements and coincidences that are the spines of much traditional opera. Its music, eclectic and sometimes thrilling, is by Daniel Bernard Roumain, and Marc Bamuthi Joseph wrote its muscular libretto. The opera is all the more powerful for its choreography and detailed staging by the celebrated Bill T. Jones.
Five strong singers play a loose-knit family of teens who arrive at school in North Philly only to be locked out; a funding shortage has forced the School District to close some schools. The characters explain themselves to us. There's a girl who calls herself Un/Sung (Lauren Whitehead) and sings that she's "from North Philadelphia, of the wrong class." She's "made a family of some brothers who self-identify as black."
They've all named themselves John, after John Africa who founded MOVE, the communal organization, radical in its approach. The house where MOVE members lived, on Osage Avenue in West Philadelphia, was bombed by the city government in 1985 during a standoff with police and MOVE's neighbors. Eleven people died in the house, and the bomb-fire destroyed 60-plus rowhouses. The city later rebuilt the structures so shoddily, most were condemned. No one in city government, from then-mayor Wilson Goode on down, was tried or convicted for the deaths.
And that's the house where Un/Sung and the four boys take refuge after one of them is attacked near their shuttered school and a tragic street fight ensues. Essentially, they flee their neighborhood. Their new Osage Avenue refuge, if you can call it that, is an eerie place, filled with the ghosts of MOVE members who perished. (In the opera, these are called Original Ghosts, dressed in white. They swirl around the characters. They are the opera's wordless chorus and a constant reminder of what happened in that place.)
A Latino-American police officer on her West Philly beat (the mezzo-soprano Kirstin Chávez) takes note: Squatters are inside the house. She approaches Un/Sung: "Little blackbird caged in your little dark world at an age where all your black girl dreams should see the daylight," she sings and tries to get help — the last thing Un/Sung and her brothers want. "What would you do if you played enough chess to see where this game is headed?" Un/Sung asks.
The two-act opera sets up a terrifying conflict between the officer and the teens. We already know a bit of what happens — at intervals throughout "We Shall Not Be Moved," we hear an interview between the police officer and a reporter (the voice of former news anchor Pat Ciarrocchi).
Gun violence, racial identity, absent parents, addled schools, imbedded distrust, homophobia (one of the boys is transgender) — that's a lot for an opera or any work to take on. Yet it's all inextricable in the telling, and the work resonates as social commentary in a way that mirrors reportage.
The four men who play the brothers in the family have characters as different as their voices. They are bass-baritone Aubrey Allicock, baritone Adam Richarson, tenor Daniel Shirley (the white brother among them) and an outstanding counterternor, John Holiday. Everyone moves on and around a set of white platforms, fronting a scrim that shows Jorge Cousineau's exceptional projection design. Behind the scrim sits the orchestra under Viswa Subbaraman's baton.
With a cast and creative team that's largely artists of color, "We Shall Not Be Moved" is unusual for opera. It also gives this work an authentic voice. Just as important, it give audiences an opportunity to think._"We Shall Not Be Moved" runs through Sept. 24 at the Wilma Theater, on Broad Street between Locust and Spruce Streets. For more information: fringearts.com or operaphila.com