Praise for one-of-a-kind Philly diversion program rooted in 2020 civil unrest
The Restorative Response Program offered hundreds of non-violent offenders an alternative to taking their cases through the courts. Reformers say it worked.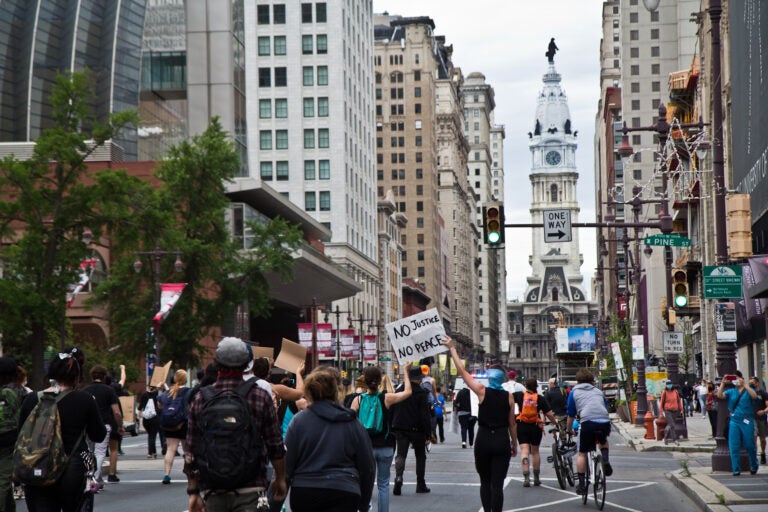 Criminal justice reform advocates are applauding a diversion program created to resolve the hundreds of felony cases that came out of the civil unrest that followed the murder of George Floyd in Minneapolis in 2020.
The Restorative Response Program offered nearly 600 non-violent offenders — many of them young Black men arrested on burglary charges — an alternative to taking their case through the courts, a path that would have left them with a criminal record and the challenges that come with it.
Those who have successfully completed the program have instead had the charges against them withdrawn by the Philadelphia District Attorney's Office, and had their arrest records expunged with court approval.
Just 12% of that group has been rearrested, according to the DAO.
"This program is a model that can be used to reduce crime, reduce conflict, while at the same time giving the power back to the communities to allow them to decide their own destiny. All while reducing the scourge of mass incarceration," said defense attorney Troy Wilson, who helped develop the one-of-a-kind program, during a Thursday evening event in West Philadelphia.
The diversion program was not offered to those arrested for firearms offenses and other serious and violent offenses. Those cases were prosecuted to conviction and sentencing.
Those who were eligible were required to complete education sessions, programming such as job training and community service projects, and to participate in restorative justice circles, which included people who were harmed by the unrest like business owners and workers.
In some cases, those people received restitution from the defendants.
Jeff Brown, president of Brown's Super Stores, which operates a dozen supermarkets in Philadelphia, said members of his leadership team participated in the program in response to some locations being damaged during the unrest.
"They faced people that destroyed their store and they worked it out," said Brown.
"To my fellow business people, I'm not soft. This is not a soft thing. I'm not being a tree-hugger," added Brown. "This is just a smart way to resolve it."
The Restorative Response Program was launched in partnership with 30 community groups, the Defender Association of Philadelphia, the District Attorney's Office, the MCCP Restorative Cities Initiative, and the Up Against the Law Legal Collective.
The Commerce Department and the Merchant's Fund also awarded $1.62 million in grants to businesses affected by the civil unrest.
"What we're doing is centered in community and it's centered in wholeness. If the community is restored, the community has the tools for executing restorative principles, practices, and models that are best practices and proven effective, then the number of times that we will need a restorative response to someone being harmed, it's going gonna be so much lower," said Rev. Donna Jones, who leads MCCP.
WHYY is your source for fact-based, in-depth journalism and information. As a nonprofit organization, we rely on financial support from readers like you. Please give today.