Philly business leaders seek to combat poverty through improving education, creating jobs
The Chamber of Commerce for a Greater Philadelphia is advocating for an inclusive neighborhood growth agenda to help address the city's stagnant poverty rate.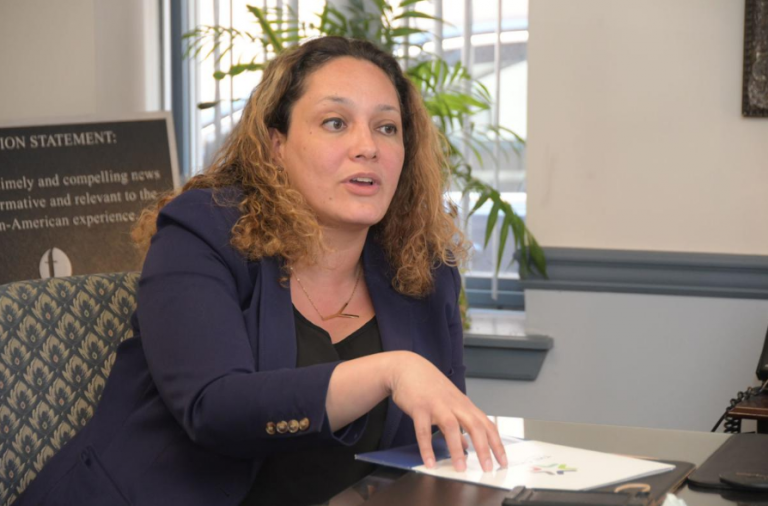 The Chamber of Commerce for a Greater Philadelphia is advocating for an inclusive neighborhood growth agenda to help address the city's stagnant poverty rate.
"The purpose of the PHL Neighborhood Growth Project is to focus on job creation across Philadelphia," Yvette A. Núñez, vice president of civic affairs for the Chamber of Commerce, said during a Tribune editorial board meeting.
"We believe that the number one solution to decreasing the city's high poverty rate is jobs. This is really a communications campaign meant to elevate the discussion of job creation throughout all neighborhoods."
The chamber is part of a growing coalition of organizations pushing this agenda, including the African American Chamber of Commerce of Pennsylvania, New Jersey and Delaware, the Asian American Chamber of Commerce of Greater Philadelphia, the Greater Philadelphia Hispanic Chamber of Commerce, and business and community members from across the city.
The coalition is working during the 2019 elections to educate the candidates and the public about why an inclusive growth strategy is important to Philadelphia's future.
The initiative pushes a policy agenda focusing on four key areas: inclusive growth and good jobs; education and workforce modernization; safe and healthy neighborhoods; and putting people first in City Hall.
"It's our effort to work together to bring these issues to City Council and government to be able to have legislative priorities that meet the needs of Philadelphia residents," said Núñez, who leads the PHL Neighborhood Growth Project.
"We're not endorsing candidates and we're also not opposing candidates, but we are being opportunistic at a time when all candidates should be addressing their vision for how to make Philadelphia better. We want to make sure that at the same time that is happening, we are putting forth a job growth agenda."
Sulaiman Rahman, CEO of Diverse Force LLC, highlighted the importance of businesses and community members working together on these issues.
"It was very important to me that there were diverse voices at the table," said Rahman, who is part of the coalition.
"For too long, we've had this business-or-the-community kind of conversation, but in order for this to be a world class city, it has to be business and community. How do we have a voice to make sure that it is not a zero-sum game — that when businesses win, the community loses?"
The PHL Neighborhood Growth Project will look at shortening Philadelphia's 10-year property tax abatement program and using some of the tax revenue to establish a Neighborhood Renaissance Fund that would fund job-training initiatives, street cleaning, facade improvements, and loans and grants for small businesses in neighborhood commercial districts.
"We believe that doing away with the abatement all together will actually hurt the city," Núñez said.
"The city's own data says that it will hurt the city and the city will lose money, but we also understand that there is feeling of inequality and how the benefits for the abatement have been distributed across the city and where people are choosing to invest those resources."
The initiative will also look at reducing regulatory codes for businesses and launching a pilot project to connect large business executives with small, neighborhood-based entrepreneurs for mentoring and help navigating city bureaucracy.
"A lot of us get to a certain level and they can't scale past that," said Marc Coleman, founder and president of The Tactile Group.
"We have the skills, the thought [and] the talent to grow our businesses larger but we need additional support. One of things that I am excited about is the business mentorship program that is going to expand to afford smaller businesses the opportunity to partner with larger businesses to help them understand the challenges of scaling and kind of share their resources."
The project is an evolution of the chamber's Roadmap for Growth Initiative, which took the organization into city neighborhoods to discuss an economic growth agenda with community partners, civic associations, community members and small businesses.
The report, titled "Defining Growth for Philadelphia," by Econsult Solutions, Inc. benchmarked Philadelphia against nine peer cities and looked at the same data at the neighborhood level to see where the community is making progress and falling behind.
The study provides an in-depth look at business creation, job growth and real estate development in City Council districts. The report notes that while Philadelphia's median household income is increasing, the growth is not keeping pace with its peer cities of Atlanta, Boston, Charlotte, Chicago, Houston, Los Angeles, Miami, New York and Washington, D.C.
According to the report, Philadelphia has also made the least progress among its peer group in reducing the share of the population in poverty, which remained the highest in the country among large cities at 25.8 percent in 2017.
The study highlights the percentage of population growth, crime incidents, new business licenses, employed residents, jobs within the district and building permits and assessed housing value across the city's 10 council districts.
---
ajones@phillytrib.com (215) 893-5747
WHYY is your source for fact-based, in-depth journalism and information. As a nonprofit organization, we rely on financial support from readers like you. Please give today.