Phillies going to World Series: a dispatch from Cottman and Frankford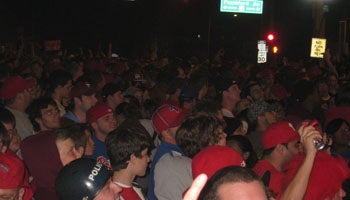 Thousands of Phillies fans crowded the intersection of Cottman and Frankford avenues after the team clinched a spot in the 2009 World Series.
The crowd began brewing moments after the game ended before midnight Wednesday night and grew to a mass covering the entire intersection and spilling into the rest of Mayfair not long after. Below see exclusive NEast Philly video of the melee.
Honking, screaming, chanting, high-fiving and Phillies gear were almost as prevalent as the police presence that guarded side street entrances leading toward Frankford Avenue and the major intersection itself.
See our complete photo slide show here.
The crowd was at times deafening.
Fireworks were being shot off and the young man who climbed a traffic light pole at the intersection was being pelted with beer bottles and cans. The throwing got more frequent and the crowd turned a bit more pushy.
Fans kept pouring toward the major intersection, as seen below along Frankford Avenue.