Philadelphians prepare to select new district attorney
City voters will choose between a defense attorney and career prosecutor, while New Jersey will elect Gov. Chris Christie's successor.
Listen
6:00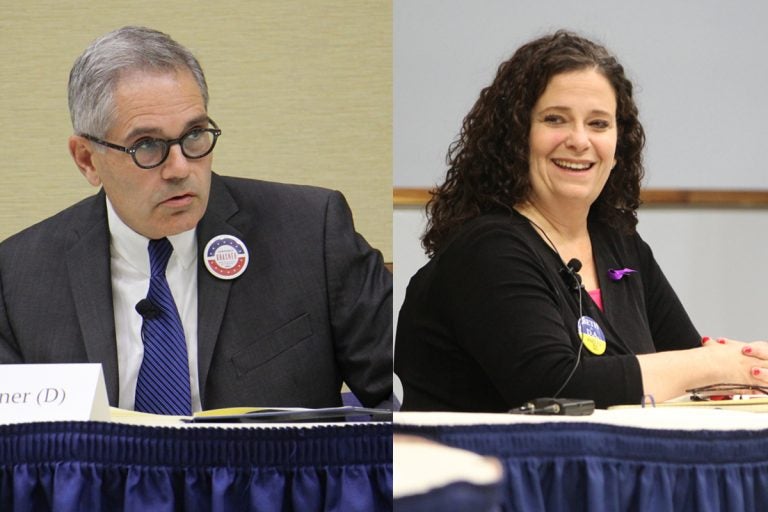 Tomorrow is Election Day.
New Jersey voters will select a new governor along with a number of state legislators. In Pennsylvania, seven statewide judicial seats are on the ballot. And in Philadelphia, voters will elect a district attorney to replace Seth Williams, who was convicted of corruption and sentenced to prison.
WHYY's senior reporter Dave Davies has been following all of these races and spoke with Morning Edition's Jennifer Lynn.
Jennifer Lynn: For district attorney, voters are sizing up Democratic nominee attorney Larry Krasner who beat out six rivals this spring.  Krasner has never been a prosecutor. He promises big changes to the justice system. Meanwhile, the Republican candidate, attorney Beth Grossman, spent 20 years in the DA's office. In a city that is heavily Democratic, can we call this a race?
Dave Davies: Well, both candidates say it is and are running like it is. Krasner told me last week he could lose, because he's talking about transformational change, and change scares people. I followed him to a business association meeting in Powelton, and when we talked about policing, he condemned stop-and-frisk tactics saying it started out as a way of focusing on high-crime areas, but when officers don't follow constitutional guidelines, you have problems.
"We end up in this world where it's now OK to have occupying armies in certain neighborhoods," Krasner said, "who stop people just because they are almost always male, and young, and poor, and very often black and brown."
Now that's the kind of language — calling police "occupying armies" — that infuriates police union leaders, and, Republicans hope, at least, will turn off moderate voters.
JL: So does Krasner's infuriating police union leaders give the Republican, Grossman, an opening?
DD: I think she hopes so. That it affects not just police union leaders, but citizens who are concerned about crime. During a recent debate, she responded to Krasner saying he's for justice in the system:
"When you stand up and you fight for victims, for kids who've been sexually assaulted, for victims who have been shot, and you get people convicted, and they're properly punished, that's justice," Grossman said. "So, I hate to tell you, but the role of the DA's office is, you have to prosecute."
She's not just a "lock 'em up" person, but I think she thinks people are concerned with public safety. The police union is backing her, the firefighters are with her, and, a couple weeks ago, she got the endorsement of the Philadelphia Inquirer.
JL: So how does this play — does she have a realistic chance to win?
DD: It's such an uphill climb in this city. There are nearly seven times as many Democrats as Republicans. While Grossman has a message, she doesn't have much of a megaphone, because she hasn't been able to raise the money she needs to really communicate with voters.
When candidates get the Inquirer's endorsement, they promote that in TV or radio ads or mailings, and Grossman can't really afford that. In fact, her campaign is so underpowered, it didn't even put a press release letting reporters know about that endorsement.
I think the Democrats were worried that a national conservative group might have come into Philadelphia and put money into ads promoting Grossman the way [billionaire progressive] George Soros did for Krasner in the fall. That didn't happen, so Grossman and the Republicans will have to fight this one on their own.
To hear the entire interview, press the play button at the top of the page.
WHYY is your source for fact-based, in-depth journalism and information. As a nonprofit organization, we rely on financial support from readers like you. Please give today.