Philadelphia scrambles to get new voting machines
Philadelphia officials are scrambling to get a new voting system with a verifiable paper trail installed by the November election.
The city of Philadelphia is on a crash program to get new voting machines installed this year to dispel worries about hacking or hanky-panky during the 2020 presidential election.
Pennsylvania officials have instructed the state's 67 counties to adopt voting systems "that provide a paper record and meet 21st-century standards of security, auditability and accessibility" by the end of the year.
"This is putting an incredible amount of pressure on everybody involved in elections," said Lisa Deeley, chair of the Philadelphia City Commissioners, who run elections in the city.
Concerns about ballot security and potential hacking have spurred calls for more secure voting systems across the country.
The machines now in use in Philadelphia and much of the state record votes electronically from screens in voting booths – and don't produce a paper record of votes.
Compressed shopping season
The city requested proposals in November from companies interested in providing a new voting  system.
City procedures for such large purchases typically involve a competitive process that can take months or years – time the city doesn't have in this case.
Deeley said in an interview it would be mistake to try to run a brand-new voting system for the first time in the 2020 election.
"We think getting new machines in 2020, in a presidential election – the busiest election in the four-year cycle – would be a disaster," Deeley said. "So we're looking to roll out any new voting equipment in November 2019."
To do that, Deeley said, officials have to decide on a new voting technology next month.
Once a technology and a company are selected, the city must purchase enough equipment for nearly 1,700 polling places – and then train thousands of city staff and poll workers in the new system.
Limited choices
By law, the city can purchase only a system that's been tested and certified by the Pennsylvania Department of State. Currently, just three companies are certified to provide voting systems in Pennsylvania, and the state is working to get three more certified in the coming months.
The city permitted companies with systems awaiting state certification to submit proposals for supplying a new voting system, Deeley said. Six companies responded to the city's invitation.
It's unclear what will happen if the city ultimately prefers a company that doesn't yet have certification.
There are a variety of new voting systems to choose from.
Some are touch screens that record votes electronically and produce a separate paper record to review in case results are challenged.
Other systems involve voters marking individual paper ballots, which are then read by scanners.
Listening session
On Friday and Saturday, the City Commissioners heard testimony on new voting systems from members of the public.
Citizens who spoke weren't shown specific voting systems under consideration, but they offered a variety of perspectives. Many were veteran poll workers.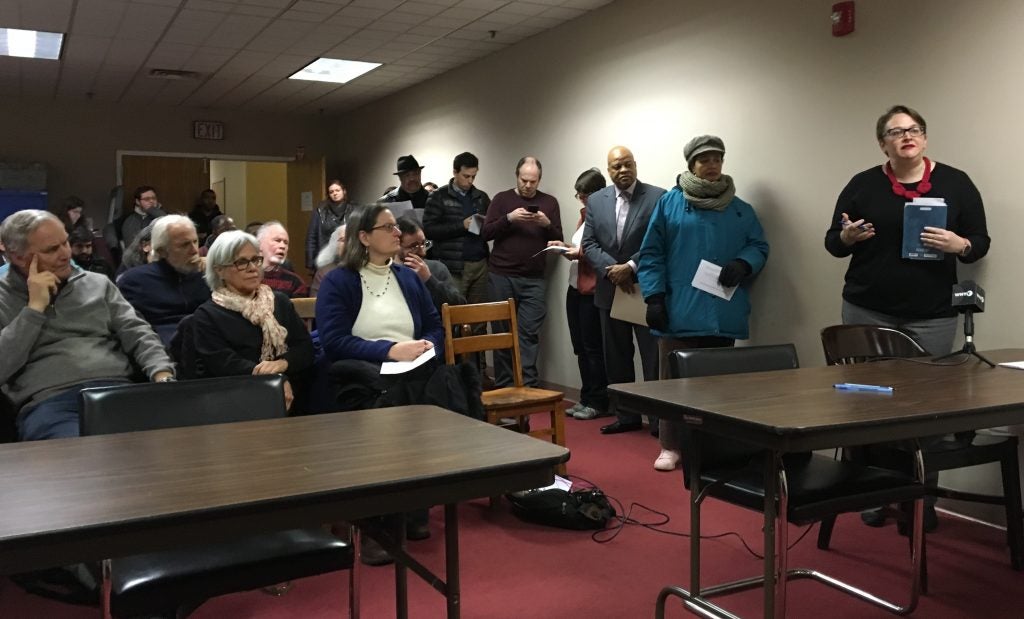 Rich Garella from Point Breeze said hand-marked paper ballots would be the smartest – and most economical – choice for the city.
"With hand-marked ballots, we get shorter lines because lots of people, not just two or three, can vote at once," he said. "And no one voter or broken machine holds up the line. With hand-marked ballots, even in a power outage, people can just keep voting, because pens don't need electricity."
In addition to voting machines, the city should adopt an efficient digital system for signing in voters at polling places, said Margaret Lenzi, a committeewoman from Mt. Airy and a member of the group Neighborhood Networks.
"In the November election, we had lines going out the door because the system could not process the people just to sign them in," she said.
It's not clear what the new voting system will cost, but Deputy City Commissioner Nick Custodio said at Friday's hearing that new voting and tabulating machines, an electronic poll book system, as well as storage and training for the new equipment could cost as much as $60 million.
WHYY is your source for fact-based, in-depth journalism and information. As a nonprofit organization, we rely on financial support from readers like you. Please give today.