Philadelphia Orchestra serenades therapy horses at Pegasus Riding Academy
A trio of brass players performed at a riding academy that offers equestrian therapy.
Listen
2:15
In March, a trio of brass players from the Philadelphia Orchestra went to the Pegasus Therapeutic Riding Academy, in the Rhawnhurst neighborhood of Northeast Philadelphia, to serenade the horses.
They set up in the Academy's indoor arena and played pieces like Charles-Camille Saint-Saëns' "The Swan" and Louis Clapisson's "La Chasse (The Hunt)."
"Horn and horses go together," said Jeffrey Lang, the orchestra's associate principal horn player who lives in Central Jersey's horse country. "Our tradition with the horn is hunting music."
Principal tuba player Carol Jantsch wrote an original arrangement of Gioachino Rossini's "William Tell Overture." That tune's finale was famously used as the theme of the Lone Ranger.
"It might be too on-the-nose, but I did it," she said of her arrangement for trombone, horn, and tuba. "It's a little bit of a hobby of mine, making music work in different formats to play with people that I like."
The performance at Pegasus by Jantsch, Lang, and principal trombonist Nitzan Haroz was shot on video for the latest iteration of "Our City, Your Orchestra," a series of digitally streaming concerts at locations around the city. The performance will be released on Wednesday on the orchestra's website.
Previous locations have included Harriett's Bookshop in Fishtown (which specializes in books by Black women), Down North Pizza in North Philadelphia (which employs people who have recently been incarcerated), the William Way LGBTQ Center in Washington Square West, and Prevention Point (a harm reduction organization in Kensington assisting people impacted by drug addiction).
"It's really about connecting with partners that have missions we also believe in," said Danielle Allen, senior director of education and community engagement for the Philadelphia Orchestra and Kimmel Center.
Ryan French, equine director at Pegasus Therapeutic Riding Academy in Northeast Philadelphia. (Emma Lee/WGTT)

Nitzan Haroz, principal trombone with the Philadelphia Orchestra, performs with a trio at Pegasus Riding Academy in Northeast Philadelphia. (Emma Lee/WHYY)

Jeffrey Lang, associate principal horn with the Philadelphia Orchestra, performs with a trio at Pegasus Riding Academy in Northeast Philadelphia. (Emma Lee/WHYY)
The Pegasus academy has been in Philadelphia for 41 years, offering therapeutic equestrian experiences for people with physical and developmental disabilities, and at-risk populations.
Executive director Teresa Fletcher was surprised that the orchestra reached out to her.
"I have been with Pegasus since I was 14 years old, so it's been almost 20 years now, and I've never seen live music played here," she said.
"Seems like an unlikely pairing, right?" admitted Allen. "But it makes a lot of sense because our orchestra's education and community programs have a strong emphasis on health and wellness."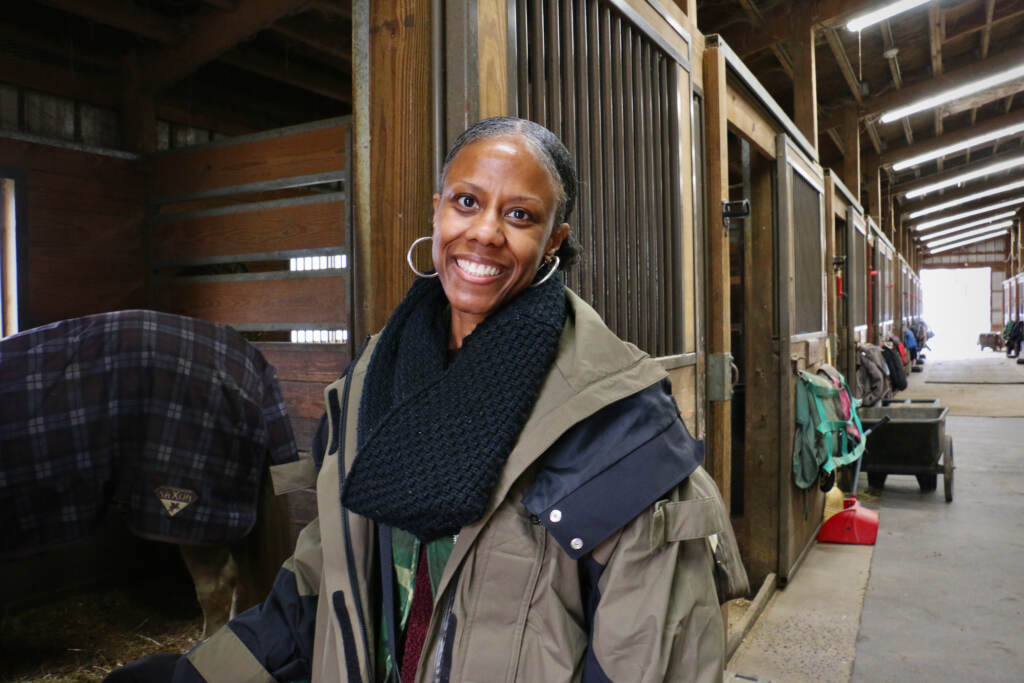 Horseback riding can help people with ambulatory and mobility problems, as it trains tendons and muscles in the hips and upper legs. It can also help people who are on the autism spectrum by providing physical and mental stimulation that can be calming.
Fletcher said horses, like musicians, have a therapeutic sense of rhythm for neurodivergent clients.
"Horses walk one foot in front of the other, over and over again. It's a four-beat gait," she said. "That constant input, that is repetitive, gives a calming effect to the overstimulated part of their brain and allows them to process information."
The newest addition to Pegasus' stable of about 15 horses is Patti, a blonde teenaged haflinger. Fletcher said Patti is good with clients because she is really calm.
"The key thing about her is she is safe when riders have behaviors," she said. "If a rider has a tantrum and screams and pulls her hair and kicks her, she's not going to respond. She just takes it like a good girl."
For the filmed performance, the horses stayed in their stalls and corrals while the indoor arena was given over entirely to the trio and a multi-camera crew. The dirt floor and tin roof provided unique acoustics, and the resulting video includes interviews with Fletcher and the Academy's staff, and footage of clients riding and interacting with horses.
Like all of the "Our City, Your Orchestra" videos, the performance is as much about the location as it is the music.
"I think this is one of the most important programs that we have as the orchestra," said Jantsch. "The way that we connect to community organizations and find ways to highlight the work that they're doing, and get to hear chamber music in these nontraditional settings, it's one of the most interesting things that we do."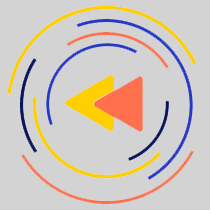 Saturdays just got more interesting.
WHYY is your source for fact-based, in-depth journalism and information. As a nonprofit organization, we rely on financial support from readers like you. Please give today.