Philadelphia More Beautiful Committee's Annual Clean Block Contest, Day 1
This year's Philadelphia More Beautiful Committee's Annual Clean Block Contest is underway and one of this year's judges, Ainé Ardron-Doley, is letting Eyes on the Street tag along to see the incredible work neighbors are doing to care for their small corners of the city. Ainé and her sister Emaleigh are co-block captains of West Rockland Street, which was in the Clean Block Contest last year and won the Neighborhood Transformation Award. This year she received a letter inviting her to be a judge. She accepted.
Today Ainé brings us along for the ride on Day 1, September 26, to blocks in Yorktown, Point Breeze, Kingsessing and Pennsport.
The Philadelphia More Beautiful Committee's Annual Clean Block Contest: Day One, September 26
by Ainé Ardron-Doley
In an effort to encourage volunteerism, educate, organize and improve the quality of life in the city, The Philadelphia More Beautiful Committee (PMBC), a division of The Streets Department, hosts their Annual Clean Block Contest. It's about civic pride, neighborhood empowerment, increasing public safety, motivating and leading by example. With about 6,600 organized blocks in Philadelphia (with Block Captains), just 17 compete in the wildly exciting and inspiring contest. Judged over 4 days, the police-escorted old school trolley and city-car fueled caravan buzz around the city as pedestrians and people in cars look on, wondering what the fuss is about.
Each block is closed to traffic as residents anxiously await the arrival of the judges. Spotlessly clean, some are elaborately decorated and all have treats and eats; it's a celebration. As everyone files off the trolley, the residents gather and the block captain reads the block's history. This is where things get interesting. This is where we find out who the oldest and youngest resident are, when the homes were built, and what challenges the block and neighborhood face.
Blocks are judged on the cleanliness of their block, beautification efforts like gardens and lawns, property improvements and the residents' effort, organization and sense of community. After the history is read, the block is presented with a PMBC Clean Block sign and an UnLitterus sign to post on their block. They also receive a broom and butler. Then comes that awesome announcement from PMBC Administrator Wanda Jones-Heading: "Residents, grab a judge and walk your block." This is when judges get to hear the oral history of the block, the challenges and inspiring stories of what it takes to strengthen a community and keep hope alive on some blocks where crime, blight and disrepair are just around the corner.
Day 1: September 27
1500 Block, North 13th Street
First block, 1500 N. 13th Street is as clean as can be! It's a mostly senior block with 30 brick row homes right around the corner from Temple University.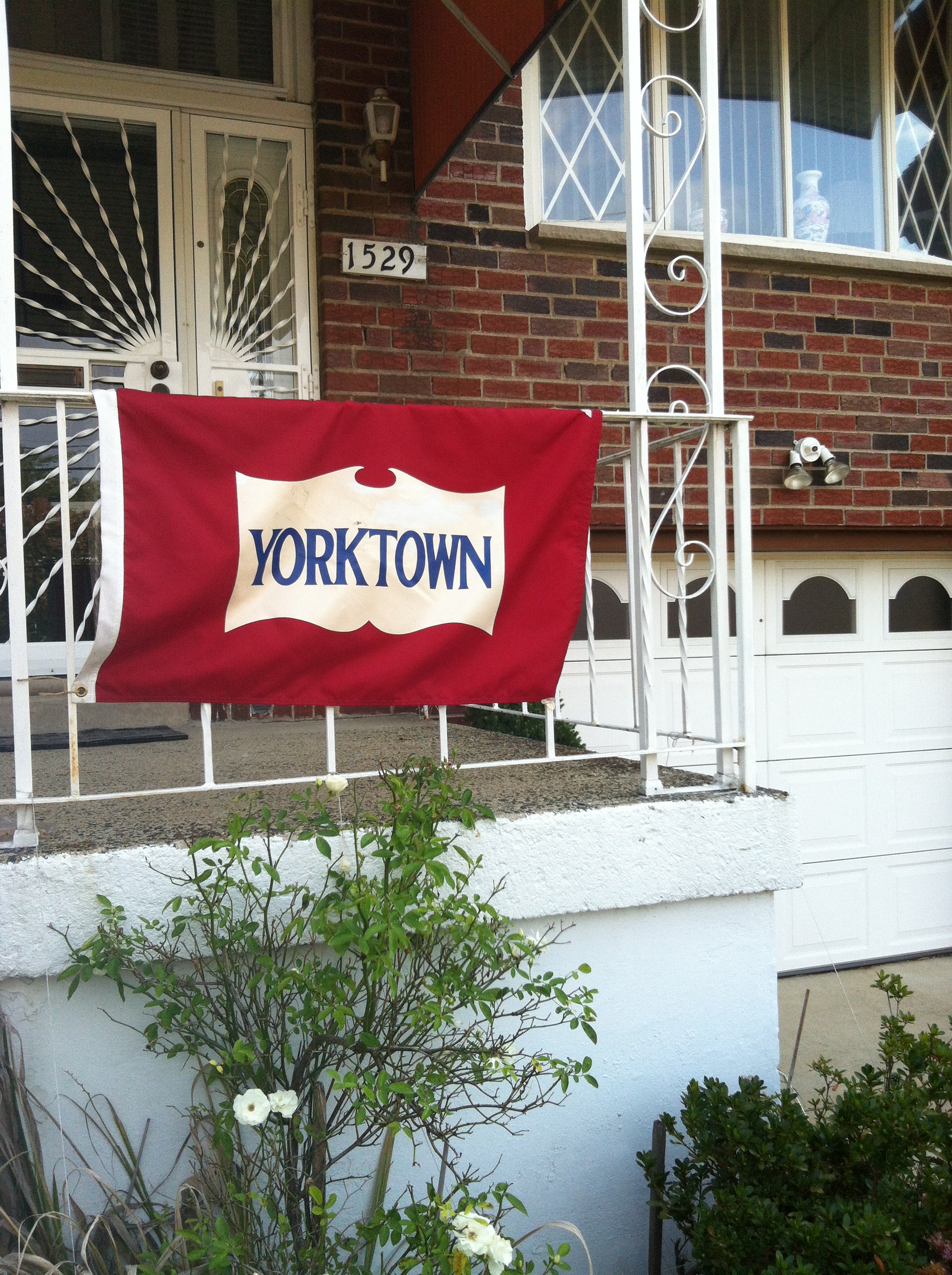 Neighbors proudly display their Yorktown flag. Philly is a city of neighborhoods for sure. Yorktown was born in the 1960's. Neighborhood pride is brimming over on 1500 N. 13th Street.
Block residents and the block captain Ms. Corinthia Johnson (in white) accept their PMBC Clean Block and UnLitterus signs. This block's biggest challenge is actually litter from Temple Students that park on the block.
1700 Block, Ellsworth Street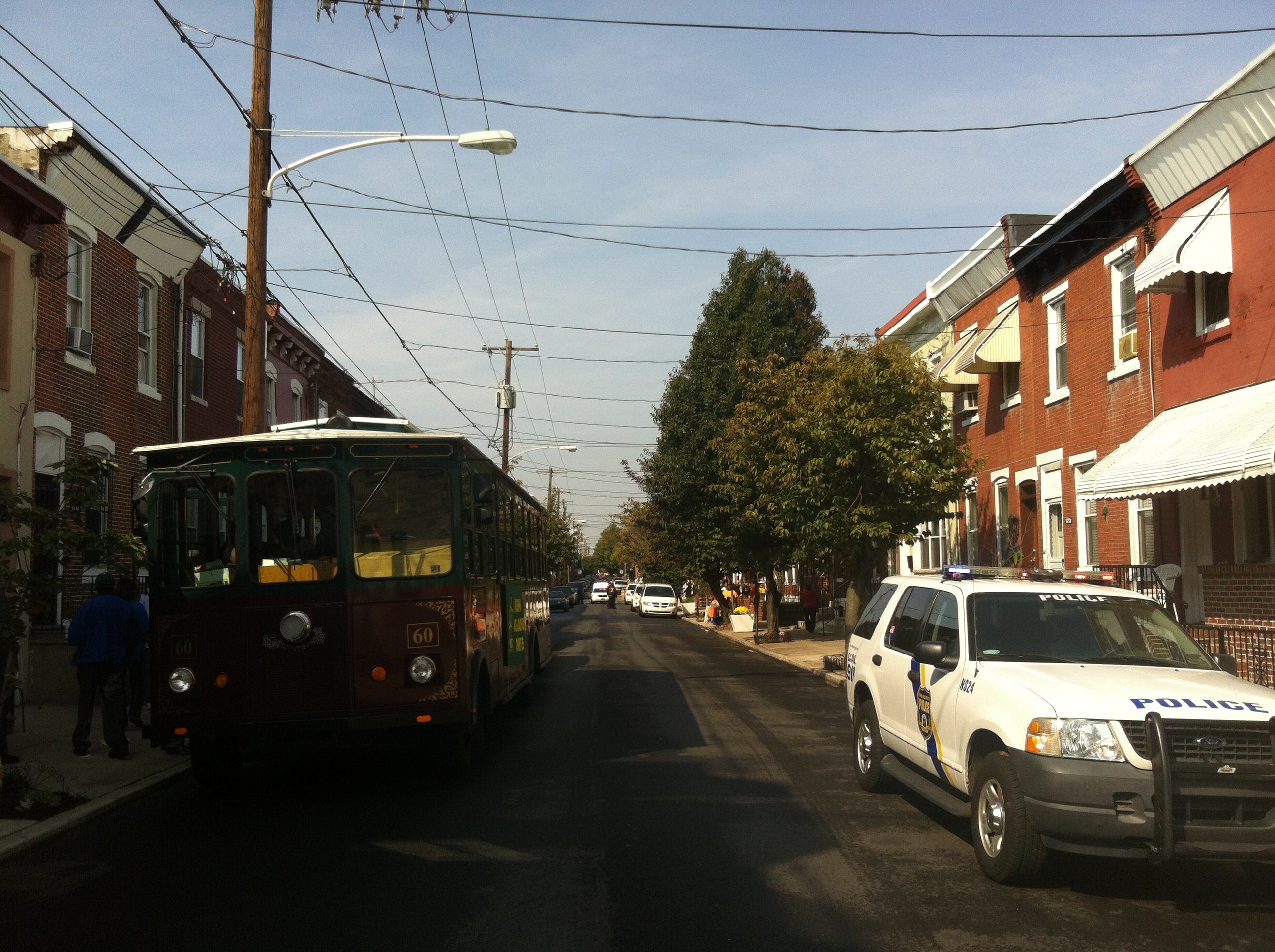 The trolley just touched down on 1700 Ellsworth in South Philly, the second stop on the first day of the Clean Block Contest.
There are two-story brick row homes, two apartment buildings, two privately owned lots, one nursing home and a small alley on this Point Breeze block.
This is Justin, the blocks youngest resident at 3 months old, Jennie Hill-Burton, the longest residing resident at 73 years old and Jewel Johnson, 1700 Ellsworth Street's oldest resident at 89 years young.
A display of photographs of the 1700 block of Ellsworth through the years.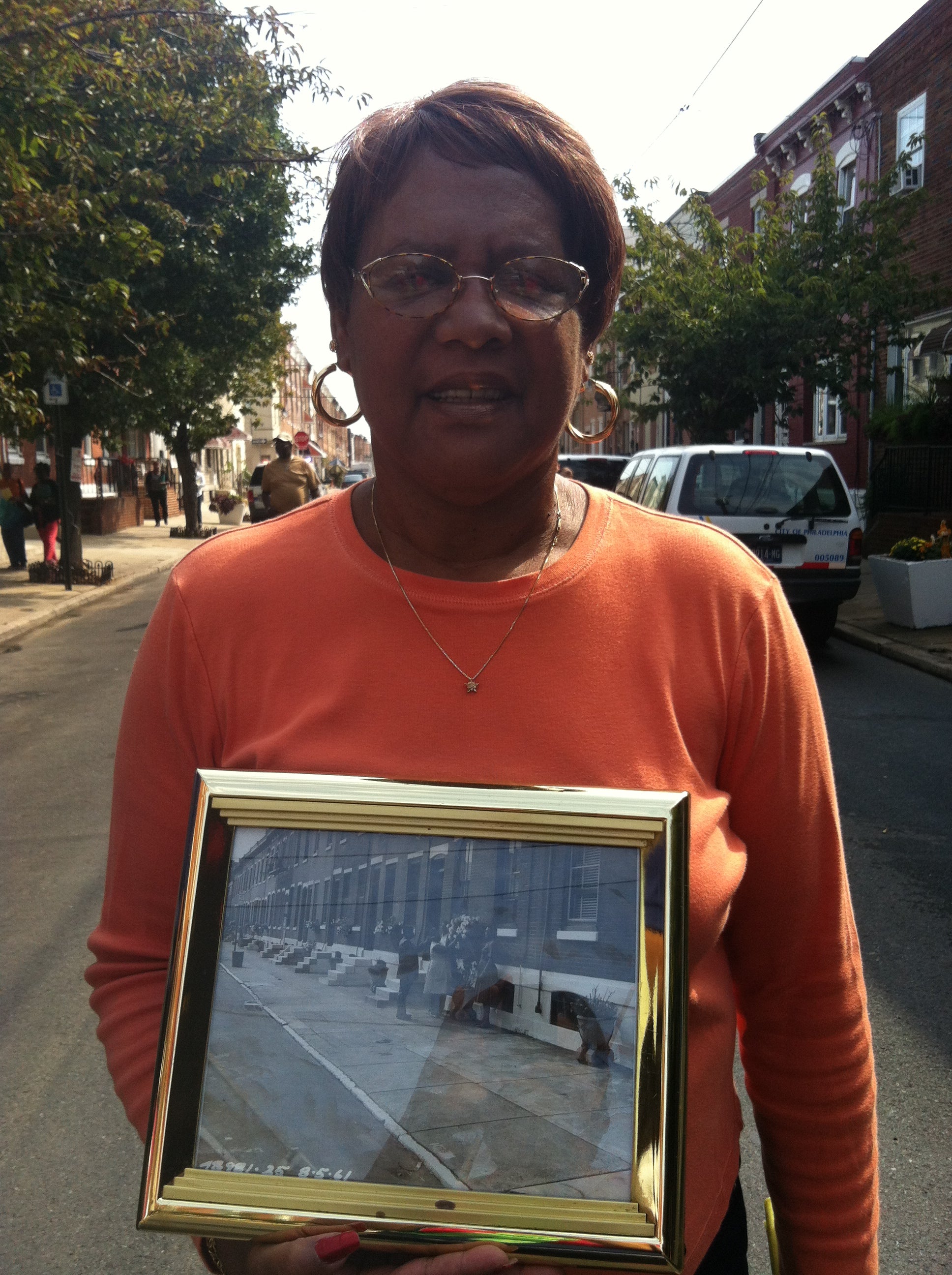 A resident shows off a photograph of the block from August 5, 1961. Beautiful then, beautiful now, dedicated.
A closer look at the block in 1961. Today, there are residents of German, Italian, Irish, Greek, Polish and Nigerian descent.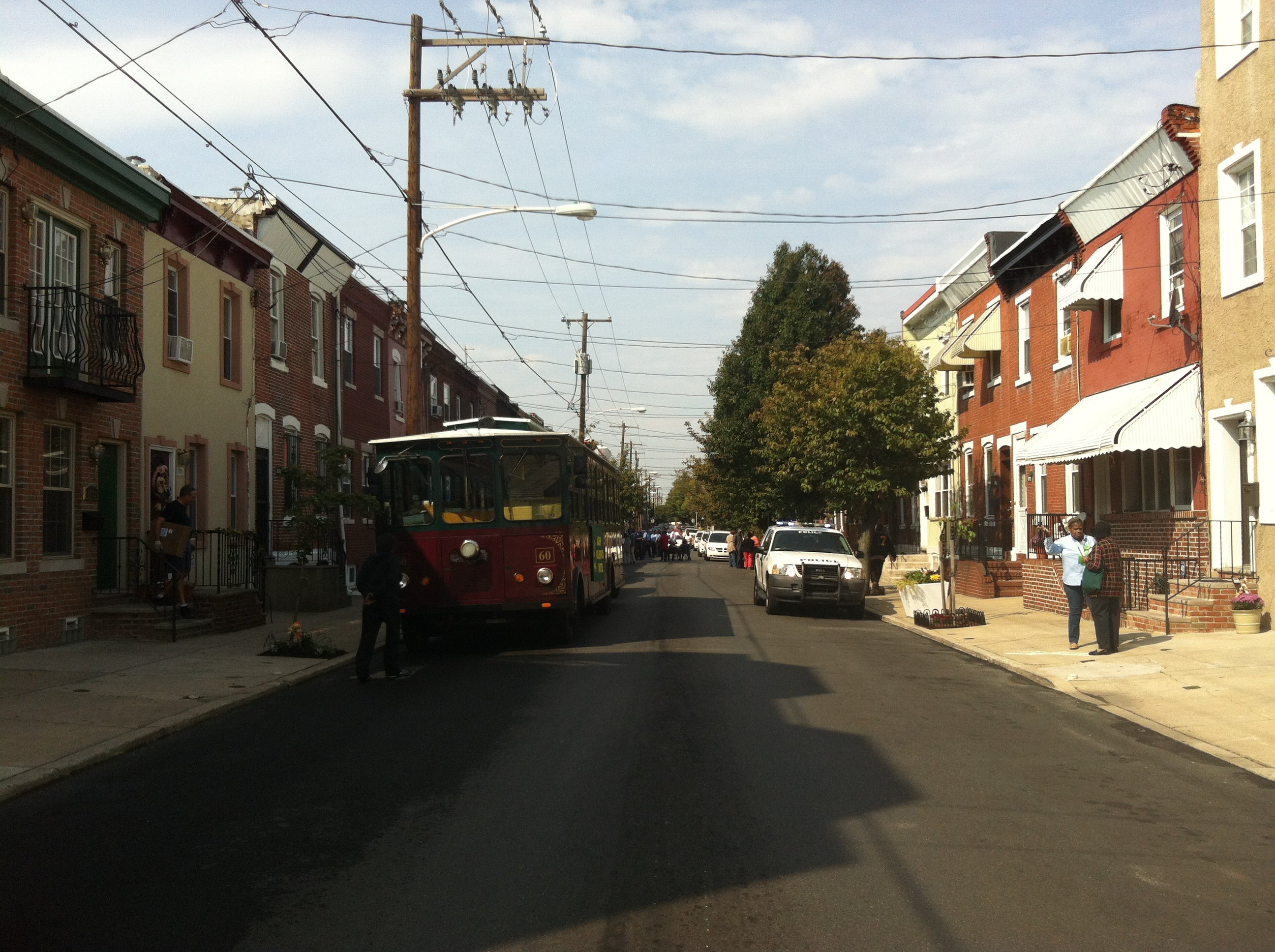 1700 Ellsworth has 10 rented homes, one under construction, one for sale and 31 homeowners.
Residents, judges, city staff and an officer break out in dance. The dance is called "The Wobble."
The wobble continues on the block who's most famous resident was former Temple University basketball coach John Chaney at 1707 Ellsworth.
The block has worked hand in hand with the Pennsylvania Horticultural Society, the Anti-Graffitti network, the City and the Point Breeze Federation.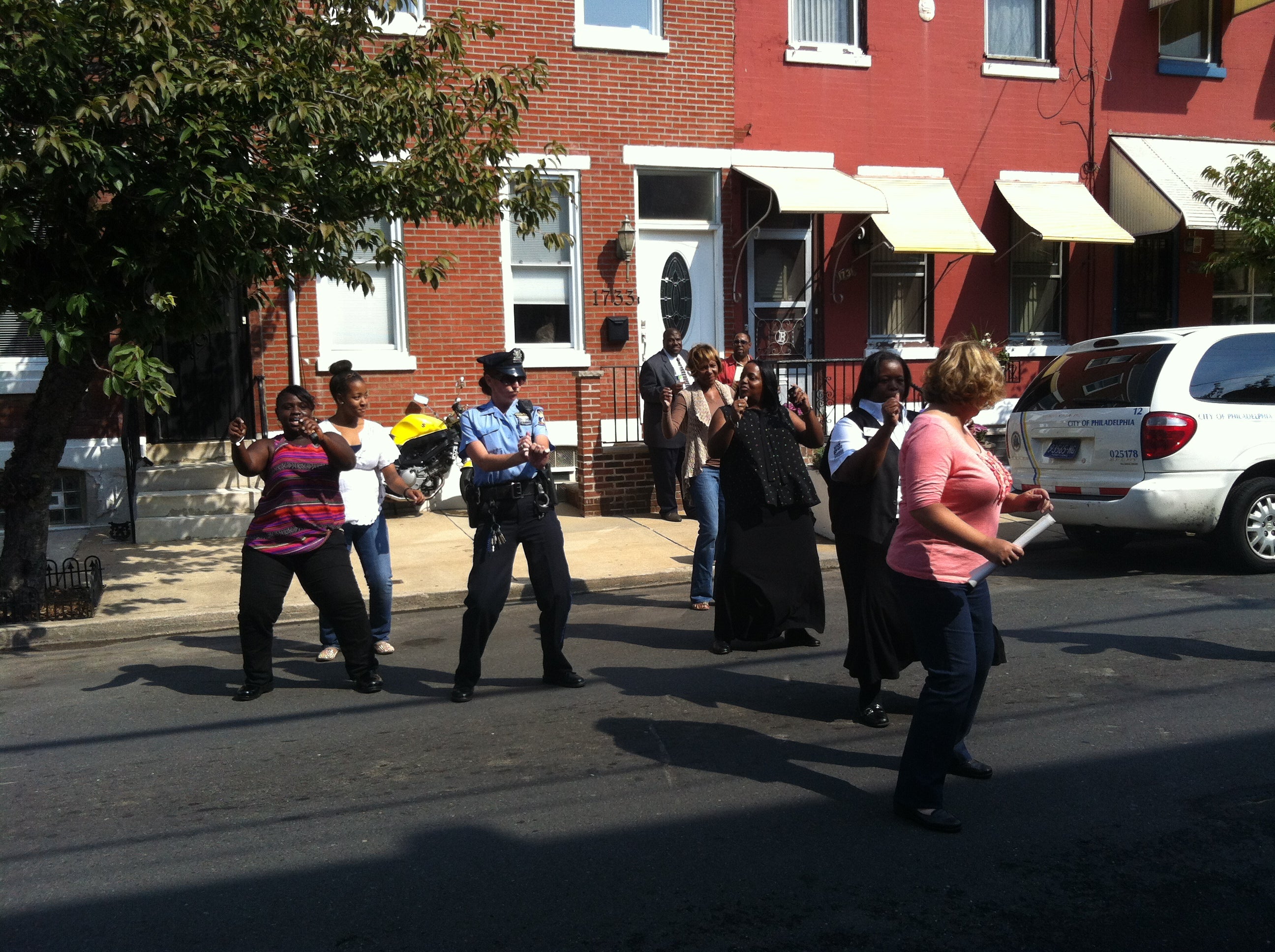 "Wobble baby wobble baby wobble baby wobble." The police officer might be the best at this.
1100 Block, South Wilton Street
The caravan has arrived in Southwest Philly on 1100 S. Wilton Street. Sparkling clean, two-story brick twins have a nice amount of garden space.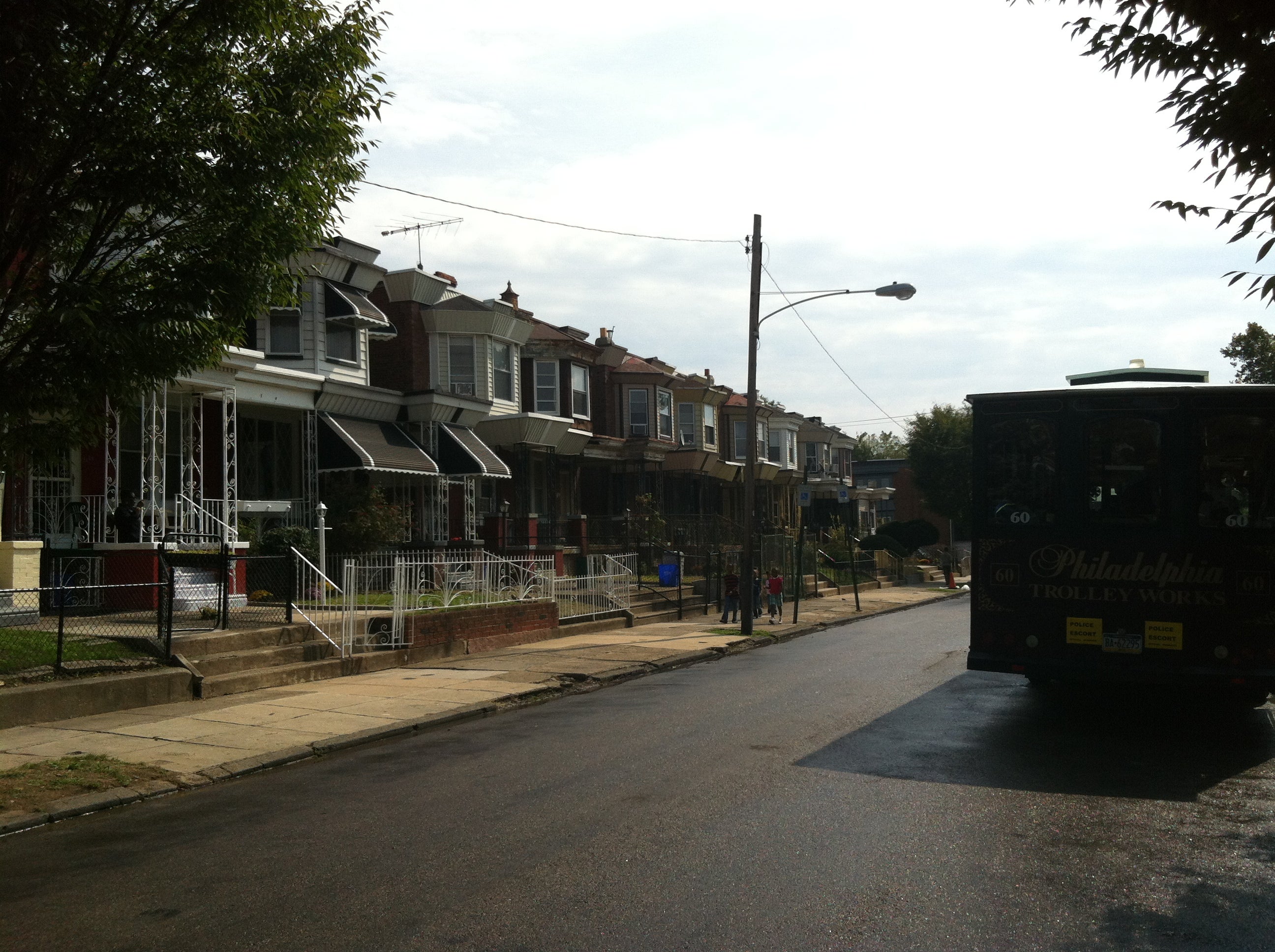 It was the mid-60s when many African-Americans began purchasing homes on Wilton Street.
A well designed front yard on 1100 S. Wilton Street. Stunning.
Cactus can grow in the Northeastern United States of America. Believe it.
Clean Block Officer Joe Miranda speaks to block residents and judges.
Tools of the beautification and quality of life trade on Wilton Street.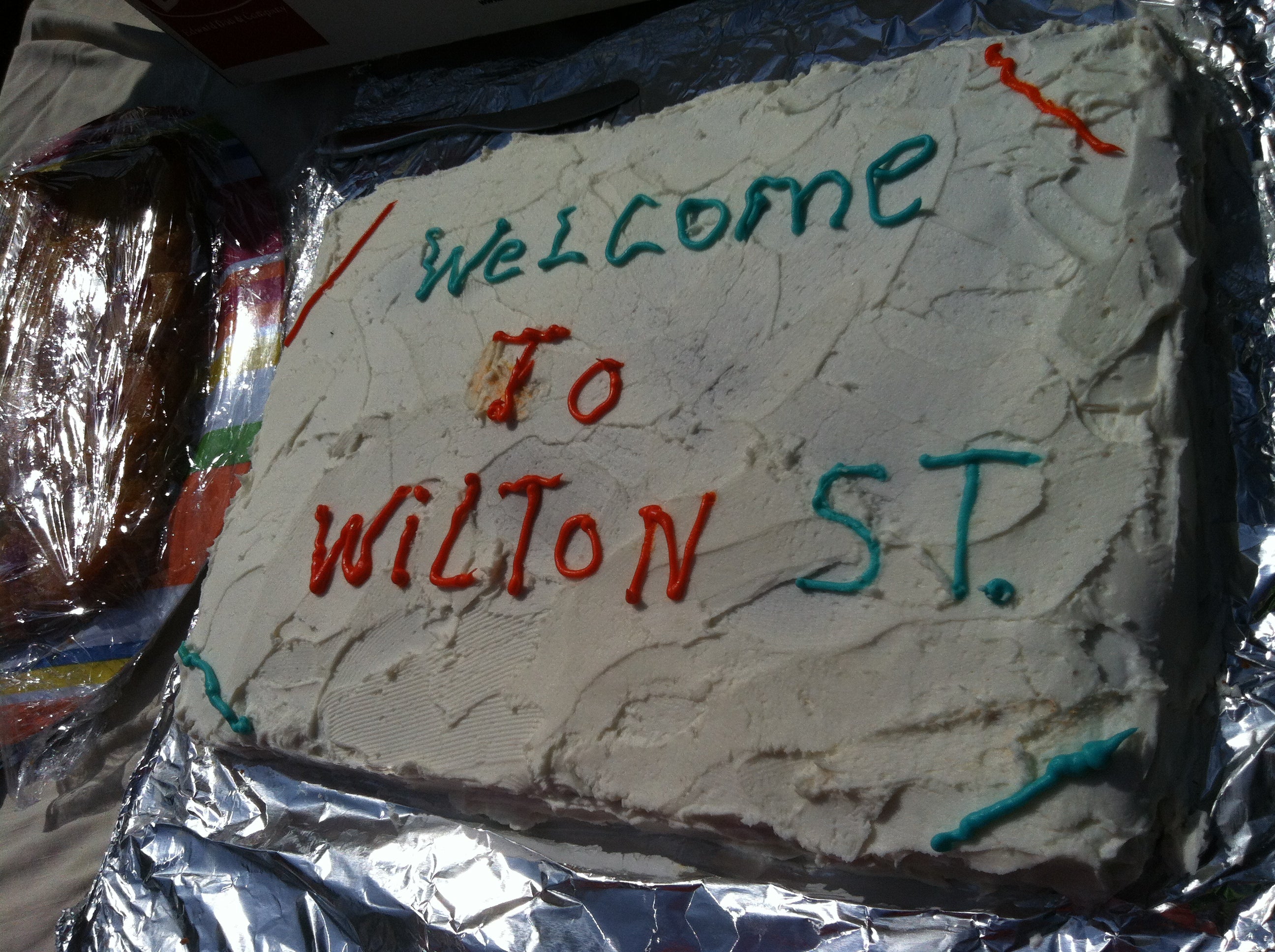 Homemade cake was part of the festivities.
Another look at the brick twins on the third block – day one of the Clean Block Contest.
200 Block, Wilder Street
The Mummers played and the residents strutted when the caravan arrived on the 200 block of Wilder Street in Pennsport.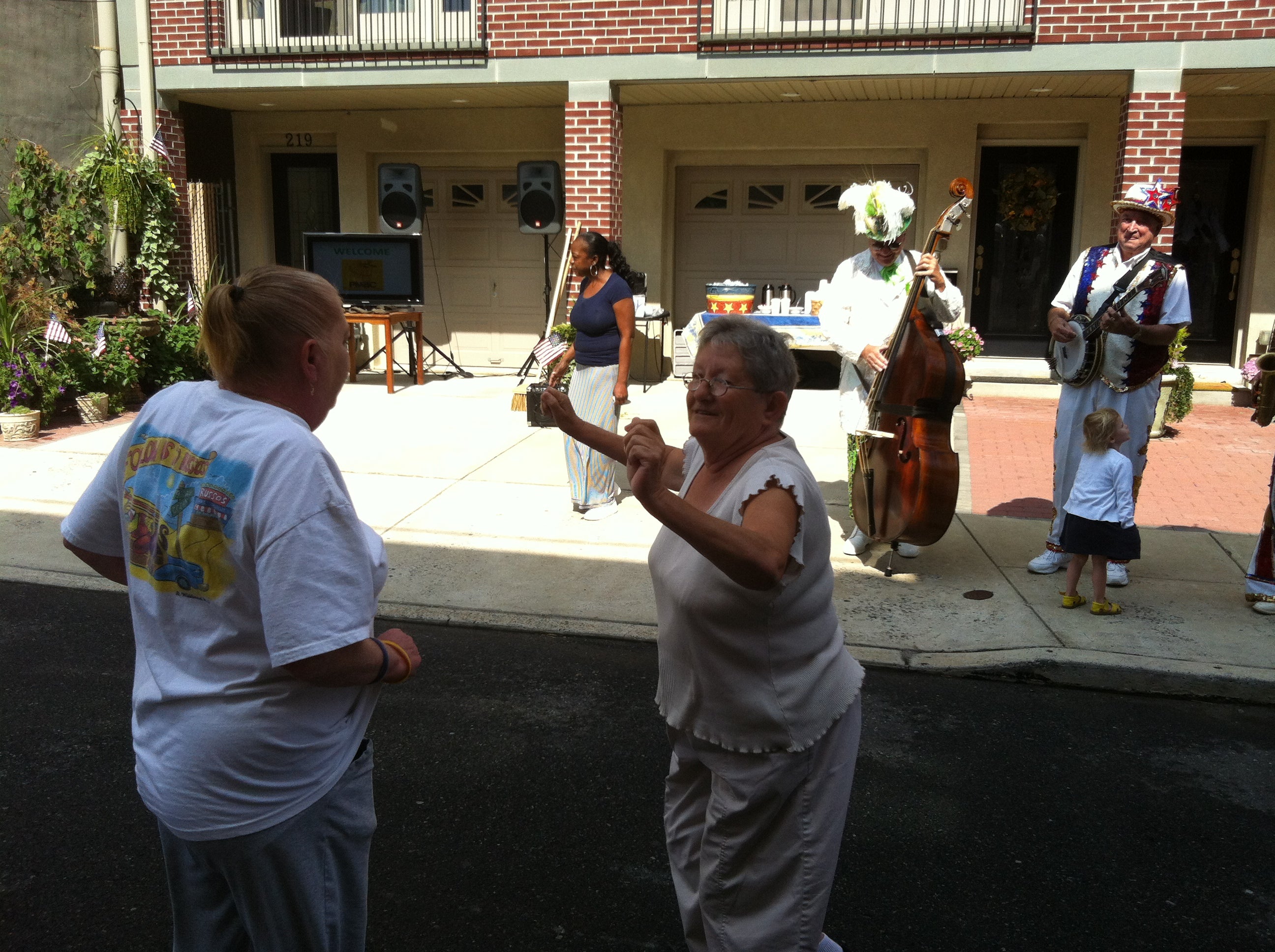 Residents do the Mummers strut. In the 1950's there were 100 kids living on Wilder Street.
Wilder Street is a narrow street of row homes filled with people from all over the world. With a strong Irish catholic history, the block also has residents from Argentina, Panama, Canada, Italy and China.
A banner on Wilder Street.
Wilder Street has plenty of signs that urge residents and visitors to do the right thing.
Wilder Street was deemed too narrow and small for trees so the residents have installed hanging planters.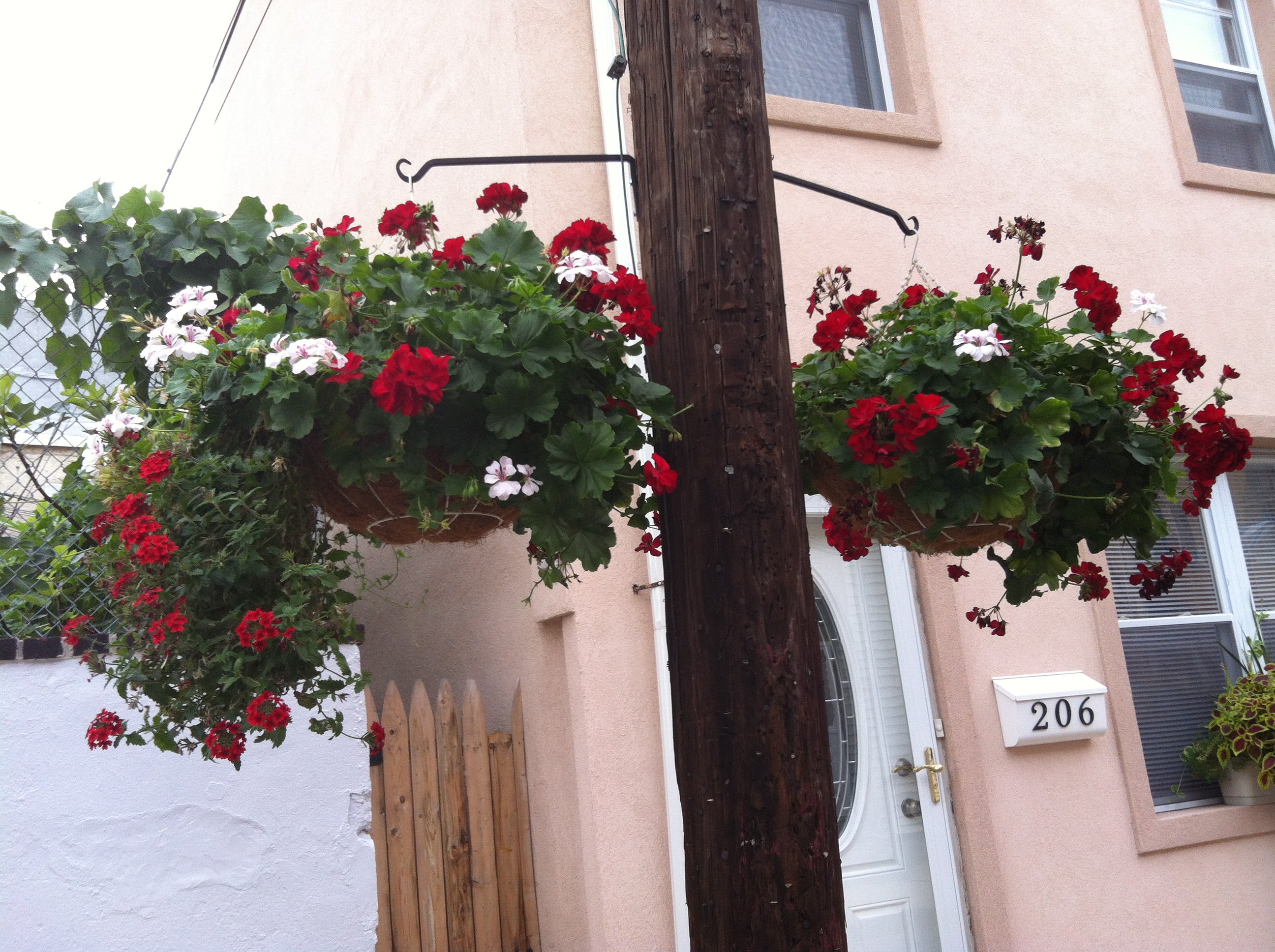 Geraniums and Verbena in hanging planters.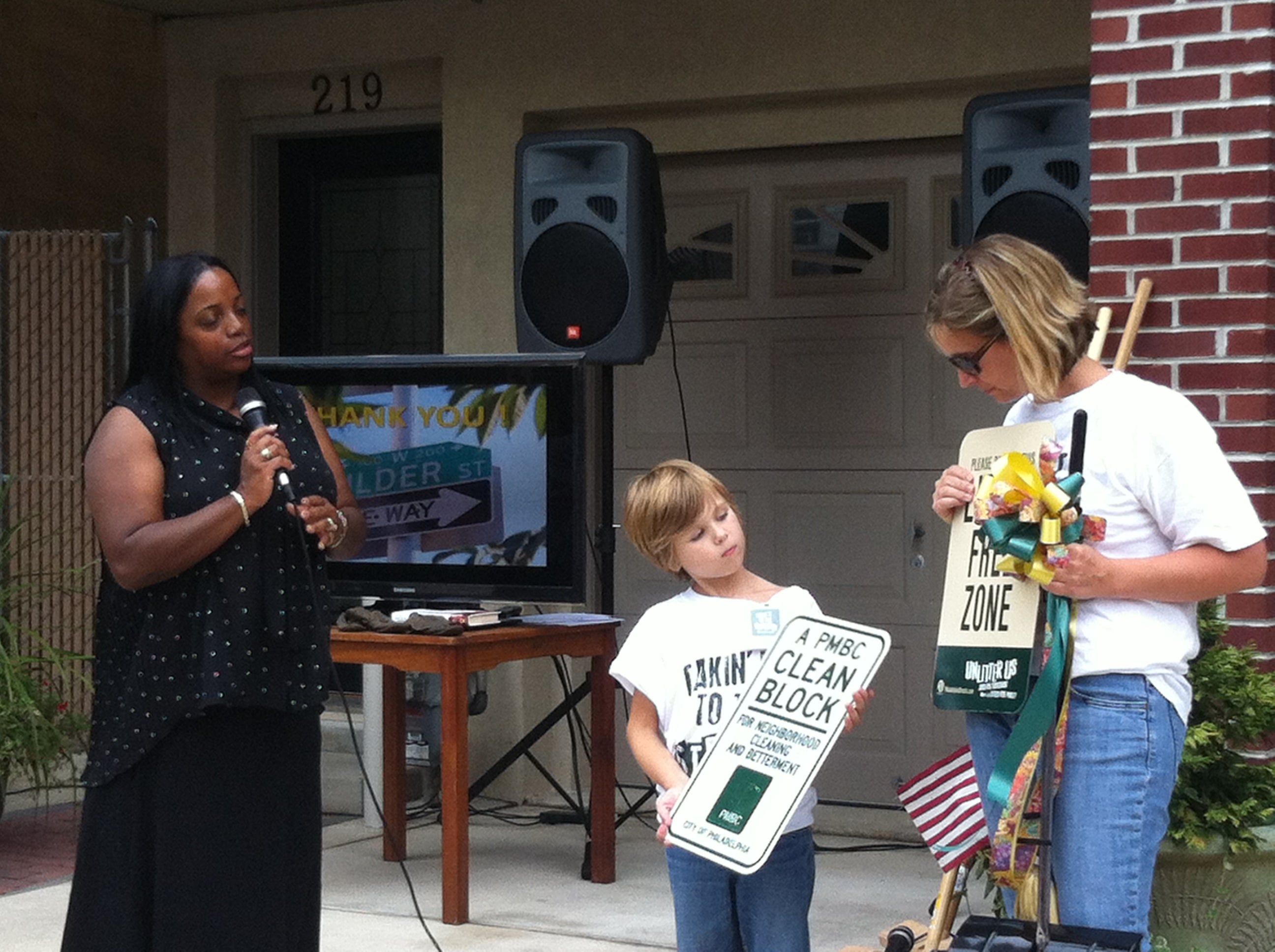 Junior Block Captain "Tre" and the Block Captain receive their new signs from PMBC.
Wilder Street participates in PMBC's Adopt-A-Basket program. Through this program, a block can request a public trashcan for their block.
The most famous resident on the block is 89-year old Edward "Babe" Heffron, former private with the 101st Airborne Division of the US Army during World War II. Actor Robin Laing portrayed babe in the 11 part HBO miniseries Band of Brothers.
These are old shoes that floated out of a ceiling in one of the houses on Wilder Street during a flood. History.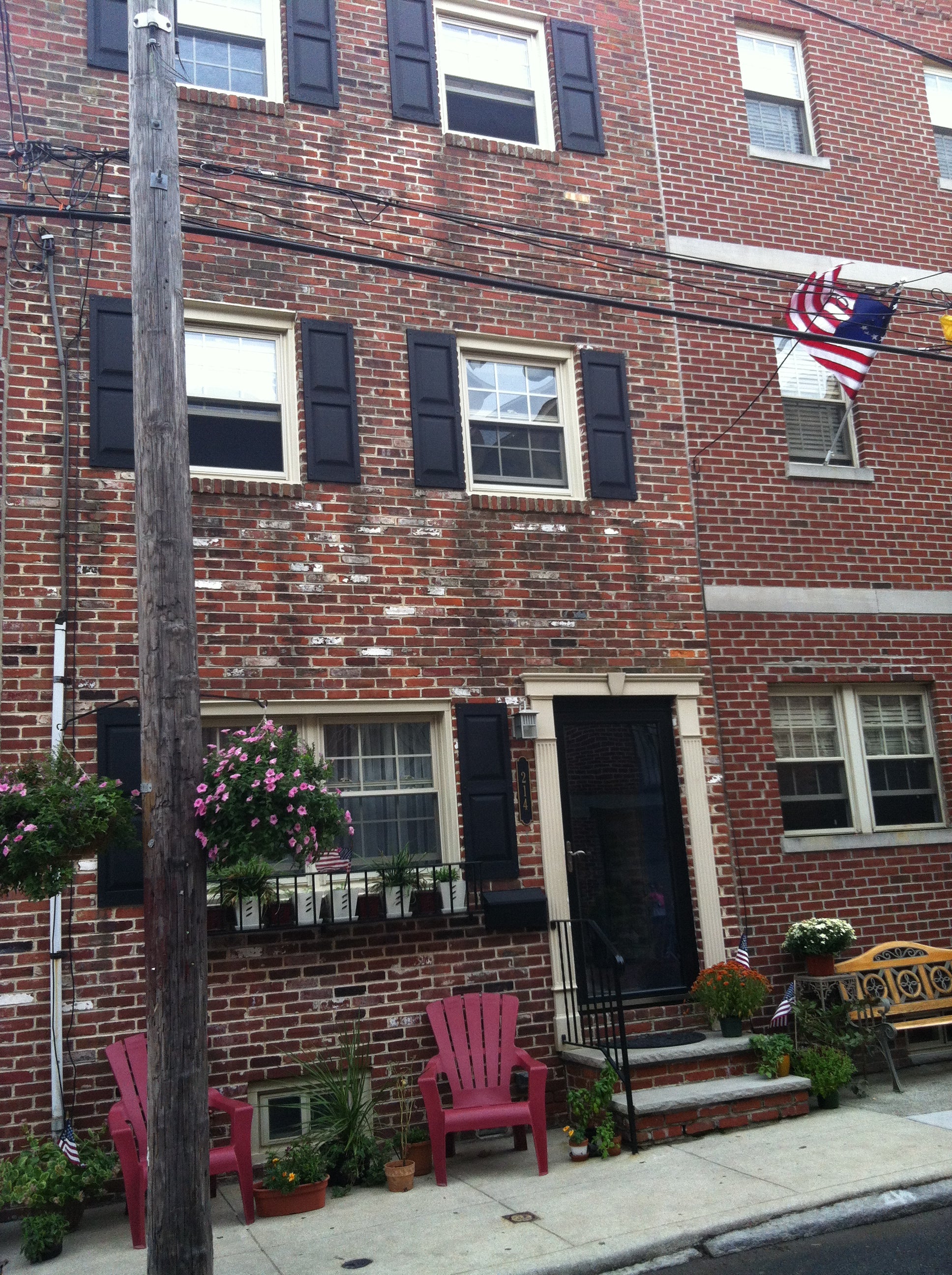 Brick homes on Wilder Street.
American flags are up all over the city on contest blocks.
Next up, Ainé will take us to blocks in Juniata Park, Oxford Circle, Cobbs Creek, and East Germantown.
WHYY is your source for fact-based, in-depth journalism and information. As a nonprofit organization, we rely on financial support from readers like you. Please give today.