PennDOT talks about construction on Holme Avenue Bridge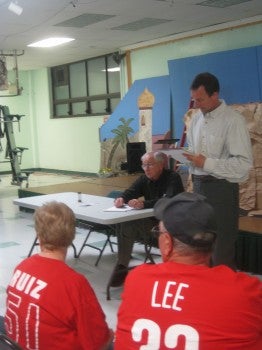 John Buckley's construction company has had $60,000 worth of small tools stolen in the last six weeks from its site on the Holme Avenue Bridge.
It's one of many complaints coming out of the two-year project on the bridge, which PennDOT engineer Harold Windisch talked about at last night's Holme Circle Civic Association meeting.
Buckley and his family are offering a $5,000 reward for tips leading to the return of the tools — a problem he says he's never had in any other neighborhood.
Residents living near the bridge, who've come to see Buckley as an ally during the construction project, are outraged on his behalf, and at the traffic preventing them from safely accessing their homes.
It took seven-and-a-half minutes to pull out of the driveway one morning, a Holme Avenue resident said. The speeding traffic on the now-one-lane bridge has people living on the 3000-block of Holme Avenue on edge. When Buckley addressed the HCCA members in February, he vowed to speak with PennDOT and the Streets Department about the possibility of getting a stop sign on Holme Avenue at Arthur Street to give the homeowners relief.
That's "not viable at this time," Windisch told HCCA members last month, but said he'll look into other concerns, like:
speeding — The office of Sen. Mike Stack questioned Windisch about how to slow traffic on the avenue, to which Windisch said he's considering changing the timing of the lights at Holme Circle, and is willing to work with 8th District Police if an officer can be assigned to patrol the area.
lighting — Streetlights on and near the bridge have been out for weeks. Different calls to 311 yielded possible response times of a week to 48 days. Windisch said he'll call, as well.
privacy — Councilman Brian O'Neill's office has received complaints from Holme Avenue residents who say in order to avoid the bridge traffic, drivers coming west on the bridge are turning left on Arthur Street and using the back driveways in the neighborhood to navigate around the construction. Windisch said he'd take a look at the issue when O'Neill's office requested he post "private property" signs at the driveways.
Windisch says the project should be done by September 2012, as the two halves of the bridge will be shut down one at a time. Before leaving he said he's look into shutting the bridge down altogether to get the work done faster. Buckley has already said the bridge should be shut down for safety issues until it's repaired.
WHYY is your source for fact-based, in-depth journalism and information. As a nonprofit organization, we rely on financial support from readers like you. Please give today.