Penn grad students earn union vote, with a caveat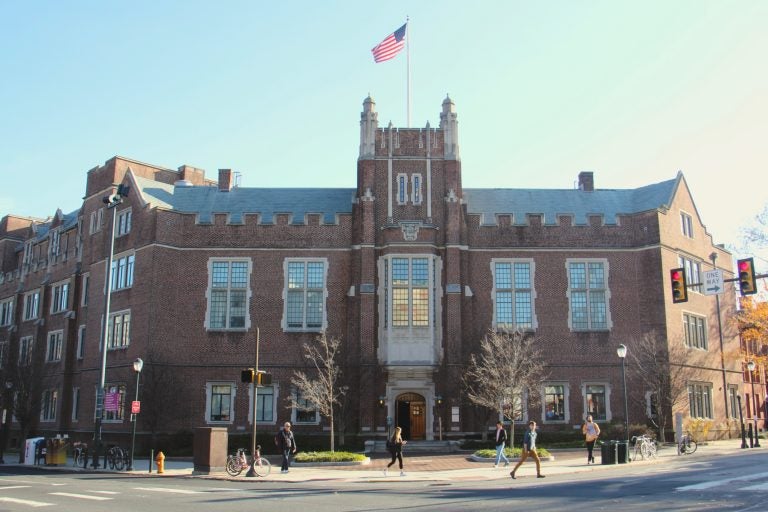 Graduate students at the University of Pennsylvania will be able to vote on whether to form a union, the regional National Labor Relations Board has ruled.
The decision is a victory for GET-UP, a coalition affiliated with the American Federation of Teachers that has been driving unionization efforts at the Ivy League school in Philadelphia.
"We're really excited," said GET-UP organizer Miranda Weinberg, a doctoral candidate in Penn's Graduate School of Education and its School of Arts and Sciences.
But GET-UP's win comes with a caveat.
The NLRB ruled that GET-UP had to include two graduate schools in its bargaining unit that union organizers did not initially ask to represent.
University lawyers argued in June that graduate organizers had purposefully excluded the Wharton School of business and the School of Engineering and Applied Sciences because they feared graduate students at those schools would vote against unionization.
The regional NLRB ruled that business and engineering students do belong in the bargaining unit, and they should have a say on whether to unionize. They join graduate students from seven other schools  —  the Annenberg School of Communications, Biomedical Graduate Studies, School of Design, Graduate School of Education, School of Arts and Sciences, School of Social Policy and Practice, and School of Nursing — in the proposed union.
An election date has not been set. If a majority of graduate students vote to unionize, GET-UP will represent workers in all nine schools.
"We are disappointed with the NLRB ruling," said Ron Ozio, the university's director of media relations, in a statement. "As we have stated before, we view our graduate student scholars as students and our future colleagues rather than employees and believe we can better support them without the intervention of a labor union."
Penn is among several elite universities where graduate students have organized or are attempting to organize. The arguments at all of them have been similar.
Graduate student organizers say their teaching and research constitutes a form of work and enables them to unionize. GET-UP organizers believe a union could secure better benefits for graduate student workers and protect them against workplace abuses.
University officials argue graduate students are primarily enrolled to learn and prepare for work in their specific fields.
"A model born from industry and designed to represent units of workers doing the same type of work is not the right fit for students in a wide range of disciplines, with differing expectations and varying needs," said Penn Provost Wendell Pritchett in a letter sent Wednesday to graduate students.
In 2016, the NLRB reversed precedent and ruled that graduate student workers at Columbia University could organize. That decision sparked unionization efforts at campuses across the country.
GET-UP organizers, however, fear their window to gain collective bargaining rights could close soon. President Donald Trump recently appointed two new members to the NLRB, giving Republicans a majority on the five-member panel.
"We really wanted to secure our union as fast as possible," said Weinberg. "We didn't expect to wait six months."
Whether this new NLRB reverses the 2016 Columbia decision remains to be seen, but one of the board's recent decisions may already have hurt the Penn unionization campaign
On Dec. 15 — in a 3-2 ruling along party lines —  the NLRB reversed an Obama-era decision that gave union organizers more power to define their own bargaining units. The NLRB's new standard tips the scales back toward employers and makes it harder for union organizers to exclude workers they might consider unfriendly to unionization attempts.
It's not clear whether the regional NLRB considered this standard when it compelled GET-UP to include Wharton and SEAS students in its bargaining unit. In a message to supporters, though, GET-UP leaders pointed out that the decision is "in line with NLRB precedent that was recently overturned."
Weinberg denied the university's claims that GET-UP excluded business and engineering students as a strategy to ensure a successful vote.
"We have always wanted to include the whole graduate worker population," she said.
GET-UP left Wharton and SEAS out of the original bargaining unit, Weinberg said, because organizers were "racing against the Trump clock," although she did not clarify how omitting those two schools accelerated organizing efforts.
"We're excited to bargain collectively with the whole unit," Weinberg said.