PATCO plans special passes, schedule for Papal visit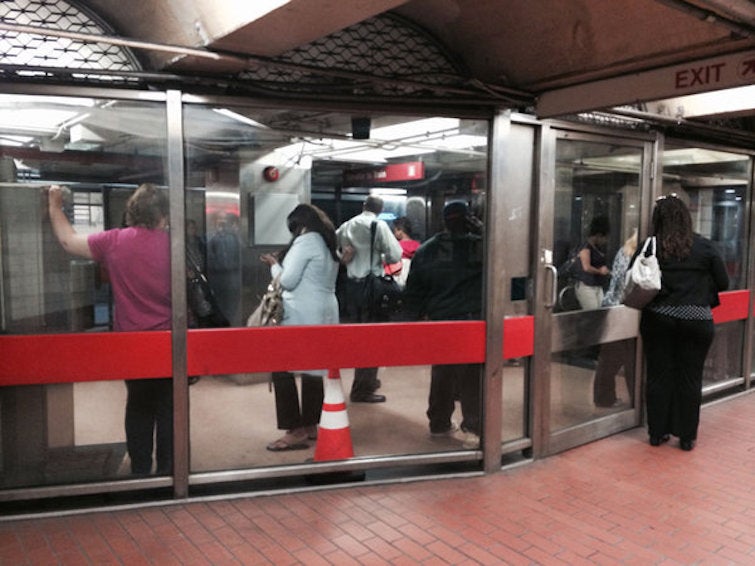 "We're coming out with a new air freshener, just for the Papal visit," Delaware River Port Authority CEO John Hanson is saying, just before a meeting of the DRPA Finance Committee to discuss how the PATCO High Speed Line will handle the massive crowds expected for Pope Francis's visit to Philadelphia in September.
"It's called Pope-pourri!"
Hanson, who yucks around with the Philly Improve Theater when he isn't running the bridge and commuter rail authority, will probably need to seek penance for such a venial pun. But the planning that followed should give the host of pilgrims and parishioners a little faith in PATCO's ability to handle the expected throngs.
PATCO will offer special one-day and two-day passes for the weekend of the Pope's visit: Saturday, September 26th and Sunday, September 27th. The one-day pass will cost $5 and the two-day will cost $10. Both of these smartcard passes will provide unlimited rides while valid.
PATCO will not, however, sell paper or magnetic-strip tickets – what they usually offer to non-Freedom Card holders – during the Papal visit. Those tickets can jam the fare machines and require employees to empty bins, which would slow down the massive undertaking of getting an estimated 100,000 thousand riders per day to-and-from Philadelphia.
Existing Freedom Card holders will still be able to use their cards, and will pay a $2.50 flat fee on these days, rather than the usual zone-based fares, which range from $1.40 to $3 for a one-way ride. Riders will not need to "tap-out" as they exit the stations on these days, to better alleviate congestion.
Hanson said that PATCO expects to handle 10,000 passengers per hour during the weekend. PATCO will station extra employees on each train and at each station to help handle the crowds, including having ticket agents set up with mobile card-swipe readers. Still, he cautioned passengers to expect long queues that weekend.
"There will be a lot of people at PATCO, a lot of people in the City. Anywhere anyone goes, there will be a long line," he said, comparing the Papal visit to the Phillies World Series Championship parade in 2008.
"This is more than the Phillies," noted Finance Committee Chairman Jeffery Nash. "This is the Phillies, the Eagles, the Flyers, the Sixers, all having a parade on the same day."
PATCO has ordered 75,000 extra cards for the World Meeting of the Families.
Goodbye 50-Cent Transfer Discount
In other Finance committee action, the Committee advanced a proposal to make PATCO's FreedomCard work on any SEPTA Key system. SEPTA is currently in the process of implementing a new, "open fare" system, the SEPTA Key, which will allow for payment via SEPTA Key cards, plus any properly-registered card or phone equipped with "Near Field Communications" technology. Most new iPhones and Android devices come with NFC chips, which will allow riders to use Google Wallet or Apple Pay to get on the bus or train.
Regular PATCO riders will also be able to use their Freedom Cards. Currently, PATCO riders can get a paper transfer onto SEPTA's Broad Street Line, Market Frankford Line or some trolleys at a 50 cent discount, the cost of which is split evenly between SEPTA and PATCO. Under the new system, the paper transfers will go away, but so too will the discount. Currently, only about 800 riders a day use the paper transfers.
While Freedom Card users will be able to use their cards on SEPTA Key, the opposite won't be true. PATCO has no plans at present to make SEPTA Key cards work on its fare collection system, which would require asking Cubic, the third-party vendor who developed and implemented Freedom Card, to update the system. However, PATCO General Manager John Rink did say that the transit authority is "open" to pursuing such a move, should the DRPA/PATCO Board decide to.