PACDC hopes candidates will focus on equitable neighborhood development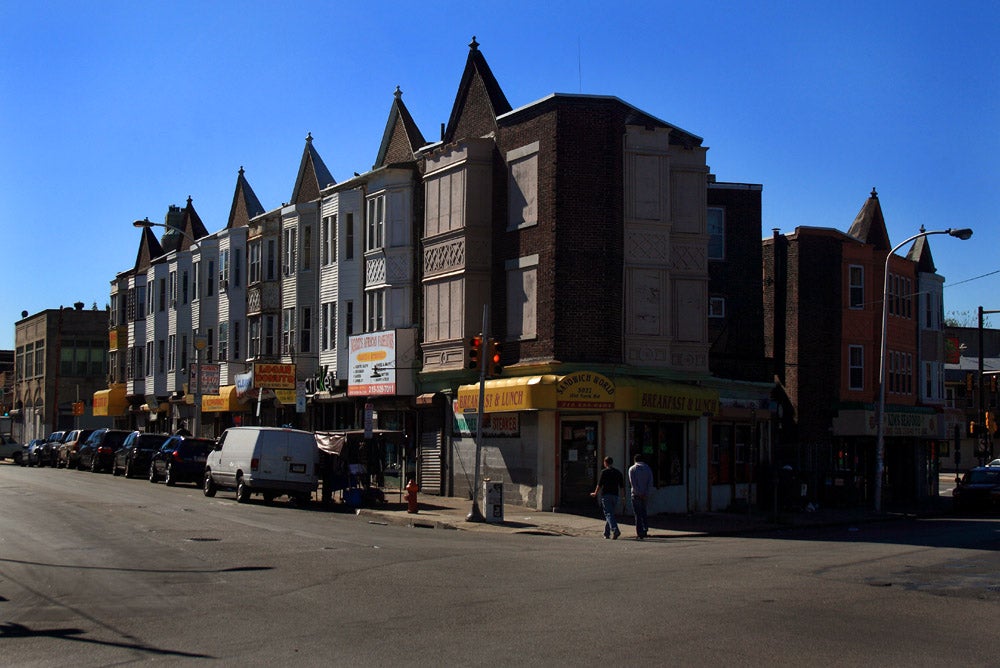 On Wednesday, the Philadelphia Association of CDCs unveiled a platform of policy ideas meant to spread the benefits of Philadelphia's resurgence to every neighborhood in the city.
"This is a unique moment in Philadelphia's history," said Beth McConnell, PACDC's policy director, at an event to announce the platform. "It's a moment when we can welcome new investment and be deliberate about making sure it improves life for those who were hurt the most when Philadelphia declined and who otherwise will be left out of Philadelphia's revitalization and improvement. This is the moment to create a more equitable Philadelphia where every neighborhood is a nice place to live."
The platform, which PACDC is urging candidates for Mayor and City Council to adopt, is titled Beyond Gentrification, Toward Equitable Neighborhoods. The platform has been endorsed by 42 of PACDC's member organizations.
Its five focus areas will likely be familiar to PlanPhilly readers:
Strengthening community organizations

Building and preserving affordable housing

Developing neighborhood commercial corridors as job centers for local residents

Understanding gentrification and improving assistance programs

Tackling blight and vacancy with a commitment to the new land bank
To those ends, the report has a number of very specific policy recommendations. In order to build capacity within community groups, for example, the city should recommit to the Planning Commission's Citizens Planning Institute and increase local funding of Neighborhood Advisory Committees to $4 million a year. Or the city could pursue affordable housing by doubling its funding of the Philadelphia Housing Trust Fund, to $25 million a year. It could improve job opportunities in neighborhoods by requiring city-subsidized projects to employ local residents.
"We recommend that funding for programs to improve our neighborhood commercial corridors including fixing up property conditions of stores, cleaning and greening the corridors, organizing shop owners, and marketing corridors should be boosted to $4 million a year, which I actually think is a paltry sum," said Kira Strong, vice president of the People's Emergency Center during Wednesday's event.
PACDC also hopes to dig into some of the most fundamental questions about new development and gentrification. The report recommends a coordinated effort between City Council, housing counselors, landlords the Commerce Department and other partners to collect data on when and where displacement occurs. The effort would include data on calls to Council offices, raises in rent prices, property-tax increases and so on. At the same time, the city should improve outreach and enrollment in its existing assistance programs.
John Chin, the executive director of Philadelphia Chinatown Development Corporation (PCDC) said the organization was formed partly in order to stop displacement of area residents whose neighborhood was threatened by massive development proposals like highways, prisons, casinos, and stadiums. He said the challenges today for low-income residents are somewhat different.
"We want to figure out a way to welcome middle- and higher-income folks to be a part of the community while still enabling our low-income families to stay and enjoy the fruits of the change," Chin said.
Most candidates for mayor and City Council have yet to get into detailed policy initiatives and programs, but PACDC is hoping its report can serve as a starting point for conversations about neighborhood development. PlanPhilly only spotted one candidate at the forum: Paul Steinke, the former director of the Reading Terminal Market who's running for an at-large seat on City Council.
You can read a summary of the platform and sign on to endorse it here.
WHYY is your source for fact-based, in-depth journalism and information. As a nonprofit organization, we rely on financial support from readers like you. Please give today.