Pa. lawmaker gets 3-year restraining order against colleague she says threatened her life
Rep. Nick Miccarelli of Delaware County has vehemently denied the claims, and he has resisted calls from GOP leaders and Gov. Tom Wolf to step down.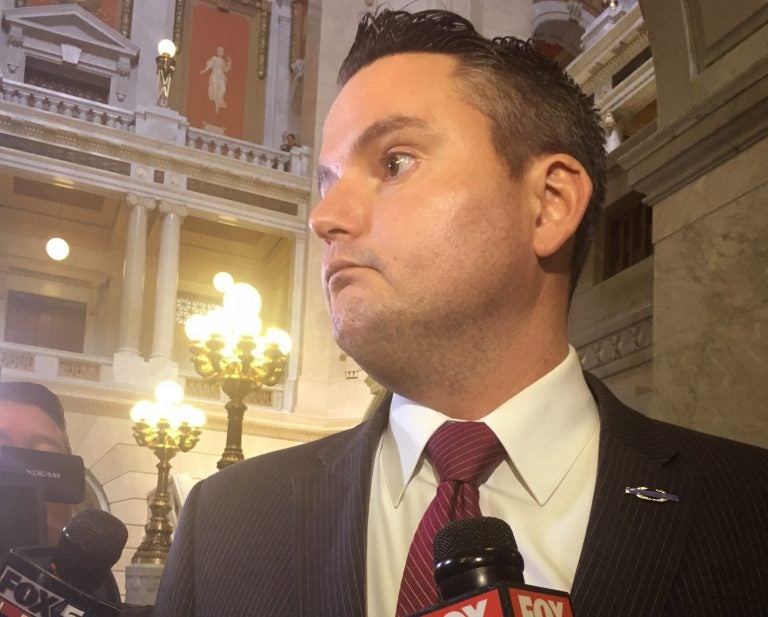 Pennsylvania state Rep. Tarah Toohil has alleged that fellow Republican Rep. Nick Miccarelli threatened to kill her and otherwise abused her during and after a relationship in 2012.
Another accuser, who is anonymous, said Miccarelli drugged and raped her.
Toohil, 38, was granted a temporary restraining order last week, which involved Miccarelli of Delaware County giving up all the guns he owns, and barred him from the state Capitol building anytime Toohil was there.
Thursday morning, the lawyers for the two sides came to an agreement on a longer-term restraining order.
The deal was reached without a hearing.
Miccarelli, 35, can't have contact with Toohil of Luzerne County for three years, and cannot reclaim his weapons during that time. But he is still allowed in the Capitol while Toohil is there. The two are permitted to be on the House floor at the time for votes, and the agreement doesn't bar them from serving on committees or participating in any other legislative activity together, if such a situation arises.
Miccarelli also doesn't have to say whether he's guilty.
His spokesman, Frank Keel, called the compromise a vindication.
Terry Mutchler, a lawyer for Toohil, also said it's acceptable.
"I think the House has taken great pains to ensure not only Rep. Toohil's security, but also the security of everyone in the Capitol," she said.
But the question of Miccarelli's guilt is far from resolved, Mutchlers said, noting that House Republicans have conducted an investigation on the situation — forwarded its results to the Dauphin County district attorney, who is leading his own criminal investigation.
"Both of these women made serious allegations of sexual assault and domestic violence," Mutchler said. "And the House found these allegations credible. You know, in plain language, the House believed these women."
Miccarelli has vehemently denied the claims, and he has resisted calls from GOP leaders and Gov. Tom Wolf to step down.
His motion to dismiss the restraining order case called Toohil's statements "completely false and … solely the vengeful words of a former lover with an agenda."
Reached for comment after the hearing, Keel walked that statement back, saying it's not really how Miccarelli feels — the five-term lawmaker just wants to put the whole situation behind him.
"We're working towards, not only trying to defend this innocent man, but to save his character, his career, and his life," Keel said. "So, we had to come back at them with the same force with which they were coming at us. Let's just put it that way."
When the allegations against Miccarelli first came to light in a report by the Philadelphia Inquirer and LNP's The Caucus, the lawmaker wrote a long post defending himself on his personal Facebook page. In it, he named his accuser who has chosen to stay anonymous.
In his statement about House Republicans' investigation into Miccarelli, spokesman Steve Miskin didn't reference any of Miccarelli's actions directly.
But he did note, "all parties and participants in the investigation were reminded [the caucus] does not tolerate retaliation against any individual who reports or complains about harassment or improper conduct."
Speaking carefully to avoid identifying her anonymous client, Mutchler said she thinks that "what you see with this Facebook posting related to this incident is that when people question why women don't come forward, you really don't have to look further than that to understand."
"There is a retaliatory aspect to things like this," she added. "I can't speak further related to that, but I think that those kinds of actions are unconscionable."
Asked whether perceived retaliation would play into the case going forward, Mutchler said she thinks "there are additional discussions that will be continuing with the House of Representatives in that regard."
WHYY is your source for fact-based, in-depth journalism and information. As a nonprofit organization, we rely on financial support from readers like you. Please give today.