One dead in apartment stabbings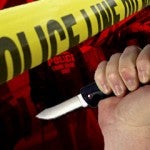 Police are investigating a stabbing that left one man dead and others injured yesterday afternoon.
Authorities were called to Evergreen apartments on the 2300-block of Woodward Street around 2 p.m. Thursday, where a man in his 50s had been stabbed. The man died at the scene, while the other victims were taken to Aria Health Torresdale for treatment of their wounds. According to reports, the other men involved are employees at the apartment complex.
Conflicting reports from KYW and FOX29 say two or three men were injured, in addition to the deceased victim. At the time of this report, the appropriate authorities could not be reached for verification.
Below is a video from FOX, which shows a person of interest being taken into custody.