October 25: Jewish headstones restored | Quality of Life fines | Streets Dept Podcast Ep 2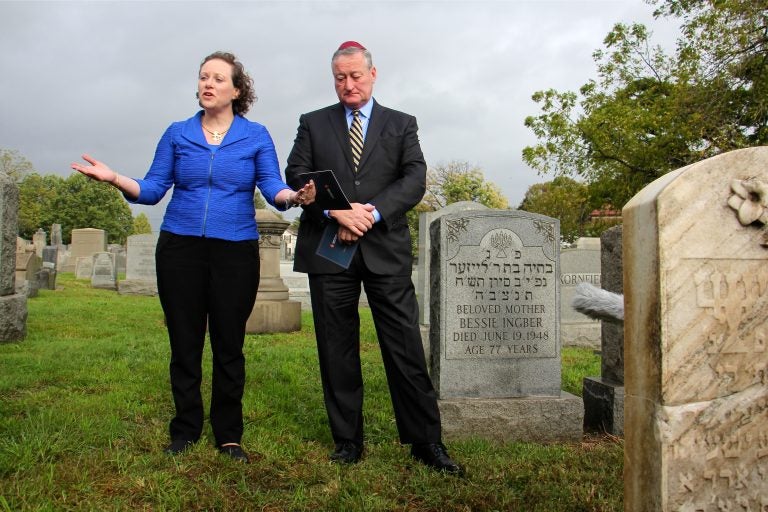 A 2-alarm fire consumed Bridget Foy's on South Street early Wednesday, Joseph A. Gambardello and Julie Shaw report. Officials say two dogs inside Doggy Style next door died from smoke inhalation and eleven residents have been displaced.
Thousands of donors from around the world contributed $300,000 to restore the vandalized headstones in Mount Carmel Cemetery, WHYY News' Peter Crimmins reports. The Jewish Federation of Greater Philadelphia organized the campaign and used the funds to also repaired 225 weathered down headstones and landscape the grounds. Billy Penn took a slew of photos of Mayor Kenney's first walkthrough of the restoration.
Locally, neighbors financing helping neighbors: a handful of Rittenhouse condo associations donated roughly $125,000 for transportation costs and housing assistance for the area's homeless population. WHYY News' Aaron Moselle writes that the funds for the six-month pilot with Mental Health Partnerships aims to connect homeless people to services and "cut in half the homeless population in Rittenhouse." The short-lived 'wall ban' sparked criticisms earlier this year that "Rittenhouse's wealthy neighbors were cloaking exclusion in public safety concerns." Nationally, CityLab covered cities' mixed approaches in the 'War on Sitting.'
Streets Dept Podcast, Episode 2: Councilwoman Helen Gym. Conrad Benner interviews the councilwoman about the Rizzo statue, Amazon HQ2, and growing up in Philly.
Enforcing quality of life: dozens of Chinese restaurant owners say they are being unfairly targeted by police for remaining open after 11:00pm in a residential area, CBS reports. The fines for violating the 'quality of life' ordinance range from $300 to $2,000. CBS reporters confirmed one case on Catherine Street where one business received dozens of violations and the business next door with similar hours received none. 'Quality of Life' is the final chapter of Jim Saksa's analysis on the costs and benefits of doing business in Philadelphia.