October 25-27: Laurel Hill Cemetery Halloween Tour | Philadelphia Orchard Day | Growing Healthy Communities | Cobbs Creek 5K | Fernhill Park tree tour | Liberty Lands Park kids' festival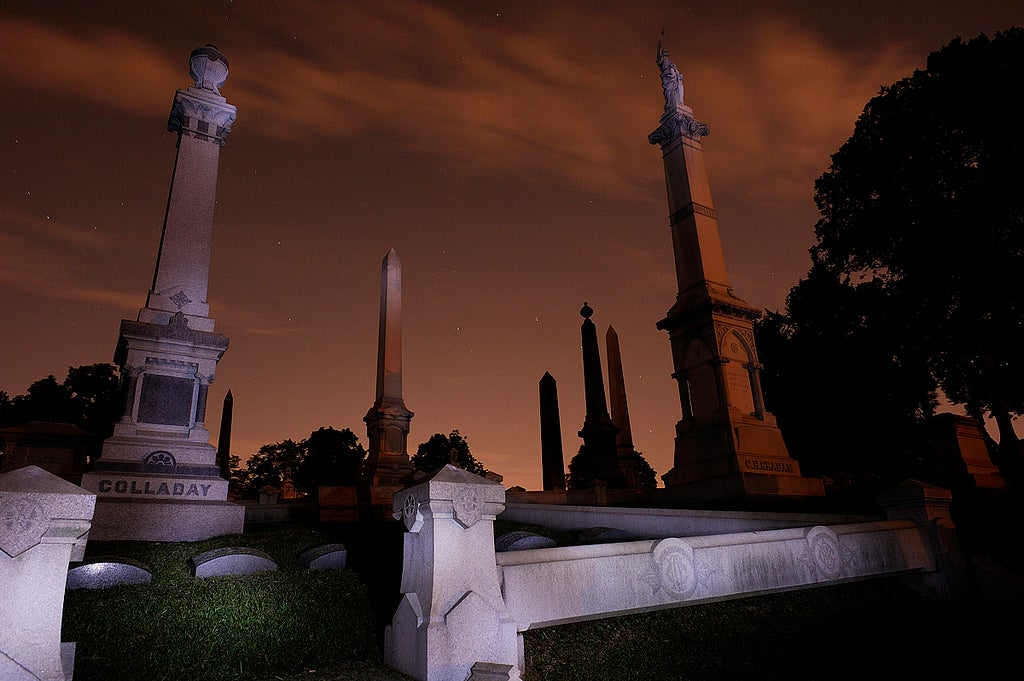 Happy weekend Streeters!
Friday, October 25. 7pm – 9pm. Laurel Hill Cemetery, 3822 Ridge Avenue. Get into the Halloween spirit as you creep through the historic, hallowed grounds of Laurel Hill Cemetery after dark this Friday. The walking tour begins at sundown and explores the historic past, art, architecture and landscape of this spooky National Historic Landmark – Laurel Hill is one of few cemeteries in the country with the designation. The tour will share tales from the crypt, including stories of infamous Laurel Hill "residents," like the headless woman, the man who took his life on his own gravesite, the individual whose gruesome death inspired JAWS and some headstones that mark the site of only body parts. Free cider and snacks will be provided for the brave souls who make it through the tour. If you miss the spooky "soul crawl" this weekend, have no fear. The tour will crawl again on Wednesday, October 30 at 6 p.m. Tickets can be purchased online or at the cemetery's gatehouse entrance on Ridge Ave. Cost: $20
Saturday, October 26. Times and locations vary. The Philadelphia Orchard Project (POP) has declared this Saturday its third annual Philadelphia Orchard Day. Across the city POP's community orchard partners will host events and celebrations that bring attention to the city's hidden treasures – the 34 community orchards and 1,700 fruiting trees, bushes and vines that POP and its partners have planted over the last six years. Events will include harvest festivals, orchard plastics, tours and volunteer opportunities. All events will feature fresh, local fruit. For locations and details visit phillyorchards.org. New this year, the day will also feature an urban orchard bike ride that will travel between several orchards on both sides of the Schuylkill River. More about the bike ride can be found at phillyorchardride.eventbrite.com. Cost: Orchard ride $20, all other events free.
Saturday, October 26. 10am – 5pm Overbrook Environmental Education Center, 6130 Lancaster Ave, Philadelphia. The Healthy Foods Green Spaces coalition will gather at Overbrook Environmental Education Center for a day of workshops, cooking demonstrations, health screenings, art, live music, vendors, children's activities and more. The daylong community event will showcase how communities from Philadelphia to New York, Baltimore, Washington, D.C. and beyond collaborate and innovate to address inequity in neighborhood health and provide fresh food and access to health care. Free.
Saturday, October 26. 9am. 63rd and Locust streets, Philadelphia. The third annual Cobbs Creek 5K loops north from 63rd and Locust streets, along the Cobbs Creek Parkway, into the wooded trail at 63rd and Market streets to Callowhill Street and back. The event is intended to draw people into Cobbs Creek Park. All funds raised are dedicated to outdoor recreational activities for children. The event also includes a one-mile walk. Day-of registration begins at 8am. The run starts at 9am, and walkers will start at 9:30am. Cost: Day-of registration $25, Children ages 12 and under are free.
Saturday, October 26. 10am – 1pm. Wissahickon and Roberts avenues, Philadelphia. Arborist and Philadelphia Parks Alliance Board Member Ken LeRoy will lead a tree-themed exploration of historic Fernhill Park. The Germantown park was originally part of Louis Clapier's 19th century estate. The tour will visit trees Clapier planted, as well as others from the 1800s and early 20th century. Along the way, attendees will learn the history of Fernhill. Don't forget to pack lunch, water and walking shoes. Call 215.879.8159 or email friends@philaparks.org to register. Cost: $20 per person, $15 with member discount.
Sunday, October 27. 2pm – 5pm. Liberty Lands Park, 926 N. American Street. Northern Liberties presents a community festival to get neighbors in the Halloween spirit this Sunday. A kids' costume parade will kick off the festivities at 1:45pm, and live entertainment, including music, dance performances and theater, will follow. The fun will include seasonal treats like apple cider, baked goods and candy, as well as pumpkin and face painting and other autumn crafts. Free.
Enjoy!