October 2: New Love Park priorities | Petty Island redesign | Schuylkill River boardwalk opens | Primary primers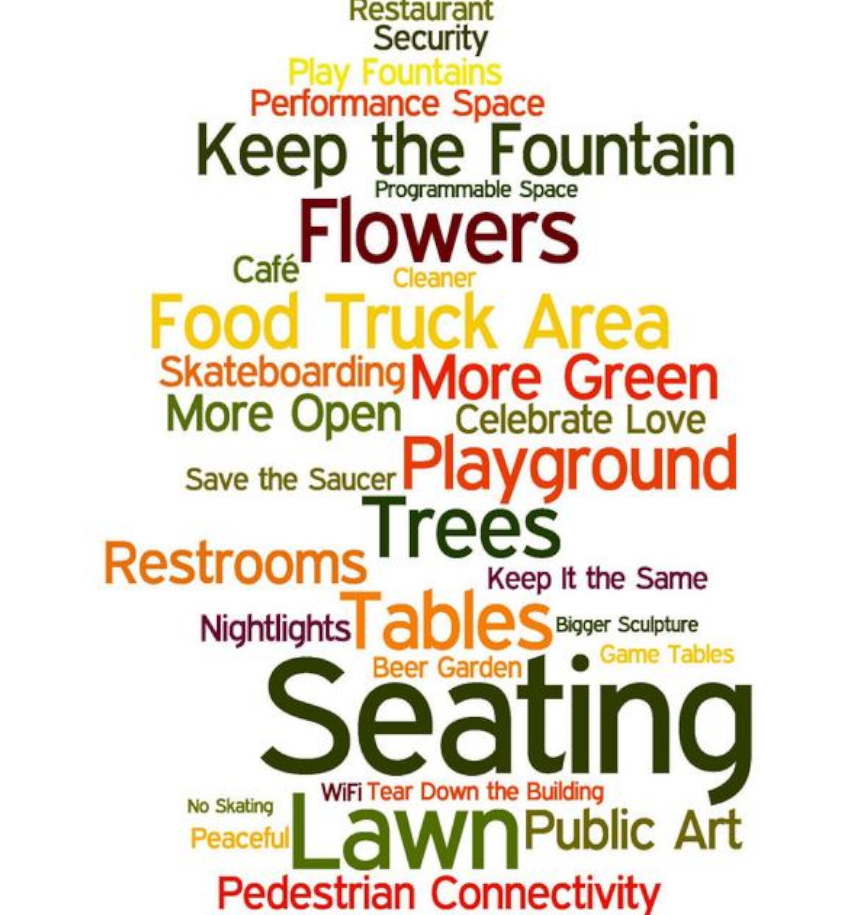 PennPraxis created a wordcloud of the features most important to people who volunteered ideas for the new Love park.
Huge transit news for the mega-region: to repair the damage from Hurricane Sandy, Amtrak officials announced they will have to curtail use of the rail tunnels into New York City for at least a year, which will impact service for tens of thousands of commuters on NJ Transit and the LIRR.
Happy anniversary: it's been 21 years since the last federal gas tax increase.
The American Planning Association put Reading Terminal Market on this year's list of 10 Great Public Spaces.
Geoff Thompson is not a fan of the Schuylkill River Boardwalk design. "A straight line path would have been too monotonous and so angles break things up but feel unfinished. Curves would have made the Boardwalk feel more organic and flowing like the river itself and less hardware store"
Via Jarrett Walker, a new report from TransitCenter finds frequency and reliability are the most important factors to people when choosing a mode of transportation. Every age group surveyed ranked "total travel time" and "travel time reliability" in either first or second place choices out of six options.
What should become of Petty Island? The winning idea wins $5000 in this year's Better Philadelphia Challenge competition.
Since the 2015 Mayoral primary is upon us, we'll occasionally share some news items and research from politics, not always directly pertaining to planning, to help demystify some of the candidate behaviors during this early phase of the race. Brookings is doing a whole research project, called The Primary Project, aimed at forming a deeper understanding of the internal dynamics of primaries. For local and state primary reading, you can't do better than Seth Masket's book ,"No Middle Ground: How Informal Party Organizations Control Nominations and Polarize Legislatures."