October 10-14: DesignPhiladelphia Picks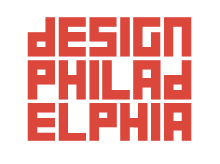 DesignPhiladelphia lands this week, for its 8th year running, with more than 120 events showcasing the breadth and depth of design in Philadelphia. DesignPhiladelphia runs from Wednesday, October 10- Sunday, October 14, and you can check out the full calendar online.
Since you can't possibly make it to every event, I've selected a handful of tours, lectures, and happenings with an urbanist appeal.
Best of all, nearly all of these picks are free.
EXPLORE
October 10-14. Citywide. Bowerbird has curated a downloadable tour of some of the city's iconic pieces of public art. It promises to be a fresh take on works created under the Redevelopment Authority's Percent for Art Program since 1959. Visit www.phila.gov/pra to access the tour, beginning on October 10.
Thursday, October 11, 4-5:45pm. Tour departs from Connelly House, 1212 Ludlow St. Greening affordable housing helps residents save money while conserving resources. Take a bus tour of recently completed and in-construction green affordable housing projects, meet with developers, designers, and officials. RSVP to michelle.sosino@phila.gov.
Saturday, October 13, 10am-Noon. 2500-2800 blocks, Germantown Avenue. Visit the Jeroen Koolhaas and Dre Urhahn's Philly Painting project at Germantown and Lehigh avenues, geared at reinvigorating the slumping commercial corridor. Take a guided walking tour and enjoy an artists' talk. Free.
Saturday, October 13, 10am-Noon. 1100 Filbert Street. Join Paul Steinke, Reading Terminal Market's General Manager, and Anthony Bracali from Friday Architects/Planners to learn about the market's rich history, architectural features, and the recent renovations. Enjoy a taste of the market and meet Philbert. Tickets are $10, tour is limited to 15 people so reserve ticket by calling (215) 546-0814.
Saturday, October 13, 11am-12:30pm. Begin at Capitolo Playground, enter at 9th and Federal. Join Ben Cromie for a guided walking tour of the Italian Market and Passyunk Avenue to explore the physical development of South Philadelphia. Sketch pads are welcome. Tickets are $15, available online.
Saturday, October 13, 11am-3:30pm. Thanks to green infrastructure interventions and complete streets revisions, Philly's streets are being reimagined. Head out to Columbus Square Rec Center for a Sustainable Streets Scavenger Hunt, put on by the Water Department and the Mayor's Office of Transportation and Utilities. Prizes go to high scoring teams- from a bike rack, rain barrel, and happy hour. Free.
TOAST
Wednesday, October 10, 4-6pm. Center for Architecture, 1218 Arch St. The Commerce Department and Community Design Collaborative have joined forces to showcase and reward some of the best recent storefront transformations. Cheer for these investments in commercial corridor revitalization and refreshed facades across categories like best signage, window displays, restoration, low-cost/high-impact, and catalyst. Free.
Wednesday, October 10, 7:30-10pm. Provenance Architecturals, 912 Canal Street. The kickoff party for DesignPhiladelphia at a 10,000 square foot salvage warehouse and along Canal Street, a meandering gem on the Fishtown/Northern Liberties line. The evening boasts a fashion show, pallet lounge, arty outdoor projections, and an interactive structure. Free.
ENGAGE
Wednesday, October 10, 6-8pm. Center for Architecture, 1218 Arch St. Presenters from all over Philly's design spectrum will each present 20 slides, at 20 seconds each, to answer one question: What's next for Philly? Learn more at Fast Forward Philly's blog. Free.
Thursday, October 11, 5:30pm. Rosenbach Museum & Library, 2008-2012 Delancey Place. Will the city's smaller cultural institutions be eclipsed by our mega-museums? Will the growth of the Barnes, Philadelphia Museum of Art help support the Philly's arts and culture environment at large? Offering their takes on these questions: Derick Dreher (Rosenbach Museum and Library Director), Aaron Levy (Slought Foundation Executive Director), Inga Saffron (Inquirer architecture critic), and Peter Frumkin (Faculty Director of the Center for High Impact Philanthropy at Penn). Tom Stoelker, associate editor at The Architect's Newspaper, will moderate the panel. Free.
Thursday, October 11, 6-8pm. Asian Arts Initiative, 1219 Vine Street. Can "tactical urbanism" lead to long-term, meaningful change? Candy Chang and James A. Reeves, principals of Civic Center, will discuss their work, marrying art, planning and activism in a conversation hosted by muraLAB/City of Philadelphia Mural Arts Program, City of Philadelphia Office of Arts, Culture and Creative Economy, and Next American City.
Saturday, October 13, 3-5pm. Underground Arts, 1200 Callowhill Street. VIADUCTgreene wants your input on design concepts for turning the Reading Viaduct into a linear park. Share your imaginative ideas about the "soaring and submersive" potential for this space. Free.