November 13: The Cathedral Block | No gay cruising sign | State of University City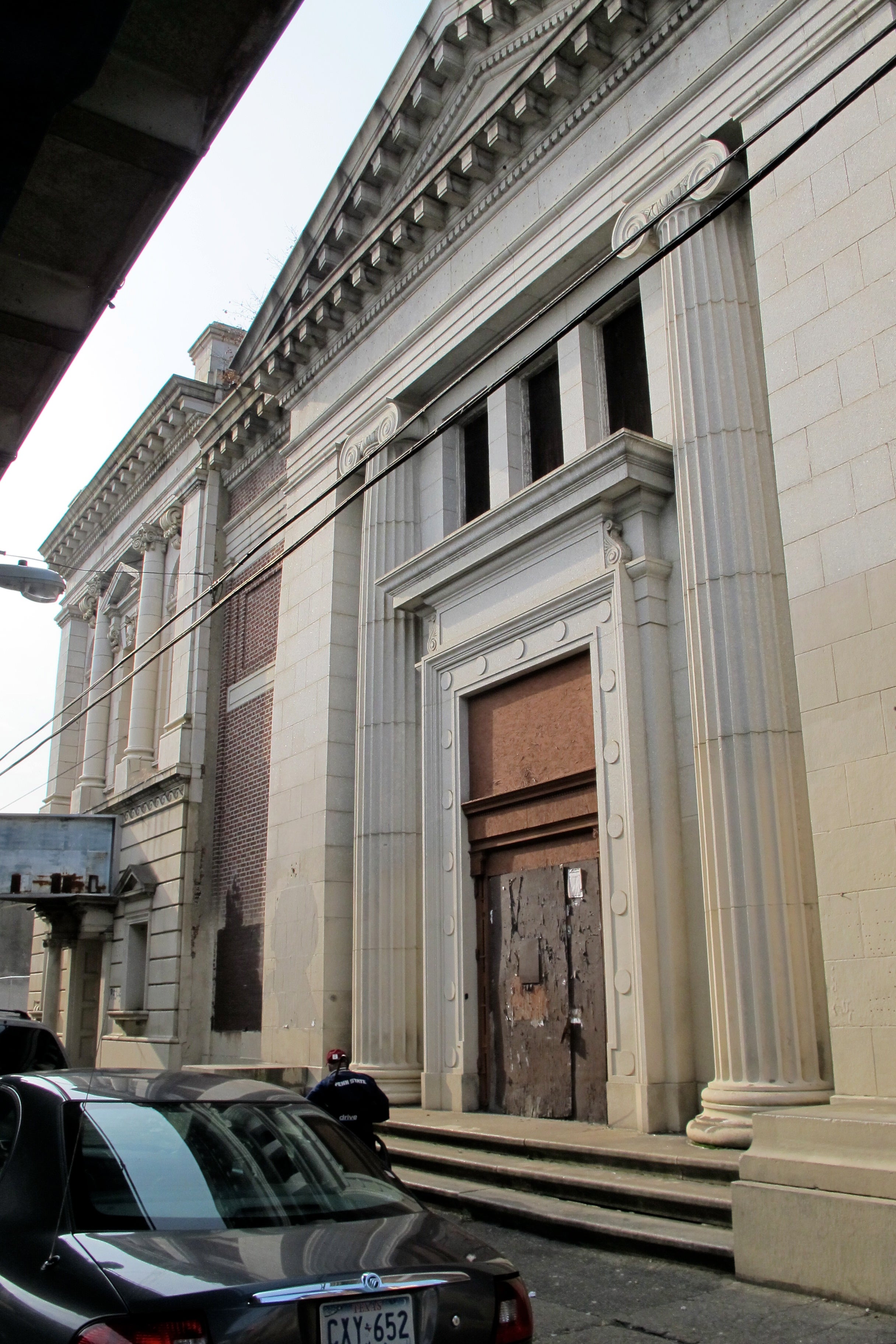 Guess what! You could win a private tour of one of Frank Furness's earliest commissions! Make a donation of any size to PlanPhilly's membership drive and you'll be automatically entered in a drawing for an exclusive tour of the Consortium building at 40th and Ludlow Streets with U3 Ventures. Yes, you read right: YOU could explore the $4.5 million restoration project and talk to U3 about preservation in West Philadelphia. Support PlanPhilly and enter the drawing here.
Developer Onion Flats has listed the vacant Industrial Trust & Saving Bank and Ninth National Bank properties at Front and Norris Streets for sale to attract conversation, writes Hidden City's GroJLart. Onion Flats' Howard Steinberg says they have "full intention" to develop the properties and explains that the $1,800,000 listing will help entice "the right tenant, the right partner, or the right buyer." Onion Flats purchased the properties from Norris Square Civic Association in 2015 after Fishtown Neighbors Association and East Kensington Neighbors Association vehemently opposed a ZBA-approved affordable housing development in 2013.
The Philadelphia Archdiocese's major residential, office, and retail development project, "the Cathedral Block," has solicited interest from developers around the country, CBS reports. The Archdiocese says that developers from the Southern California, Texas, Chicago, and New York have responded to the RFQ for the proposed L-shaped development, which fronts parts of 17th Street, Vine Street, 18th Street, and Race Street. Debate and uncertainty circling the future of older church buildings was the topic of the seven-hour Historical Commission meeting Friday.
A sign of the times: a traffic sign erected in 1974 directed at the "late-night and early-morning gay cruising circuit" still remains at the 2000 block of Delancey, Philly Mag's Sue Spolan writes. Spolan talks to officials and historians about the origins of the "MIDNITE-5AM DAILY" sign, collecting mixed memories of what exactly went down. Common Pleas Court judge and neighbor Ramy Djerassi insists that "no one was telling gay people not to cruise…[but] the cruising was an imposition." Streets Department Deputy Commissioner Richard Montanez says that the department's "records only go back six years plus the current year" and cannot explain why the sign is there.
Over eighty pages of charts, stats, photos, and stories, oh my! UCD shares its State of University City 2018 report, highlighting its academic, commercial, public, and residential projects and making the argument for concentrated development activity to spur economic growth. West Philly Local notes that Spruce Hill saw the largest jump in home sales and about eight percent of commuters rode a bike, four times higher than the city average. UCD has been celebrating its 20th anniversary with its 20 Years, 20 Stories campaign, which features West Philadelphia staples such as Dock Street Brewery, PHILADANCO!, University City Review, and Dahlak.
Down the street from PHILADANCO!, internationally-renowned artist el Seed will be painting a mural all this week as part of the (DIS)PLACED: Philadelphia initiative. The piece, commissioned by Al-Bustan Seeds of Culture and Mural Arts, explores the theme of displacement across Philadelphia's diverse communities. El Seed's recent installation, Perspective, spans fifty buildings in Cairo's informal "garbage collector" neighborhood, and was the topic of a 2016 TED Talk.
A pedestrian was struck by a vehicle at Frankford and Robbins Avenues in Mayfair Monday morning, CBS reports. The vehicle had a Lyft sticker, though it is "unknown if [the driver] was driving for the rideshare at the time."